For Immediate Release
Jan. 26, 2023
Contact:
LAX Public Relations
(424) 646-5260
LAX SELECTS ARTISTS FOR VIDEO ART INSTALLATIONS AT FUTURE AUTOMATED PEOPLE MOVER STATIONS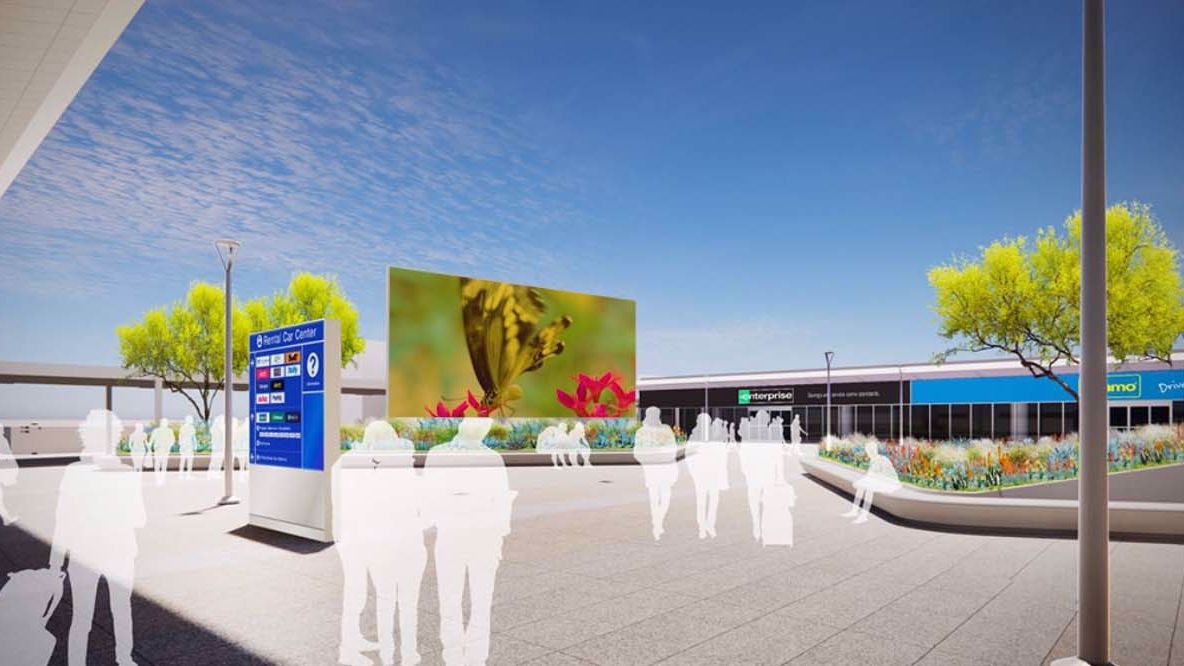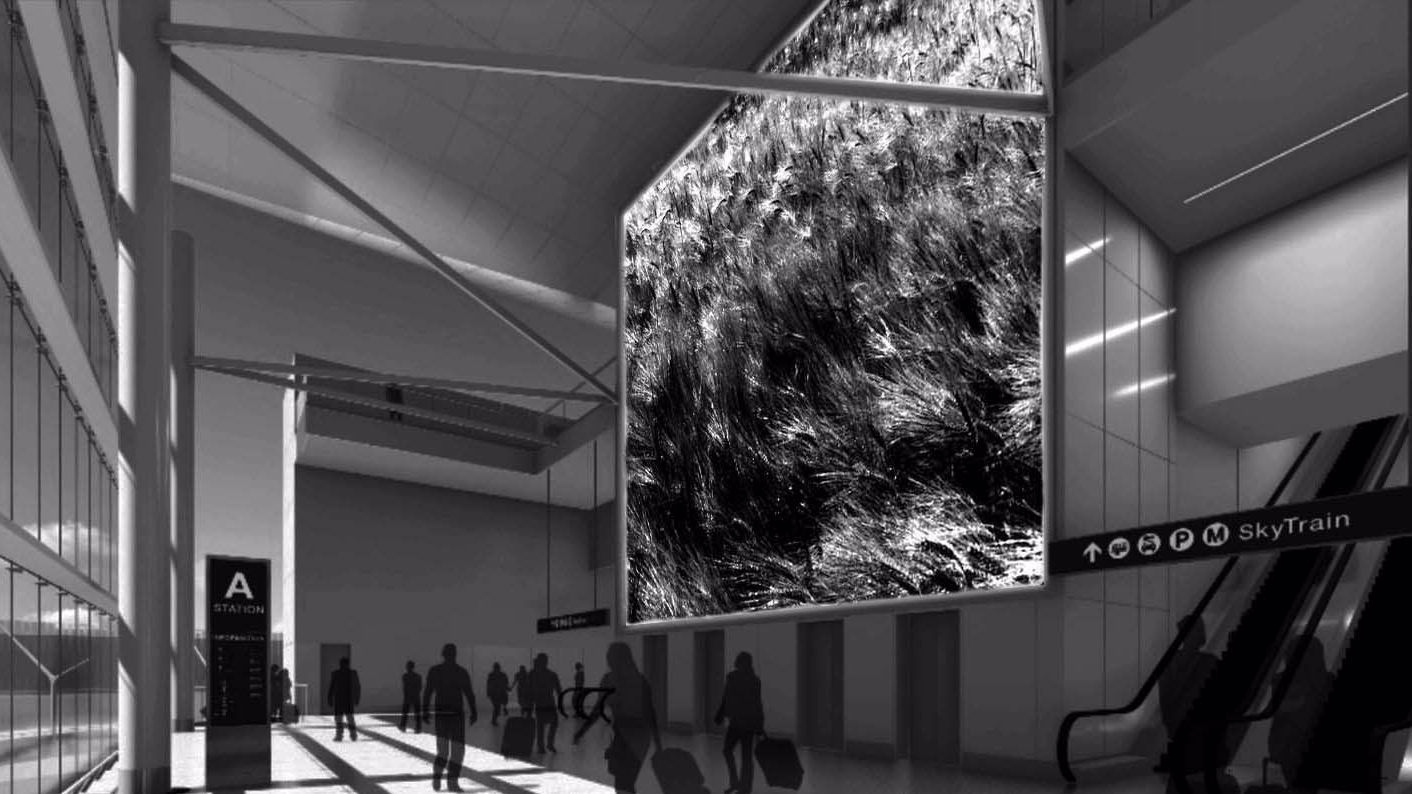 The top image is a rendering of video art, by artist Diana Thater, that would be displayed at a future LAX Automated People Mover (APM) station. (Image courtesy of Diana Thater, Proposal for LAX, 2022).
The bottom image is a rendering of video art from Garrett Bradley Studio that would be installed at an APM station. (Image courtesy of Garrett Bradley Studio).
(Los Angeles) Los Angeles World Airports (LAWA) is proud to announce seven video artists commissioned for the Los Angeles International Airport (LAX) Automated People Mover (APM) electric train system. The selected artists will each create short-form video artworks that will enhance the travel experience for the tens of millions of guests who will use the APM each year.

Artists Garrett Bradley, Alfredo Jaar, Kirsten Johnson, Alex Prager, Diana Thater, Clarissa Tossin and Billy Woodberry will have their works presented on large-scale digital screens located at three of the six APM stations. These video artworks are meant to provide first encounters with contemporary art as travelers enter Los Angeles and offer final artistic impressions as guests depart.

"LAX is building world-class facilities that will transform the passenger experience with innovative public art experiences that reflect the identity and diversity of our city, and advance Los Angeles' reputation as the culture capital of the world," said Justin Erbacci, Chief Executive Officer, LAWA. "These video artworks will create a stunning visual environment for the 30 million passengers per year expected to utilize the APM system."

The artists were selected by an art committee LAWA convened as part of its Landside Access Modernization Program (LAMP), a $5.5-billion ground transportation network designed to improve traffic conditions in and around LAX. The LAMP Art Committee included influential Los Angeles arts leaders, including Michael Govan of the Los Angeles County Museum of Art, Joanne Heyler of The Broad, and Ravi Rajan of the California Institute of the Arts, as well as representatives from the Office of the Mayor, LAWA, and the City of Los Angeles Department of Cultural Affairs.

The APM train system will run on a 2.25-mile elevated guideway with six stations, three of which are located inside the Central Terminal Area (CTA) and three outside. The video artworks will premiere at the stations located at the Consolidated Rent-a-Car Facility (ConRAC), the Intermodal Transportation Facility-East (ITF-East), and the West Central Terminal Area Station. The ConRAC and ITF-East stations are outside of the CTA and will serve passengers renting cars and passengers connecting from the Airport Metro Connector and ground transportation lines. The West Central Terminal Area Station is located within the CTA and will serve passengers arriving and departing from the Tom Bradley International Terminal. The APM broke ground in March 2019 and is scheduled to open for passenger service in 2024.

The video artworks are funded by LAWA through the City of Los Angeles' Public Percent for Art Program, which is administered by the City's Department of Cultural Affairs. This program dedicates one percent of the construction cost of the City's capital improvement projects to contribute to enduring, contemporary art experiences at the City's public facilities.


About Los Angeles International Airport (LAX)
LAX, the fifth-busiest airport in the world in 2021 with 48 million passengers, is in the midst of a $15-billion capital improvement program that will touch on all nine passenger terminals and build new facilities, including an Automated People Mover (APM) train, Consolidated Rent-A-Car (ConRAC) facility and the West Gates at Tom Bradley International Terminal.
In 2019, LAX served nearly 88.1 million passengers and offered an average of 700 daily nonstop flights to 113 destinations in the U.S. and 1,200 weekly nonstop flights to 91 markets in 46 countries on 72 commercial airlines.
LAX generated 620,600 jobs in Southern California, with labor income of $37.3 billion and economic output (business revenues) of more than $126.6 billion, according to an economic study based on 2014 operations. This activity added $6.2 billion to local and state revenues and $8.7 billion in federal tax revenues. The study also reported that LAX's ongoing capital improvement program creates an additional 121,640 annual jobs with labor income of $7.6 billion and economic output of $20.3 billion; $966 million in state and local taxes; and $1.6 billion in federal tax revenues.
LAX is part of a system of two Southern California airports – along with Van Nuys general aviation – that are owned and operated by Los Angeles World Airports (LAWA), a proprietary department of the City of Los Angeles that receives no funding from the City's general fund.
LAWA is leading the aviation industry in sustainability practices, with initiatives related to water management, energy (electricity) management, air quality, recycling and natural resources management. In 2019, LAX received Level III ACI Airport Carbon Accreditation from Airports Council International-Europe.
LAWA is also a leader in inclusivity, operating eight programs that provide opportunities for business enterprises including local, small, minority-owned, veteran-owned and disadvantaged firms, and working together with community partners to offer the HireLAX Apprenticeship Readiness Program, which targets local workers to make them ready for rewarding careers in the construction trades, and the Build LAX Academy, designed to prepare small contracting businesses for success when working on projects at LAX.
LAX was named a top-10 U.S. airport by SKYTRAX in 2018, and was honored as the "Most Innovative Airport for Passenger Experience" in 2019 by the American Association of Airport Executives. LAX is the second-most popular airport in the world to appear on Instagram, according to wego.com. Other recent honors have included selection as the No. 9 Best Airport (Wall Street Journal); No. 7 Best On-Time Performance for a Mega-Hub Airport (OAG); one of "The World's Best Airports for Business Travelers" (GlobeHunters); Public-Private Partnership of the Year (P3 Bulletin); Urth Caffe, Best Airport Coffee Concession of the Year (Global FAB Awards); Innovation of the Year, Consolidated Rent-A-Car Facility (ARTBA); Best Project, United Airlines Terminal 7 and 8 Redevelopment Program (Engineering News Record California); North American Public-Private Partnership Deal of the Year (IJ Global); and Innovative Transportation Solution of the Year, Automated People Mover (WTS LA).
For more information about LAX, please visit
www.flyLAX.com
or follow on Twitter
@flyLAXAirport
, on Facebook at
www.facebook.com/LAInternationalAirport
, and on YouTube at
www.YouTube.com/laxairport1
As a covered entity under Title II of the Americans with Disabilities Act, the City of Los Angeles does not discriminate on the basis of disability and, upon request, will provide reasonable accommodation to ensure equal access to its programs, services, and activities. Alternative formats in large print, braille, audio, and other forms (if possible) will be provided upon request.