For Immediate Release
Jan. 19, 2022
Contact:
LAX Public Relations
(424) 646-5260
LOS ANGELES BOARD OF AIRPORT COMMISSIONERS APPROVES LICENSE AGREEMENT FOR SAFE PARKING PROGRAM NEAR LAX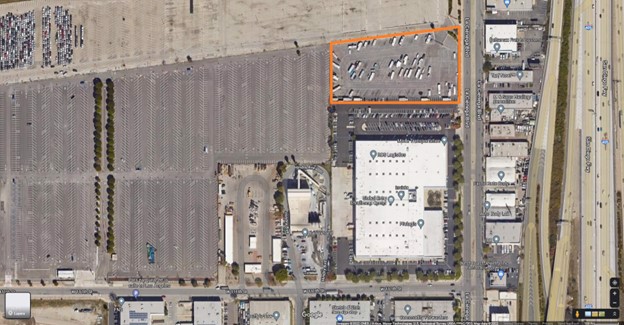 Los Angeles World Airports has identified a parking lot at La Cienega Blvd. and 111th Street as an appropriate site to use for the Safe Parking pilot program.
(Los Angeles) The Los Angeles Board of Airport Commissioners unanimously approved a plan today to allow the temporary use of a Los Angeles World Airports (LAWA) site for a Safe Parking pilot program, which will provide a secure area for people living in their vehicles to park overnight. Los Angeles International Airport (LAX) is the first airport in the country to receive approval, on a pilot basis, from the Federal Aviation Administration (FAA) to utilize airport land for assisting the homeless. The FAA also approved that the use of this site may be considered a community benefit, which means the airport does not need to receive fair market value for the use of the land. In this case, the land will be provided at no cost to the program administrator.

Safe Parking LA will administer the program which was developed in collaboration with the Mayor's office, Council District Eleven (CD11) and the City Administrative Office, and was approved for funding by the Los Angeles City Council last year. LAWA identified a 2.79 acre fenced in area at La Cienega Boulevard and 111th Street as an appropriate site to use for this community purpose and expects that Safe Parking LA will officially begin operation at the site within the next several months.

"Los Angeles World Airports is committed to being a good neighbor and we are proud to work with our partners to pilot a first of its kind Safe Parking program on airport property," said Beatrice Hsu, President of the Los Angeles Board of Airport Commissioners. "We look forward to working with Safe Parking LA and our city and neighborhood partners to provide this much needed service."

More than 19,000 people of LA County's approximately 69,000 homeless live in their vehicles, according to the most recent count from the Los Angeles Homeless Services Authority. Safe Parking is for those individuals who are experiencing homelessness, or actively fleeing domestic violence, who have an operable vehicle in which they are living. The site will provide a legal place for them to park overnight and includes restrooms, security, and trash services. The program participants will be required to leave the Safe Parking location during the day, during hours of nonoperation, and sign a code of conduct. They are also required to be enrolled in a program that will assist them transitioning to more permanent housing solutions.

"As both a City department and as a member of the communities in which we operate, Los Angeles World Airports must do its part to address the crisis of homelessness," said Justin Erbacci, Chief Executive Officer, LAWA. "This pilot program provides an important service that will positively contribute to the wellbeing of those individuals who are experiencing homelessness - and we look forward to celebrating the opening of this facility."

The license agreement between LAWA and Community Partners, a nonprofit organization which coordinates with Safe Parking LA, codifies the terms of the program and location details including program hours, number of vehicles, security measures, and participant enrollment requirements. Additionally, all vehicles under the Safe Parking Program must be working properly and be fully registered.

The term of the license agreement will run until June 30, 2023, at which time LAWA would need to both seek FAA approval for longer term use of the location and execute a license agreement directly with Safe Parking LA.

"This last year, the number of people needing Safe Parking continued to grow and our services are at capacity," said Silvia Gutierrez, Executive Director, Safe Parking LA. "The partnership with LAWA will enable us to expand our program by adding 50 more Safe Parking spaces for people looking for security, access to dignity, community, and support services. Our work provides a pathway for individuals, families, children, seniors, and veterans who are living in their vehicles to seek support and resources to move towards permanent housing."

The addition of the Safe Parking program to LAWA's homeless services outreach furthers the airport's goal to provide individuals who need assistance with the best possible service, while maintaining safety and security. LAWA has the Crisis Intervention Team (CIT) - a specially trained unit of LAX Airport Police - who work as a coordinated team, providing 24-hr coverage for all airport property. Along with their partners - a terminal outreach team, the LA County Department of Mental Health and the City of L.A. Neighborhood Prosecutor's Office - CIT has been effective and successful in reducing the number of people experiencing homelessness on LAWA property.
About Los Angeles International Airport (LAX)
LAX, the fifth-busiest airport in the world in 2021 with 48 million passengers, is in the midst of a multi-billion-dollar capital improvement program that will touch on all nine passenger terminals and build new facilities, including an Automated People Mover (APM) train, Consolidated Rent-A-Car (ConRAC) facility and the West Gates at Tom Bradley International Terminal.
In 2019, LAX served nearly 88.1 million passengers and offered an average of 700 daily nonstop flights to 113 destinations in the U.S. and 1,200 weekly nonstop flights to 91 markets in 46 countries on 72 commercial airlines.
LAX generates 620,600 jobs in Southern California, with labor income of $37.3 billion and economic output (business revenues) of more than $126.6 billion, according to an economic study based on 2014 operations. This activity added $6.2 billion to local and state revenues and $8.7 billion in federal tax revenues. The study also reported that LAX's ongoing capital improvement program creates an additional 121,640 annual jobs with labor income of $7.6 billion and economic output of $20.3 billion; $966 million in state and local taxes; and $1.6 billion in federal tax revenues.
LAX is part of a system of two Southern California airports – along with Van Nuys general aviation – that are owned and operated by Los Angeles World Airports (LAWA), a proprietary department of the City of Los Angeles that receives no funding from the City's general fund.
LAWA is leading the aviation industry in sustainability practices, with initiatives related to water management, energy (electricity) management, air quality, recycling and natural resources management. In 2019, LAX received Level III ACI Airport Carbon Accreditation from Airports Council International-Europe.
LAWA is also a leader in inclusivity, operating eight programs that provide opportunities for business enterprises including local, small, minority-owned, veteran-owned and disadvantaged firms, and working together with community partners to offer the HireLAX Apprenticeship Readiness Program, which targets local workers to make them ready for rewarding careers in the construction trades, and the Build LAX Academy, designed to prepare small contracting businesses for success when working on projects at LAX.
LAX was named a top-10 U.S. airport by SKYTRAX in 2018, and was honored as the "Most Innovative Airport for Passenger Experience" in 2019 by the American Association of Airport Executives. LAX is the second-most popular airport in the world to appear on Instagram, according to wego.com. Other recent honors have included selection as the No. 9 Best Airport (Wall Street Journal); No. 7 Best On-Time Performance for a Mega-Hub Airport (OAG); one of "The World's Best Airports for Business Travelers" (GlobeHunters); Public-Private Partnership of the Year (P3 Bulletin); Urth Caffe, Best Airport Coffee Concession of the Year (Global FAB Awards); Innovation of the Year, Consolidated Rent-A-Car Facility (ARTBA); Best Project, United Airlines Terminal 7 and 8 Redevelopment Program (Engineering News Record California); North American Public-Private Partnership Deal of the Year (IJ Global); and Innovative Transportation Solution of the Year, Automated People Mover (WTS LA).
For more information about LAX, please visit
www.flyLAX.com
or follow on Twitter
@flyLAXAirport
, on Facebook at
www.facebook.com/LAInternationalAirport
, and on YouTube at
www.YouTube.com/laxairport1
As a covered entity under Title II of the Americans with Disabilities Act, the City of Los Angeles does not discriminate on the basis of disability and, upon request, will provide reasonable accommodation to ensure equal access to its programs, services, and activities. Alternative formats in large print, braille, audio, and other forms (if possible) will be provided upon request.