For Immediate Release
Aug. 12, 2022
Contact:
LAX Public Relations
(424) 646-5260
LAX ECONOMY PARKING FACILITY WINS NATIONAL AWARD OF MERIT FROM DESIGN-BUILD INSTITUTE OF AMERICA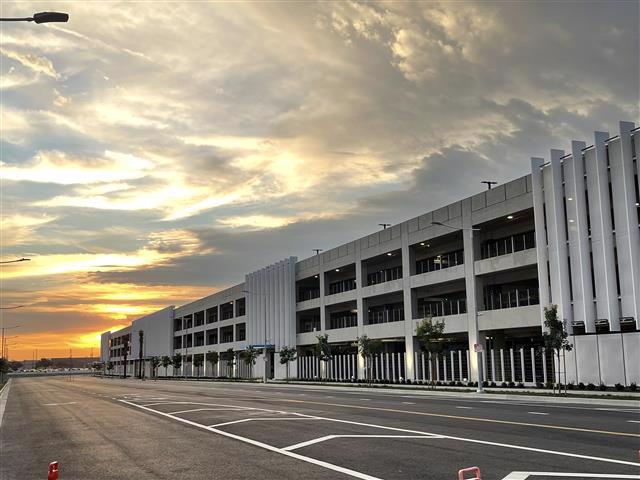 (Los Angeles) The Los Angeles International Airport (LAX) Economy Parking facility has won a National Award of Merit from the Design-Build Institute of America (DBIA), the organization announced this week. As a Merit honoree, the project is now in the running for the National Award of Excellence in the aviation category, which will be announced Nov. 2 at the 2022 Design-Build Conference and Expo in Las Vegas, NV.
The DBIA noted that the project team went above and beyond to achieve cost, schedule and quality goals, while demonstrating utilizing the unique applications of design-build best practices.
"The LAX Economy Parking facility is a shining example of how we can blend design, technology and functionality to deliver state-of-the-art, world-class facilities that address the needs of our guests and streamline the travel experience," said Justin Erbacci, Chief Executive Officer, Los Angeles World Airports. "We are honored to join with our design-build partners at Swinerton and Watry/Gensler to celebrate this award, which further recognizes how our modernization is transforming LAX."
The $294.1-million facility was the first major component of LAX's $5.5-billion Landside Access Modernization Program to complete and opened to the public in October 2021. In addition to state-of-the-art smart parking technology, it features approximately 4,300 parking stalls, restrooms, water bottle filling stations, a pet relief area and vending machines.
It also is a sustainable facility, in alignment with LAWA's Sustainability Action Plan, "Boldly Moving to Zero." The facility is outfitted with hundreds of electric vehicle (EV) chargers, with a total of 500 Level 2 and eight DC-fast (Level 3) chargers being installed and operational by October of this year. As a whole, the building incorporates infrastructure for nearly 1,600 parking stalls to have EV charging capabilities in the future.
Other sustainable elements of the facility include energy saving lighting controls, dedicated parking spaces for low emitting vehicles and car/van pools, low-flow plumbing fixtures, drought-tolerant landscaping and recycled water.
The LAX Economy Parking facility was also honored earlier this year with an Award of Merit in Stand Alone Parking Facility Design by the International Parking & Mobility Institute. The yearly Awards of Excellence showcase outstanding parking and transportation facilities and innovative programs to further the parking, transportation, and mobility industry.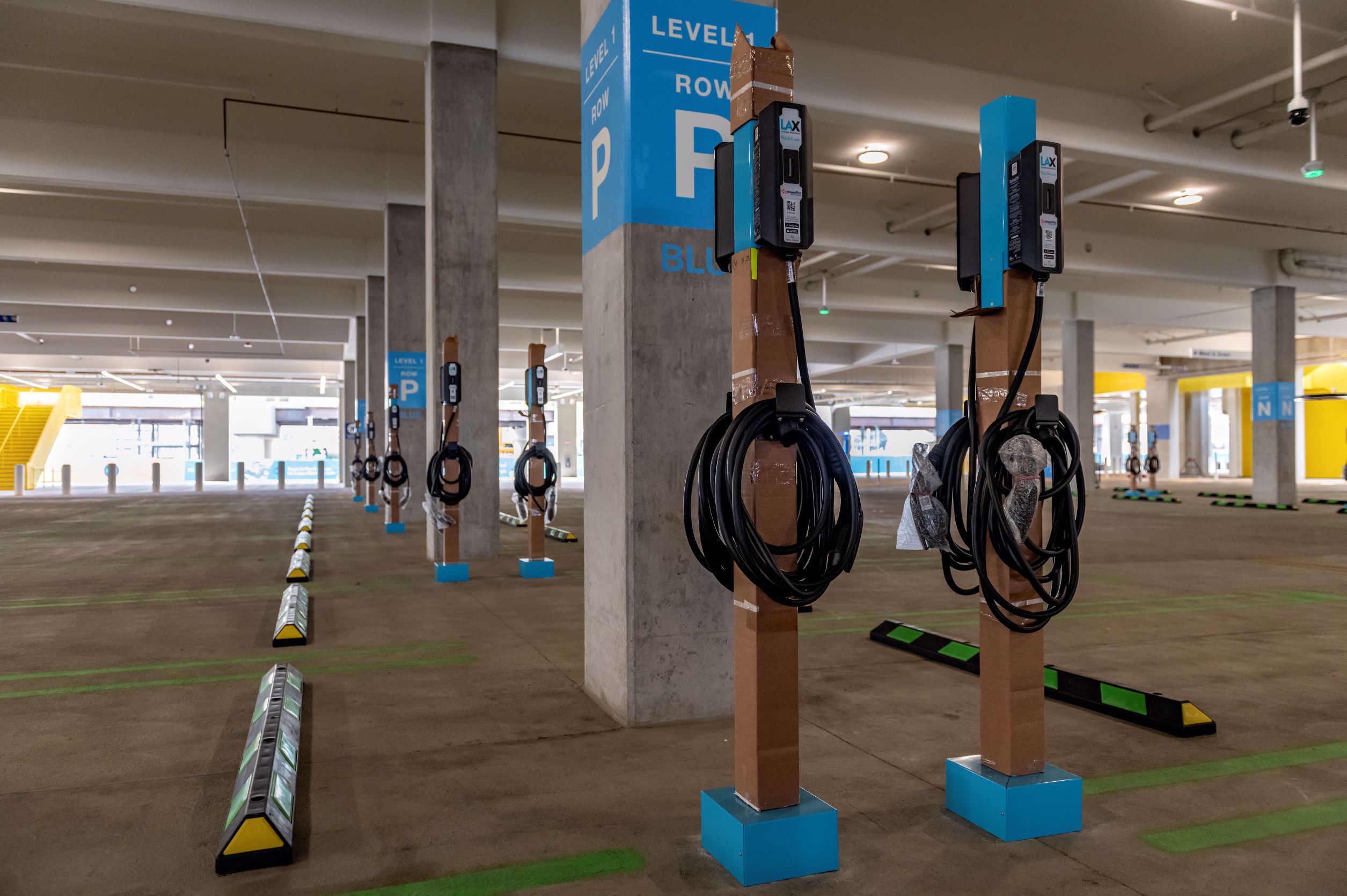 About Los Angeles International Airport (LAX)
LAX, the fifth-busiest airport in the world in 2021 with 48 million passengers, is in the midst of a $15-billion capital improvement program that will touch on all nine passenger terminals and build new facilities, including an Automated People Mover (APM) train, Consolidated Rent-A-Car (ConRAC) facility and the West Gates at Tom Bradley International Terminal.
In 2019, LAX served nearly 88.1 million passengers and offered an average of 700 daily nonstop flights to 113 destinations in the U.S. and 1,200 weekly nonstop flights to 91 markets in 46 countries on 72 commercial airlines.
LAX generates 620,600 jobs in Southern California, with labor income of $37.3 billion and economic output (business revenues) of more than $126.6 billion, according to an economic study based on 2014 operations. This activity added $6.2 billion to local and state revenues and $8.7 billion in federal tax revenues. The study also reported that LAX's ongoing capital improvement program creates an additional 121,640 annual jobs with labor income of $7.6 billion and economic output of $20.3 billion; $966 million in state and local taxes; and $1.6 billion in federal tax revenues.
LAX is part of a system of two Southern California airports – along with Van Nuys general aviation – that are owned and operated by Los Angeles World Airports (LAWA), a proprietary department of the City of Los Angeles that receives no funding from the City's general fund.
LAWA is leading the aviation industry in sustainability practices, with initiatives related to water management, energy (electricity) management, air quality, recycling and natural resources management. In 2019, LAX received Level III ACI Airport Carbon Accreditation from Airports Council International-Europe.
LAWA is also a leader in inclusivity, operating eight programs that provide opportunities for business enterprises including local, small, minority-owned, veteran-owned and disadvantaged firms, and working together with community partners to offer the HireLAX Apprenticeship Readiness Program, which targets local workers to make them ready for rewarding careers in the construction trades, and the Build LAX Academy, designed to prepare small contracting businesses for success when working on projects at LAX.
LAX was named a top-10 U.S. airport by SKYTRAX in 2018, and was honored as the "Most Innovative Airport for Passenger Experience" in 2019 by the American Association of Airport Executives. LAX is the second-most popular airport in the world to appear on Instagram, according to wego.com. Other recent honors have included selection as the No. 9 Best Airport (Wall Street Journal); No. 7 Best On-Time Performance for a Mega-Hub Airport (OAG); one of "The World's Best Airports for Business Travelers" (GlobeHunters); Public-Private Partnership of the Year (P3 Bulletin); Urth Caffe, Best Airport Coffee Concession of the Year (Global FAB Awards); Innovation of the Year, Consolidated Rent-A-Car Facility (ARTBA); Best Project, United Airlines Terminal 7 and 8 Redevelopment Program (Engineering News Record California); North American Public-Private Partnership Deal of the Year (IJ Global); and Innovative Transportation Solution of the Year, Automated People Mover (WTS LA).
As a covered entity under Title II of the Americans with Disabilities Act, the City of Los Angeles does not discriminate on the basis of disability and, upon request, will provide reasonable accommodation to ensure equal access to its programs, services, and activities. Alternative formats in large print, braille, audio, and other forms (if possible) will be provided upon request.