FOR IMMEDIATE RELEASE
Nov. 1, 2021

CONTACT
LAX Public Relations
(424) 646-5260
LAX PREPARES TO WELCOME BACK INTERNATIONAL GUESTS, OFFERS TIPS TO EXPEDITE TRAVEL EXPERIENCE
(Los Angeles, CA) One week from today, the United States will welcome back foreign travelers from the European Union, United Kingdom and other countries who are fully vaccinated against COVID-19. Los Angeles International Airport (LAX) is ready to welcome back the world with facilities that are safe, clean and offer the latest technology to speed up entry and exit.


"With the re-opening of international borders on Nov. 8, we are excited and prepared to welcome foreign visitors to LAX, many of whom will be traveling to the U.S. for the first time since early 2020," said Justin Erbacci, Chief Executive Officer, Los Angeles World Airports (LAWA). "LAX has a long and proud history of connecting people, places and cultures, and we can't wait to welcome back more international passengers to Los Angeles and to continue to help ensure safe travels for all of our guests."

According to the federal government, travelers from eligible countries will be required to show proof of vaccination against COVID-19 as well as provide a negative COVID-19 test no later than three days before departure. There are very limited exceptions, as well as additional testing requirements for those who cannot show proof of vaccination. Additional details about the new rules are available here. U.S. Customs and Border Protection (CBP) recently stated that, beginning Nov. 8, non-citizen travelers should be prepared to provide proof of COVID-19 vaccination and verbally attest to their reason for travel and COVID-19 vaccination status during a border inspection.
As the country and the world adjust to these new requirements, it could result in longer lines in LAX terminals or at customs, with more passengers and the need for additional document review. LAWA will closely monitor these impacts and help mitigate wherever possible.

The airport is asking travelers to help do their part to ensure a smooth experience by arriving early and being patient. Additionally, LAWA encourages travelers to use the many different technologies and pilot programs that expedite the passenger journey at LAX. The airport, along with its partners at CBP and the Transportation Security Administration (TSA), offer several programs and services aimed at speeding up the arrivals and departures process for international travelers, including:
For Arriving International Travelers
Mobile Passport Control
The free and secure Mobile Passport Control app allows arriving U.S. and Canadian citizens to skip the traditional paper forms and save significant time when entering the country at LAX. The app does not require pre-approval and is free to use for eligible travelers. As a result, app users will experience shorter waiting times, less congestion and faster processing. The app can be downloaded through the App Store for iPhone and Google Play for Android. Click here to view a video.
Global Entry
Global Entry
is a CBP program that allows expedited clearance for pre-approved, low-risk travelers upon arrival in the United States. At LAX, members enter the United States through automatic kiosks where they present their machine-readable passport or U.S. permanent resident card, place their fingerprints on the scanner for fingerprint verification and complete a customs declaration. CBP also is now testing touchless kiosks at LAX, in which no contact with the machine is needed. Global Entry is a paid service that required enrollment in advance.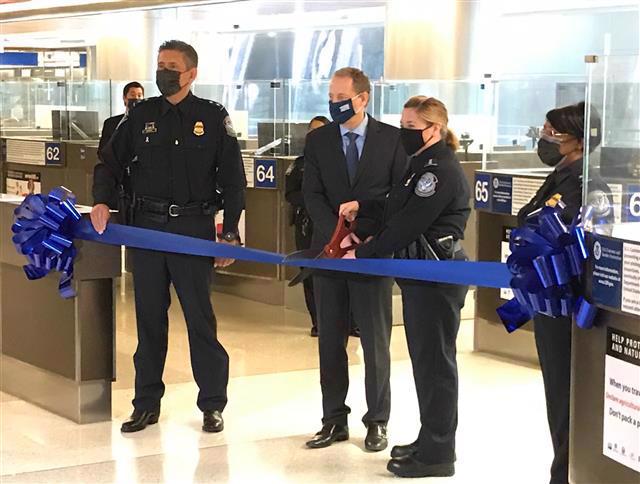 Simplified Arrival
Simplified Arrival is an enhanced international arrival process that uses facial biometrics to automate the manual document checks that are already required for admission into the United States. This process provides travelers with a touchless process that further secures and streamlines international arrivals while fulfilling a longstanding congressional mandate to biometrically record the entry and exit of non-U.S. citizens. Simplified Arrival only uses the biometric facial comparison process at a time and place where travelers are already required by law to verify their identity by presenting a travel document. When travelers arrive at LAX on an international flight, they will pause for a photo at the primary inspection point. In addition, foreign travelers who have traveled to the U.S. previously will no longer need to provide fingerprints as their identity will be confirmed through the touchless facial comparison process. Read our
press release
announcing Simplified Arrival at LAX for more information.
For Departing International Travelers
LAX Economy Parking
With parking structures within LAX's Central Terminal Area beginning to fill up faster and earlier as the holiday season approaches, LAX Economy Parking offers a convenient alternative to waiting in traffic and circling LAX. The four-story, 1.7-million-square-foot facility has approximately 4,300 new parking stalls and features the latest in smart parking technology to create a streamlined parking experience. Shuttle service to and from LAX is offered 24 hours a day, seven days a week. Guests can save time (and money) by pre-booking spaces at
parking.flylax.com
ahead of their visit.
Automated ID Verification
LAX was the first large airport in the country to offer Credential Authentication Technology, (CAT) the Transportation Security Administration's (TSA) touchless, automated photo identification scanners at all of its security screening checkpoints. When a traveler approaches any document checking podium at the entrance of the security checkpoint, the TSA officer will ask them to insert or scan their own photo ID into a small machine. With CAT, there is no need for travelers to give their photo ID or boarding pass to the TSA officer, which reduces personal contact with officers and enhances the passenger experience.
LAXOrderNow
LAX Order Now is a service allowing guests to search, browse and order food and non-alcoholic beverages from any of the dozens of participating restaurants across the airport right from their smartphone. The service, which provides order updates and alerts to users when their order is ready, provides a way for passengers to order and pick up food without having physical contact with another person. Guests also can use the service to have orders delivered to their gate from select locations. Guests may use their camera app to scan one of many QR codes located throughout the airport or visit
LAXOrderNow.com
directly from their mobile device to order. Multiple forms of payments are accepted, including, credit/debit cards, Apple Pay and Google Pay.
Electronic Boarding Gates
Electronic gates are available at 20 locations inside the Tom Bradley International Terminal, including all 14 holdroom locations at the new West Gates at Tom Bradley. Guests scan their boarding pass or passport, or with some international flights simply look into a camera to be matched with data from the U.S. Customs and Border Protection's Traveler Verification Service, and the gates open. During a pilot test at the Tom Bradley International Terminal, an Airbus A380 was boarded in about 20 minutes using the biometric photo match, less than half the time it takes with conventional document checking.
About Los Angeles International Airport (LAX)
LAX, the third-busiest airport in the world and second busiest in the United States in 2019, is in the midst of a $14.3-billion capital improvement program that will touch on all nine passenger terminals and build new facilities, including an Automated People Mover (APM) train, Consolidated Rent-A-Car (ConRAC) facility and the West Gates at Tom Bradley International Terminal.

In 2019, LAX served nearly 88.1 million passengers and offered an average of 700 daily nonstop flights to 113 destinations in the U.S. and 1,200 weekly nonstop flights to 91 markets in 46 countries on 72 commercial airlines.

LAX generates 620,600 jobs in Southern California, with labor income of $37.3 billion and economic output (business revenues) of more than $126.6 billion, according to an economic study based on 2014 operations. This activity added $6.2 billion to local and state revenues and $8.7 billion in federal tax revenues. The study also reported that LAX's ongoing capital improvement program creates an additional 121,640 annual jobs with labor income of $7.6 billion and economic output of $20.3 billion; $966 million in state and local taxes; and $1.6 billion in federal tax revenues.

LAX is part of a system of two Southern California airports – along with Van Nuys general aviation – that are owned and operated by Los Angeles World Airports (LAWA), a proprietary department of the City of Los Angeles that receives no funding from the City's general fund.

LAWA is leading the aviation industry in sustainability practices, with initiatives related to water management, energy (electricity) management, air quality, recycling and natural resources management. In 2019, LAX received Level III ACI Airport Carbon Accreditation from Airport Councils International-Europe.

LAWA is also a leader in inclusivity, operating eight programs that provide opportunities for business enterprises including local, small, minority-owned, veteran-owned and disadvantaged firms, and working together with community partners to offer the HireLAX Apprenticeship Readiness Program, which targets local workers to make them ready for rewarding careers in the construction trades, and the Build LAX Academy, designed to prepare small contracting businesses for success when working on projects at LAX.

LAX was named a top-10 U.S. airport by SKYTRAX in 2018, and was honored as the "Most Innovative Airport for Passenger Experience" in 2019 by the American Association of Airport Executives. LAX is the second-most popular airport in the world to appear on Instagram, according to wego.com. Other recent honors have included selection as the No. 9 Best Airport (Wall Street Journal); No. 7 Best On-Time Performance for a Mega-Hub Airport (OAG); one of "The World's Best Airports for Business Travelers" (GlobeHunters); Public-Private Partnership of the Year (P3 Bulletin); Urth Caffe, Best Airport Coffee Concession of the Year (Global FAB Awards); Innovation of the Year, Consolidated Rent-A-Car Facility (ARTBA); Best Project, United Airlines Terminal 7 and 8 Redevelopment Program (Engineering News Record California); North American Public-Private Partnership Deal of the Year (IJ Global); and Innovative Transportation Solution of the Year, Automated People Mover (WTS LA).

As a covered entity under Title II of the Americans with Disabilities Act, the City of Los Angeles does not discriminate on the basis of disability and, upon request, will provide reasonable accommodation to ensure equal access to its programs, services, and activities. Alternative formats in large print, braille, audio, and other forms (if possible) will be provided upon request.
As a covered entity under Title II of the Americans with Disabilities Act, the City of Los Angeles does not discriminate on the basis of disability and, upon request, will provide reasonable accommodation to ensure equal access to its programs, services, and activities. Alternative formats in large print, braille, audio, and other forms (if possible) will be provided upon request.