FOR IMMEDIATE RELEASE
CONTACT:
MOMENT OF SILENCE, MEMORIAL REFURBISHMENT MARK 9/11 AT LAX
Los Angeles International Airport (LAX) was closed to all flights in the aftermath of the Sept. 11, 2001, terror attacks. Saturday marks the 20th anniversary of the attacks, which included three planes bound for LAX and one headed for San Francisco. Photo courtesy of the Flight Path Museum.
(Los Angeles, CA) Los Angeles International Airport (LAX) will recognize the somber 20th anniversary of the Sept. 11, 2001 terror attacks with commemorations, a public moment of silence and the refurbishment of a public memorial to those who lost their lives.
"While New York, Pennsylvania and Virginia bore the brunt of this horrific day two decades ago, Los Angeles was also deeply impacted by the loss of the passengers and crew on the three planes that were originally heading to LAX that morning," said Justin Erbacci, Chief Executive Officer, Los Angeles World Airports (LAWA). "We honor all of those who lost their lives and extend our thoughts to their families. The events of that day have shaped the evolution of aviation for 20 years, and we have never forgotten the victims or the lessons learned as we forged even stronger partnerships with law enforcement and the federal government to create the safest airports possible."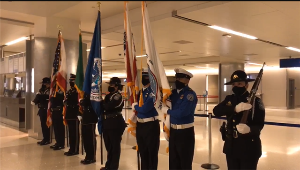 The Transportation Security Administration (TSA) will briefly stop screening at all LAX terminal screening areas at 5:46 a.m. PDT on Saturday, which is the time that American Airlines Flight 11, which was heading to LAX from Boston Logan International Airport, crashed into the North Tower of the World Trade Center in New York. All guests at the screening areas will be asked to stop and observe a moment of silence.
Two other flights that were headed to LAX, United Airlines Flight 175, which had departed from Boston, and American Airlines Flight 77, which was flying from Washington Dulles International Airport, were also part of the attack. The United Airlines flight struck the South Tower of the World Trade Center at 6:03 a.m. PDT and the American Airlines flight crashed into the west side of the Pentagon at 6:37 a.m. PDT. The fourth plane that was hijacked, United Flight 93, was heading from Newark Liberty International Airport to San Francisco, but crashed in a field near Shanksville, Pa., at 7:03 a.m. PDT.
At 8:43 a.m. PDT on Saturday, a color guard ceremony and additional moment of silence will be held inside the U.S. Customs and Border Protection Federal Inspection Station at the Tom Bradley International Terminal. Attendance at that ceremony will be limited to international passengers as it is in federally controlled space in the sterile area of the airport. Photos will be available on LAX social media following the event.
Public Memorials
Additionally, the lives lost on Sept. 11 are memorialized in two locations at LAX. At the flag courtyard, just east of the Clifton A. Moore Administration Building, there is a memorial to the passengers and crew who died aboard the four flights that morning. The memorial is available to the public.
"Recovering Equilibrium" is a memorial installation created at the base of the Theme Building by artists BJ Krivanek and Joel Breaux. The memorial to victims of 9/11 was commissioned by LAWA in partnership with the Department of Cultural Affairs in 2002 and was installed in 2003.
This week, staff from LAWA Maintenance and the LAX Art Program cleaned and refurbished the memorial, which is constructed from a 15-foot reflective stainless steel dish and symbolizes the feelings of loss and need for public dialogue about the attacks.
Text cut into the outer edge references core American rights and ideals. Inscribed on the mirrored dish are the personal traits of the victims. The public is invited to visit the memorial, located inside the courtyard of the iconic Theme Building at LAX, 201 World Way. Parking is available in nearby garages for $5 for the first hour.
In observance of 9/11, the LAX pylons will glow in red, white and blue tonight through Sunday morning.
Members of LAWA Maintenance and the LAX Art Program worked this week to clean and shine the 9/11 memorial "

Recovering Equilibrium" at the base of the iconic Theme Building.
Additional Media Resources



Click here

for a photo gallery of images taken at LAX on Sept. 12, 2001. Please credit the Flight Path Museum.


Click here

for a video remembrance of 9/11 produced by Airports Council International and including LAX Airport Police Chief Cecil Rhambo, Jr. and Director of Airport Operations Viji Prasad.
About Los Angeles International Airport (LAX)
LAX, the third-busiest airport in the world and second busiest in the United States in 2019, is in the midst of a $14.5-billion capital improvement program that will touch on all nine passenger terminals and build new facilities, including an Automated People Mover (APM) train, Consolidated Rent-A-Car (ConRAC) facility and the West Gates at Tom Bradley International Terminal.

In 2019, LAX served nearly 88.1 million passengers and offered an average of 700 daily nonstop flights to 113 destinations in the U.S. and 1,200 weekly nonstop flights to 91 markets in 46 countries on 72 commercial airlines.

LAX generates 620,600 jobs in Southern California, with labor income of $37.3 billion and economic output (business revenues) of more than $126.6 billion, according to an economic study based on 2014 operations. This activity added $6.2 billion to local and state revenues and $8.7 billion in federal tax revenues. The study also reported that LAX's ongoing capital improvement program creates an additional 121,640 annual jobs with labor income of $7.6 billion and economic output of $20.3 billion; $966 million in state and local taxes; and $1.6 billion in federal tax revenues.

LAX is part of a system of two Southern California airports – along with Van Nuys general aviation – that are owned and operated by Los Angeles World Airports (LAWA), a proprietary department of the City of Los Angeles that receives no funding from the City's general fund.

LAWA is leading the aviation industry in sustainability practices, with initiatives related to water management, energy (electricity) management, air quality, recycling and natural resources management. In 2019, LAX received Level III ACI Airport Carbon Accreditation from Airport Councils International-Europe.

LAWA is also a leader in inclusivity, operating eight programs that provide opportunities for business enterprises including local, small, minority-owned, veteran-owned and disadvantaged firms, and working together with community partners to offer the HireLAX Apprenticeship Readiness Program, which targets local workers to make them ready for rewarding careers in the construction trades, and the Build LAX Academy, designed to prepare small contracting businesses for success when working on projects at LAX.

LAX was named a top-10 U.S. airport by SKYTRAX in 2018, and was honored as the "Most Innovative Airport for Passenger Experience" in 2019 by the American Association of Airport Executives. LAX is the second-most popular airport in the world to appear on Instagram, according to wego.com. Other recent honors have included selection as the No. 9 Best Airport (Wall Street Journal); No. 7 Best On-Time Performance for a Mega-Hub Airport (OAG); one of "The World's Best Airports for Business Travelers" (GlobeHunters); Public-Private Partnership of the Year (P3 Bulletin); Urth Caffe, Best Airport Coffee Concession of the Year (Global FAB Awards); Innovation of the Year, Consolidated Rent-A-Car Facility (ARTBA); Best Project, United Airlines Terminal 7 and 8 Redevelopment Program (Engineering News Record California); North American Public-Private Partnership Deal of the Year (IJ Global); and Innovative Transportation Solution of the Year, Automated People Mover (WTS LA).
As a covered entity under Title II of the Americans with Disabilities Act, the City of Los Angeles does not discriminate on the basis of disability and, upon request, will provide reasonable accommodation to ensure equal access to its programs, services, and activities. Alternative formats in large print, braille, audio, and other forms (if possible) will be provided upon request
# # #