For Immediate Release
Jun. 4, 2020
Contact:
LAX Public Relations
(424) 646-5430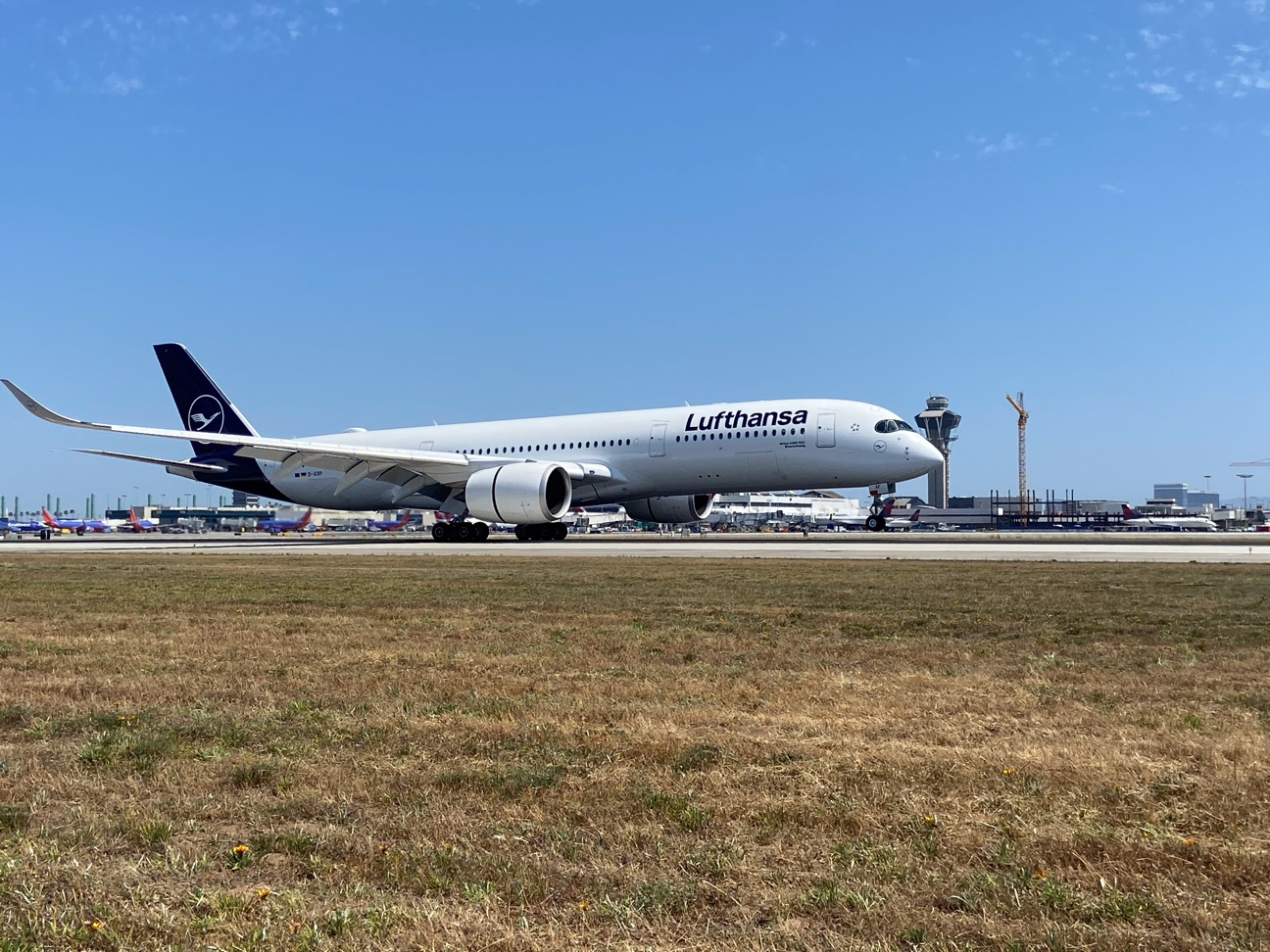 A Lufthansa A350 lands at Los Angeles International Airport on Wednesday, June 3 as the airline resumes nonstop service this week from LA to Munich.
LAX and Munich Are Part of a Group of Leading Global Airports Collaborating on Best Practices for Passenger Safety and Wellness
(Los Angeles, CA) Today marks the return of Lufthansa Airlines' nonstop service from Los Angeles International Airport (LAX) to Munich Airport (MUC), re-establishing a transatlantic flight that links the West Coast and Europe.

"We are pleased to welcome back Lufthansa and its nonstop service to the Bavarian capital of Munich, which creates a critical bridge between our two global cities as the world slowly recovers from the impacts of the COVID-19 pandemic," said Justin Erbacci, Interim Chief Executive Officer, Los Angeles World Airports (LAWA). "This reestablished service comes with a substantial focus on the health and safety of travelers at LAX, onboard the aircraft and at Munich Airport."

Lufthansa ceased operating the LAX-Munich flight on March 13 due to the decline in global demand for air travel. The resumed service will now operate three times per week and will for the first time use an Airbus A350-900 for the long-haul service.

LAX, MUC and Lufthansa have all implemented numerous measures to ensure that travel on the ground and in the air meet an increased level of hygiene and safety standards.
Passengers and employees are required to wear a facial covering as soon as they enter the terminal buildings at both LAX and MUC.
Signage at LAX directs passengers to practice physical distancing, including inside elevators and at security checkpoints.
LAX is deep-cleaning high-touch surfaces every hour using bacteria- and virus-killing products.
LAX utilizes UV sterilization within its terminal air filters.
During boarding, Lufthansa passengers are divided into zones to avoid large queues.
All Lufthansa passengers receive a disinfecting wipe before boarding the aircraft.
Lufthansa passengers are also required to wear their facial coverings on board the aircraft.
All Lufthansa aircraft cabins are disinfected after each landing.
LAX and MUC are part of a group of leading global airports working together to share best practices and provide a consistent experience for passengers traveling between them.

Flights from LAX to MUC will be scheduled for Mondays, Thursdays and Saturdays; and flights from MUC to LAX will be on Wednesdays, Fridays and Sundays as follows (all times local):
Depart LAX at 1:30 p.m., arrive at MUC at 9:45 a.m.
Depart MUC at 12:05 p.m., arrive at LAX at 3:05 p.m.
For more information and to book a flight, please visit www.lufthansa.com. To find out more about how you can travel safely at LAX, click here.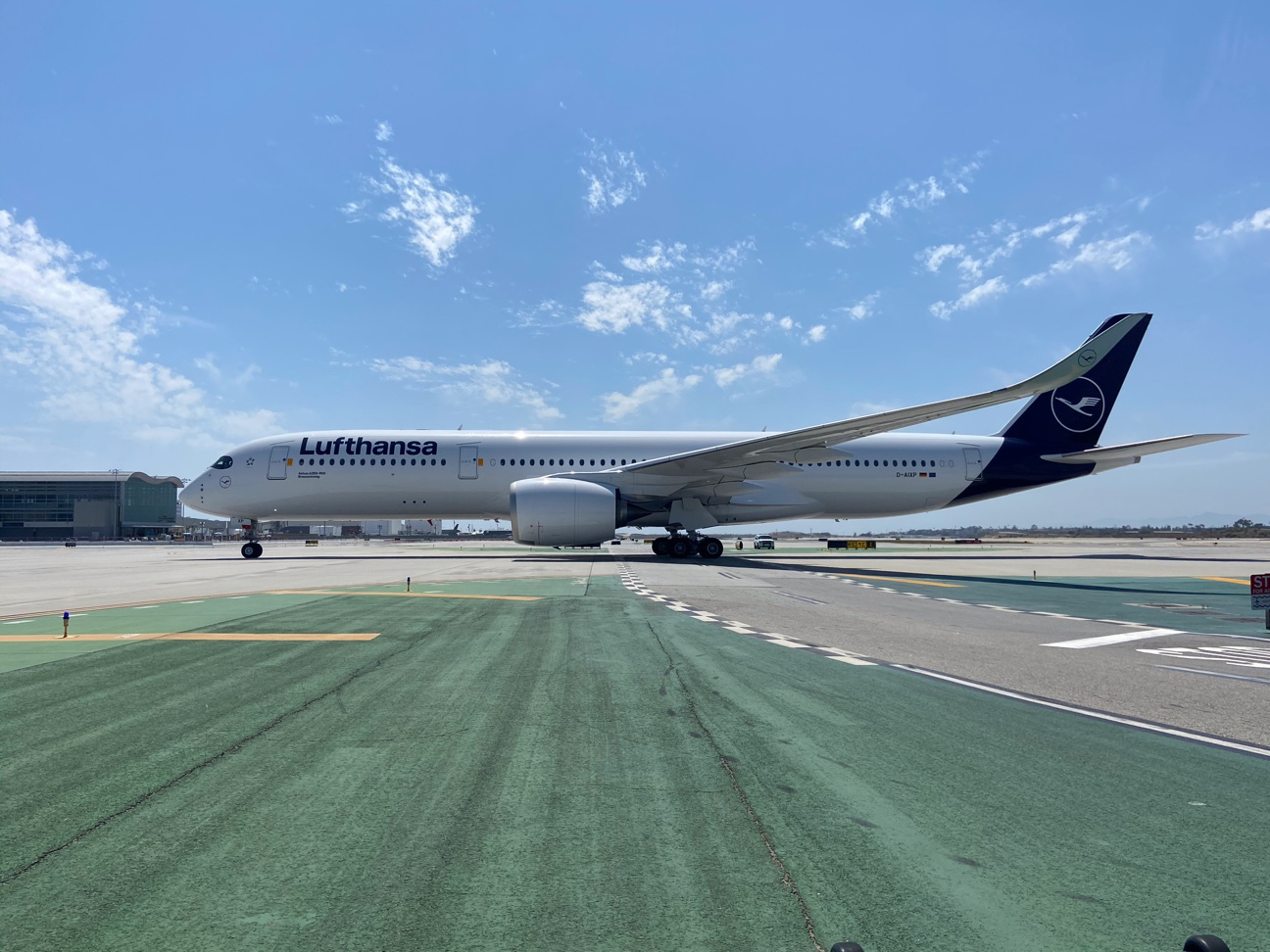 About Los Angeles International Airport (LAX)
LAX, the third-busiest airport in the world and second busiest in the United States in 2019, is in the midst of a $14.3-billion capital improvement program that will touch on all nine passenger terminals and build new facilities, including an Automated People Mover (APM) train, Consolidated Rent-A-Car (ConRAC) facility and a 12- to 15-gate Midfield Satellite Concourse (MSC) addition to the Tom Bradley International Terminal.
In 2019, LAX served nearly 88.1 million passengers and offered an average of 700 daily nonstop flights to 113 destinations in the U.S. and 1,200 weekly nonstop flights to 91 markets in 46 countries on 72 commercial airlines.
LAX generates 620,600 jobs in Southern California, with labor income of $37.3 billion and economic output (business revenues) of more than $126.6 billion, according to an economic study based on 2014 operations. This activity added $6.2 billion to local and state revenues and $8.7 billion in federal tax revenues. The study also reported that LAX's ongoing capital improvement program creates an additional 121,640 annual jobs with labor income of $7.6 billion and economic output of $20.3 billion; $966 million in state and local taxes; and $1.6 billion in federal tax revenues.
LAX is part of a system of two Southern California airports – along with Van Nuys general aviation – that are owned and operated by Los Angeles World Airports (LAWA), a proprietary department of the City of Los Angeles that receives no funding from the City's general fund.
LAWA is leading the aviation industry in sustainability practices, with initiatives related to water management, energy (electricity) management, air quality, recycling and natural resources management. In 2019, LAX received Level III ACI Airport Carbon Accreditation from Airport Councils International-Europe.
LAWA is also a leader in inclusivity, operating eight programs that provide opportunities for business enterprises including local, small, minority-owned, veteran-owned and disadvantaged firms, and working together with community partners to offer the HireLAX Apprenticeship Readiness Program, which targets local workers to make them ready for rewarding careers in the construction trades, and the Build LAX Academy, designed to prepare small contracting businesses for success when working on projects at LAX.
LAX was named a top-10 U.S. airport by SKYTRAX in 2018, and was honored as the "Most Innovative Airport for Passenger Experience" in 2019 by the American Association of Airport Executives. LAX is the second-most popular airport in the world to appear on Instagram, according to wego.com. Other recent honors have included selection as the No. 9 Best Airport (Wall Street Journal); No. 7 Best On-Time Performance for a Mega-Hub Airport (OAG); one of "The World's Best Airports for Business Travelers" (GlobeHunters); Public-Private Partnership of the Year (P3 Bulletin); Urth Caffe, Best Airport Coffee Concession of the Year (Global FAB Awards); Innovation of the Year, Consolidated Rent-A-Car Facility (ARTBA); Best Project, United Airlines Terminal 7 and 8 Redevelopment Program (Engineering News Record California); North American Public-Private Partnership Deal of the Year (IJ Global); and Innovative Transportation Solution of the Year, Automated People Mover (WTS LA).
For more information about LAX, please visit
www.flyLAX.com
or follow on Twitter
@flyLAXAirport
, on Facebook at
www.facebook.com/LAInternationalAirport
, and on YouTube at
www.YouTube.com/laxairport1
.
As a covered entity under Title II of the Americans with Disabilities Act, the City of Los Angeles does not discriminate on the basis of disability and, upon request, will provide reasonable accommodation to ensure equal access to its programs, services, and activities. Alternative formats in large print, braille, audio, and other forms (if possible) will be provided upon request.