The menu offers guests a fresh taste of Mexican street food.
FOR IMMEDIATE RELEASE




May 28, 2019



Contact:
LAX Public Relations
(424) 646-5260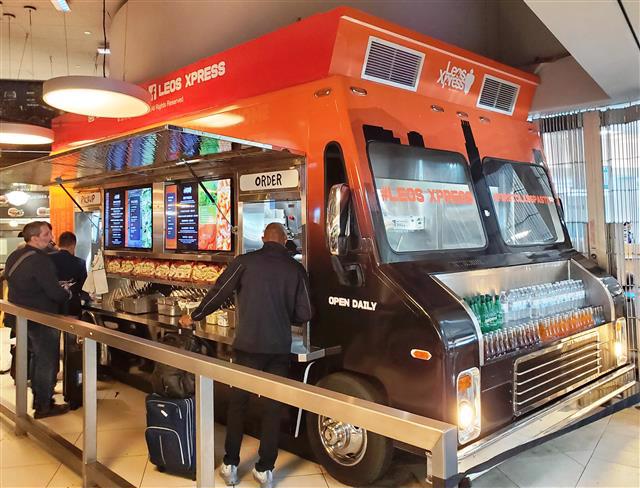 Leo's Xpress Food Truck is located post-security on the Upper/Departures Level in Terminal 4.

LEO'S
XPRESS FOOD TRUCK BRINGS AUTHENTIC MEXICAN STREET FOOD TO TERMINAL 4 AT LAX
(Los Angeles, CA) Are you ready to taste some of the best Mexican food that Los Angeles has to offer? Now that Leo's Xpress Food Truck is open for business in Terminal 4 at Los Angeles International Airport (LAX), you can do so right after you touch down in LA. The truck is the newest local food concept by global restaurateur HMSHost and its Airport Concessions Disadvantaged Business Enterprise partner, Havana House.



"At LAX, we are committed to showcasing the flavors, businesses and cultures of Los Angeles, and I can't think of a better way to do that than putting an incredibly popular local taco truck in one of our terminals," said Jeffrey Utterback, Deputy Executive Director of Commercial Development, LAWA. "Part of creating a world-class airport experience is providing exceptional choices in food and dining, and Leo's Xpress taco truck brings the best of Los Angeles to our guests and employees, while also providing an opportunity for a new local concessionaire to do business at LAX."
Leo's Xpress has an extraordinary menu that features freshly made tacos, quesadillas, burritos, alambras and tortas. The "Al Pastor" tacos are a customer favorite.

Passengers also have the option of ordering a side of Mexican rice, pinto beans or a garden salad with cilantro vinaigrette with each item. Another highlight is the all-day breakfast menu featuring breakfast burritos, breakfast tacos and huevos rancheros.



"Tacos are a traveler favorite and now we're excited to bring a truly authentic LA taqueria experience to LAX world travelers as part of our rotating food truck program," said HMSHost Vice President of Business Development Amy Dunne. "HMSHost is thrilled to partner with Leo's Xpress and Los Angeles World Airports to add even more unique local flavors to the airport and this wildly popular food truck."
"It's all in the flavor, really. Everything has been tested and measured for success. We love street food, and we love Los Angeles and that's just it. Our recipes are a product of our environment," said Leo's Xpress President Willie Rodriguez.

Open from 5:30 a.m. to 12:00 a.m., Leo's Xpress is a delicious option for people traveling through Terminal 4. Located in HMSHost's stationary food truck in the Terminal 4 food hall on the Upper/Departures Level post-security, Leo's Xpress is providing guests with an iconic and unforgettable Los Angeles experience.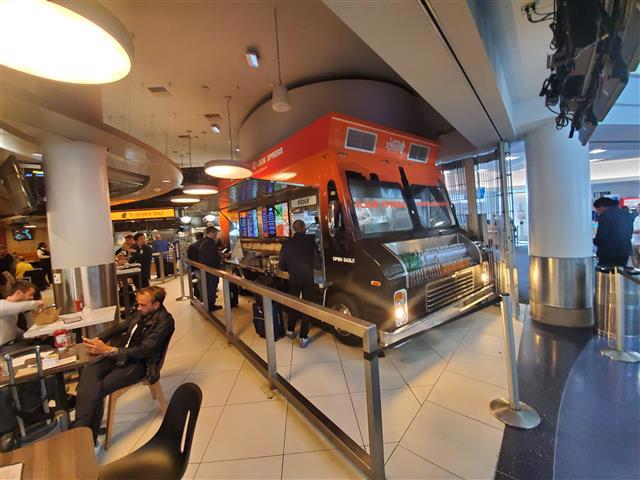 Leo's Express originated from Leo's Tacos Truck, which has served tacos in Los Angeles since 2010.
About Los Angeles International Airport (LAX)
LAX, the fourth-busiest airport in the world and second busiest in the United States, was named a top-10 U.S. airport by SKYTRAX. LAX served more than 87.5 million passengers in 2018 and offers an average of 700 daily nonstop flights to 109 cities in the U.S. and 1,281 weekly nonstop flights to 93 markets in 47 countries on 69 commercial airlines. LAX ranks 10th in the world in air cargo tonnage processed, with more than 2.4 million tons of air cargo. LAX handled 707,883 operations (landings and takeoffs) in 2018.

LAX generated 620,600 jobs in Southern California, with labor income of $37.3 billion and economic output (business revenues) of more than $126.6 billion, according to an economic study based on 2014 operations. This activity added $6.2 billion to local and state revenues and $8.7 billion in federal tax revenues. The study also reported that LAX's ongoing capital improvement program creates an additional 121,640 annual jobs with labor income of $7.6 billion and economic output of $20.3 billion; $966 million in state and local taxes; and $1.6 billion in federal tax revenues.
LAX was honored as having the "Best Overall Customer Service Program" by Airports Council International-North America; named the "Best Airport for Breastfeeding Moms" by Mamava; selected for the Top 10 "Best of the U.S.'s Big Airports" (Wall Street Journal) and "Most Pet-Friendly Airports in the U.S. (Mental Floss); named the second-most improved airport in the U.S. by JD Power; received an "Innovation Award" from the L.A. Better Business Challenge for its Central Utility Plant; and named a "Business Leader in Air Quality" by the South Coast Air Quality Management District.


LAX is also the second-most popular airport in the world to appear on Instagram, according to wego.com. LAX is part of a system of two Southern California airports – along with Van Nuys general aviation – that are owned and operated by Los Angeles World Airports, a proprietary department of the City of Los Angeles that receives no funding from the City's general fund.

For more information about LAX, please visit www.flyLAX.com or follow on Twitter, @flyLAXAirport, on Facebook at www.facebook.com/LAInternationalAirport, and on YouTube at www.YouTube.com/laxairport1.

As a covered entity under Title II of the Americans with Disabilities Act, the City of Los Angeles does not discriminate on the basis of disability and, upon request, will provide reasonable accommodation to ensure equal access to its programs, services, and activities. Alternative formats in large print, braille, audio, and other forms (if possible) will be provided upon request.

# # #