Guests can take selfies with new original student designs in the terminals.
FOR IMMEDIATE RELEASE




May 1, 2019



Contact:
Jocelyn Steele
LAX Public Relations
(424) 646-5260


A design created by Jeanette Kulick, a digital media student at Otis College of Art and Design, is located in Terminals 3 and 7.

LAX, Otis College of Art and Design, Woodbury University Debut New Student Art for "100percentLA" Selfie Campaign
(Los Angeles, CA) With summer just around the corner, Los Angeles World Airports (LAWA) is excited to celebrate the season with the perfect mix of art and selfies. In partnership with Otis College of Art and Design and Woodbury University, LAWA has debuted original art and design work created by students from each school for the annual summer selfie campaign, "100percentLA," at Los Angeles International Airport (LAX).

Students developed artwork that highlights the unique facets that make Los Angeles a culturally diverse and iconic city, and they used a variety of design and digital skills to produce vibrant and colorful graphic art. These works are featured in most terminals at LAX. Guests can pose in front of the artwork for selfies, and are encouraged to post their photos on social media with the hashtags #100percentLA and #FlyLAX. The

campaign serves as an opportunity to use walls at LAX to create a connection between guests and the local community's aspiring artists.





"LAX is proud to partner with Otis College and Woodbury University for the '100percentLA' campaign. This partnership highlights the beauty, creativity and excitement that exists in Los Angeles as depicted by budding local artists," said Keith Wilschetz, Deputy Executive Director for Emergency Management and Operations, LAWA. "We are excited that our global guests will be able to take memorable photos with the designs and carry a piece of Los Angeles with them to share stories about their unforgettable experiences at LAX and in the City of Angels."



"Bringing art and design work from seniors at Otis College of Art and Design to a larger audience through this partnership with LAWA is a thrill," said Jeffrey Perkins, Vice President of Communications and Marketing, Otis College of Art and Design. "Whether it brightens someone's day, reminds a visitor of a Los Angeles memory or experience, or helps them think about their own creative projects, we know our students' work will inspire travelers at LAX. Creativity is the engine of Los Angeles, and we're proud to welcome visitors from all over the world through our students' hard work and creative vision."

"We are honored that our graphic design students' artwork was selected to be displayed at LAX to enrich the guest experience and evoke the excitement of Los Angeles and travel," said Cate Roman, Professor of Graphic Design, Woodbury University. "Civic engagement and community involvement are a cornerstone of Woodbury's mission and this partnership with LAWA has allowed our students to embrace these concepts while utilizing their extraordinary talents. This process of engaging in work that enhances the public experience is an excellent example of how design can impact many."

The "100percentLA" campaign will run throughout the summer at LAX. Guests are encouraged to take selfies with the designs

and post on social media with the following hashtags:

#100percentLA and #FlyLAX. All of the selfie walls are located pre-security.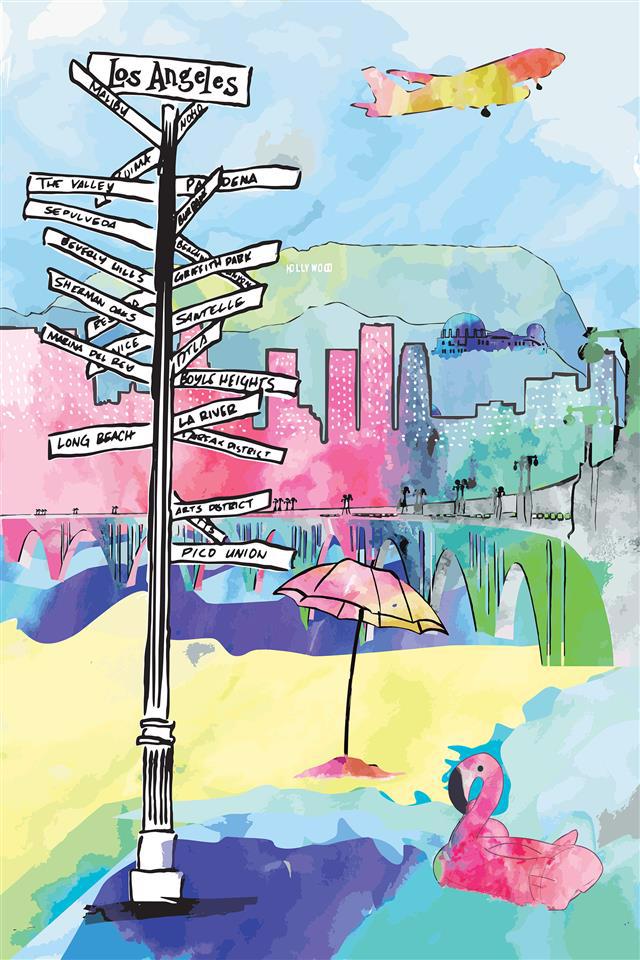 This design was created by Burbank native and Woodbury University Junior graphic design student Amanda Way and is located in Terminal 7.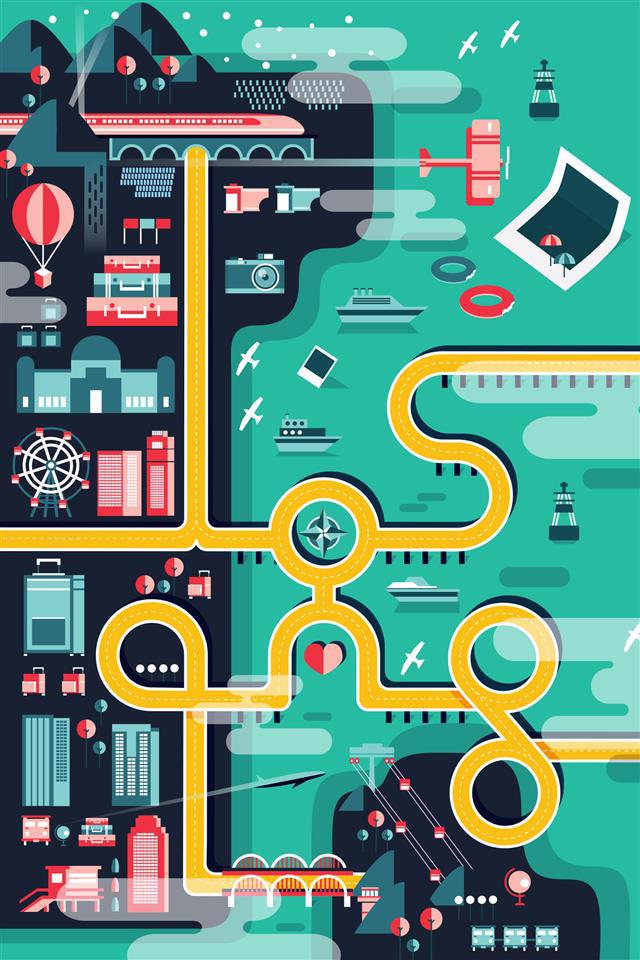 Woodbury University Junior graphic design student Tuan Le's design is located in Terminals 3, 4 and 6.
Otis College Digital Media student Giovana Pham's design is located in Terminals 1, 4 and 6.


*The designs featured in the header (left to right) were created by Otis College fine arts photography and advertising design student, Alex Mediate, and Otis College digital media and animation student, Gun Woo Oh.
About Los Angeles International Airport (LAX)
LAX, the fourth-busiest airport in the world and second busiest in the United States, was named a top-10 U.S. airport by SKYTRAX. LAX served more than 87.5 million passengers in 2018 and offers an average of 700 daily nonstop flights to 109 cities in the U.S. and 1,281 weekly nonstop flights to 93 markets in 47 countries on 69 commercial airlines. LAX ranks 10th in the world in air cargo tonnage processed, with more than 2.4 million tons of air cargo. LAX handled 707,883 operations (landings and takeoffs) in 2018.

LAX generated 620,600 jobs in Southern California, with labor income of $37.3 billion and economic output (business revenues) of more than $126.6 billion, according to an economic study based on 2014 operations. This activity added $6.2 billion to local and state revenues and $8.7 billion in federal tax revenues. The study also reported that LAX's ongoing capital improvement program creates an additional 121,640 annual jobs with labor income of $7.6 billion and economic output of $20.3 billion; $966 million in state and local taxes; and $1.6 billion in federal tax revenues.
LAX was honored as having the "Best Overall Customer Service Program" by Airports Council International-North America; named the "Best Airport for Breastfeeding Moms" by Mamava; selected for the Top 10 "Best of the U.S.'s Big Airports" (Wall Street Journal) and "Most Pet-Friendly Airports in the U.S. (Mental Floss); named the second-most improved airport in the U.S. by JD Power; received an "Innovation Award" from the L.A. Better Business Challenge for its Central Utility Plant; and named a "Business Leader in Air Quality" by the South Coast Air Quality Management District.


LAX is also the second-most popular airport in the world to appear on Instagram, according to wego.com. LAX is part of a system of two Southern California airports – along with Van Nuys general aviation – that are owned and operated by Los Angeles World Airports, a proprietary department of the City of Los Angeles that receives no funding from the City's general fund.

For more information about LAX, please visit www.flyLAX.com or follow on Twitter, @flyLAXAirport, on Facebook at www.facebook.com/LAInternationalAirport, and on YouTube at www.YouTube.com/laxairport1.

As a covered entity under Title II of the Americans with Disabilities Act, the City of Los Angeles does not discriminate on the basis of disability and, upon request, will provide reasonable accommodation to ensure equal access to its programs, services, and activities. Alternative formats in large print, braille, audio, and other forms (if possible) will be provided upon request.


About Otis College of Art and Design

Established in 1918, Otis College of Art and Design offers undergraduate and graduate degrees in a wide variety of visual and applied arts, media, and design. Core programs in liberal arts, business practices, and community-driven projects support the College's mission to prepare diverse students to enrich the world through their creativity, skill, and vision. Throughout the 2018 / 2019 academic year, the College celebrates its centennial year with the 100 Percent initiative, a wide-ranging initiative spotlighting the contributions of Otis alumni and current students with a series of commissioned projects, talks, exhibitions and events at the campus and throughout Los Angeles. For more information about Otis College, please visit www.otis.edu or follow on Twitter @otiscollege, on Facebook at www.facebook.com/otiscollege, and on YouTube at www.YouTube.com/OtisCollege.


About Woodbury University
Founded in 1884, Woodbury University is one of the oldest institutions of higher education in Southern California. The university ranks 15th among the nation's "25 Colleges That Add the Most Value," according to Money Magazine, was voted "Best Graduate School" in the Los Angeles Daily News 2017 Readers Choice Awards,and is a 2017-18 College of Distinction. Woodbury was a finalist for the General Community Service Award, a part of the 2015 President's Higher Education Community Service Honor Roll recognition program. With campuses in Burbank/Los Angeles and San Diego, the university offers bachelor's degrees from the School of Architecture, School of Business, School of Media, Culture & Design, and College of Liberal Arts, along with a Master of Business Administration, Master of Architecture, Master of Interior Architecture and Master of Science in Architecture. The San Diego campus offers Bachelor of Architecture and Master of Architecture, Master of Interior Architecture and Master of Landscape Architecture degrees, as well as a Master of Science in Architecture, Real Estate Development. Visit woodbury.edu for more information.
# # #