FOR IMMEDIATE RELEASE
January 18, 2019

CONTACTS:
Diana Sanchez/Van Nuys Airport
(818) 216-5290

Frederick Badlissi/LAWA
(424) 646-5260


Shannon Chambers/NATA
(703) 298-1347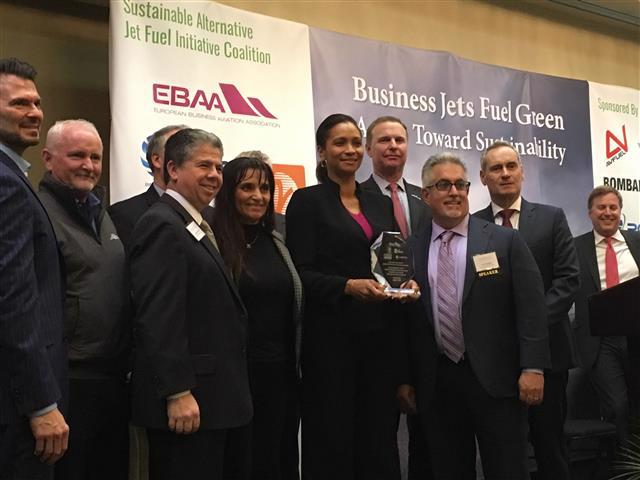 VAN NUYS AIRPORT IS FIRST GENERAL AVIATION AIRPORT TO OFFER COMMERCIALLY AVAILABLE SUSTAINABLE ALTERNATIVE JET FUELS
(Van Nuys, CA) Yesterday, Van Nuys Airport (VNY) hosted "Business Jets Fuel Green: A Step Toward Sustainability," a daylong event devoted to the use and awareness of sustainable alternative jet fuels (SAJF), which include the latest formulations of jet fuel that come from renewable and sustainable sources. Los Angeles City Councilmember Nury Martinez and Los Angeles World Airports (LAWA) executives, including LAWA Chief Executive Officer Deborah Flint, joined a consortium of general aviation and business aviation advocates to promote the use of SAJF as part of a shared commitment to combating climate change through the reduction of greenhouse gas emissions from jet fuel.

VNY is now the first general aviation airport in the U.S. to offer SAJF on a trial basis, serving as a model for other general aviation airports. For Thursday's event, each of the participating Fixed Based Operators (FBOs) purchased 4,000 gallons of SAJF, demonstrating the business aviation industry's commitment to the development and adoption of SAJF. The introduction of SAJF at VNY is the latest step in a series of sustainable practices that has earned VNY a reputation as one of America's greenest general aviation airports.

"It's been 10 years since the aviation industry committed to fight climate change," said Los Angeles City Councilwoman Nury Martinez, whose Council District 6 includes Van Nuys Airport. "Today, Van Nuys Airport and its aviation business partners are taking another major step forward to address climate change by integrating sustainable alternative jet fuels, which will reduce greenhouse gas emissions and improve air quality. This is a very big deal."

The SAJF demonstration continues VNY's role as a leader in sustainable aviation. In November, seven VNY tenants committed to install solar panels on their properties that, when complete, will produce approximately 44.6 million kilowatt-hours annually — enough to power about 8,000 homes each year – without emissions. VNY was also one of the first general aviation airports in the world to achieve Airport Carbon Accreditation by Airports Council International-Europe, based on LAWA's commitment to measure and reduce carbon emissions from its operations.

"By embracing sustainable alternative jet fuels for its aircraft operations, Van Nuys Airport is once again positioning itself as an industry leader and setting the bar for general aviation airports around the world," said Deborah Flint, CEO, LAWA. "Along with our aviation partners, we are showing that using SAJF in aviation operations is possible, which is something of incredible significance. If there's an industry that can rise to the challenge of fighting climate change, it's the aviation industry."

As opposed to traditional jet fuel, which consists mainly of kerosene-based hydrocarbons, SAJF is formulated by mixing traditional kerosene-based jet fuel with various sustainably-sourced hydrocarbons, including food stock or other materials. When ignited, today's SAJF can reduce carbon emissions by as much as 50 percent.

The "Business Jets Fuel Green: A Step Toward Sustainability" event included discussions by general and business aviation groups, including the National Air Transportation Association (NATA), the National Business Aviation Association (NBAA), the European Business Aviation Association (EBAA), the International Business Aviation Council (IBAC), and the General Aviation Manufacturers Association (GAMA). Representatives educated attendees about SAJF's composition and its feasibility as a useable, economical alternative to conventional jet fuels. Attendees also participated in flight demonstrations on aircraft running on SAJF, provided by business aviation manufacturers Gulfstream, Bombardier, and Embraer. Aircraft using SAJF does not require any modification, which makes it a true "drop-in" fuel, eliminating another barrier to introduction.

The event concluded with the presentation of awards to Councilmember Martinez, CEO Flint, and other aviation advocates for their roles in promoting sustainable practices across all aspects of aviation.


For more information about the general aviation industry's commitment to promoting and using SAJF, visit http://www.futureofsustainablefuel.com/.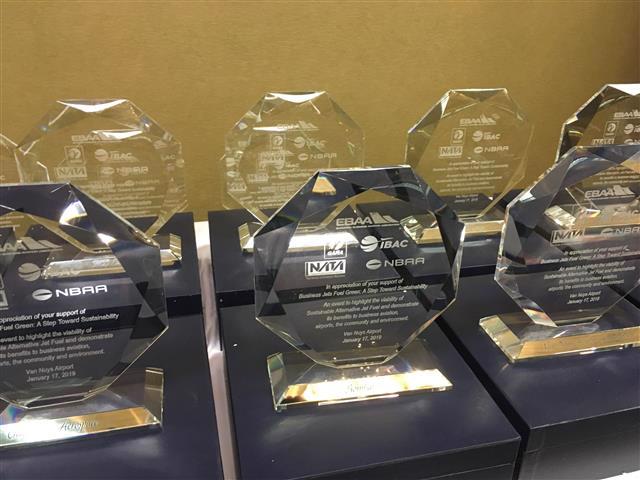 # # #