For Immediate Release
August 30, 2018

Contact:
Charles H. Pannunzio
(424) 646-5260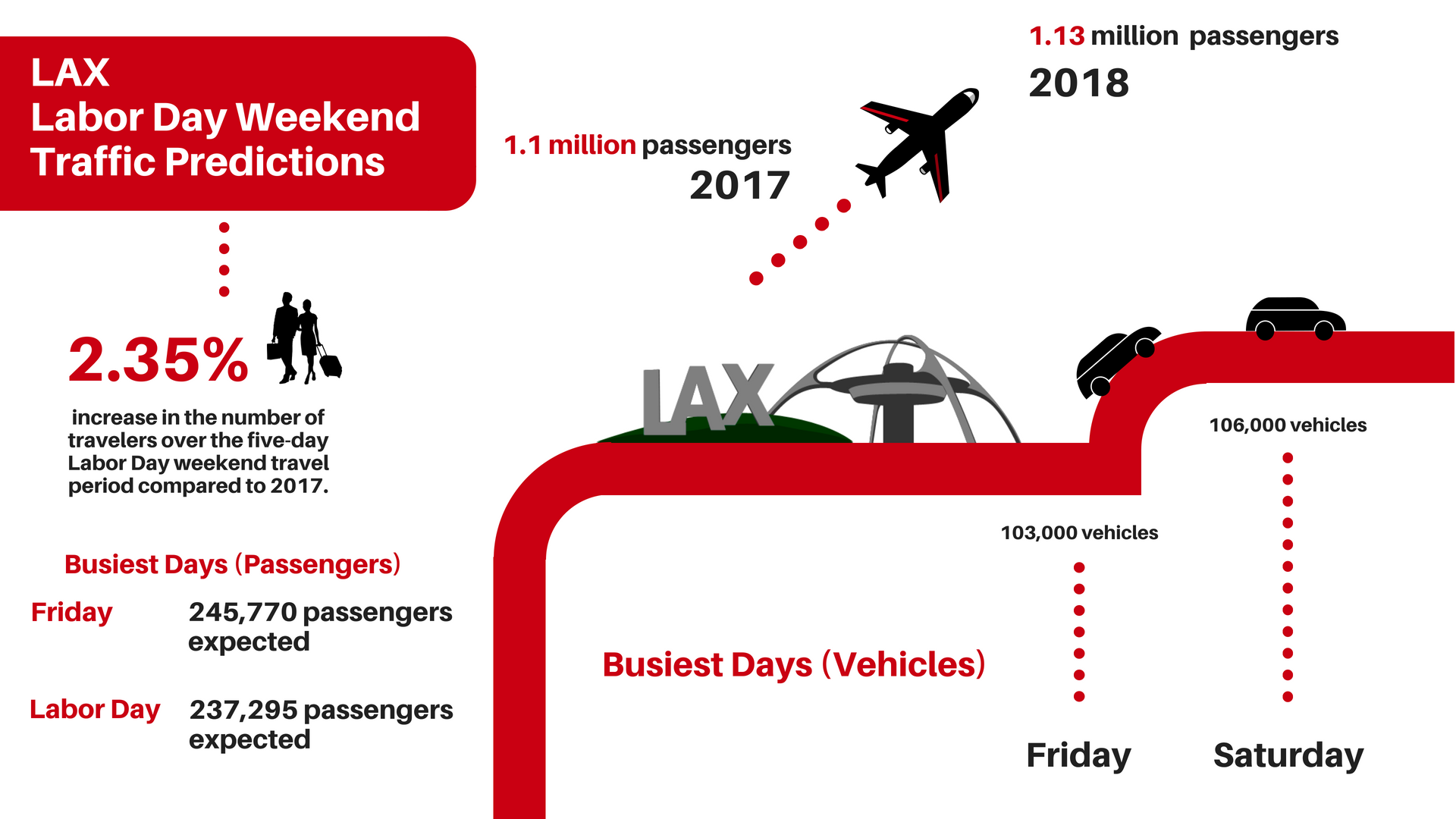 LAX EXPECTS TO CLOSE SUMMER TRAVEL SEASON
WITH RECORD-BREAKING LABOR DAY WEEKEND
(Los Angeles, CA) The traditional end of the busy summer travel season will bring with with it an estimated 2.35 percent increase in the number of travelers over the five-day Labor Day weekend travel period compared to 2017 at Los Angeles International Airport (LAX).

LAX officials expect 1,131,405 passengers to use the airport between Friday, August 31 and Tuesday, September 4 this year. That compares to 1,105,295 for the same Friday-Tuesday period in 2017.
"Labor Day weekend promises to be another record-breaking holiday at LAX, and we want our guests to know that we are ready to welcome them with new concessions, amenities and technologies to make their trips easier and more enjoyable," said Barbara Yamamoto, Chief Experience Officer, LAWA. "If you're coming to LAX this weekend, give yourself plenty of time, use one of our stress-reducing travel tips and have an exceptional holiday weekend."
The busiest day will be Friday, when 245,770 passengers are expected, followed by the Monday holiday, with 237,295 passengers anticipated. On the roadways, the busiest days is expected to be Saturday, with 106,000 vehicles entering the airport, while a little more than 103,000 vehicles are expected on Friday and Tuesday.
Passengers and motorists should plan ahead and be prepared for traffic congestion on the roadways in and around LAX, as well as terminals which are expected to be more crowded than usual. LAX advises guests to arrive two hours before the boarding time for domestic flights and three hours ahead of boarding for international flights.


Motorists are advised to expect and plan for delays during periods of traffic congestion in the CTA.

Los Angeles Airport Police is adding motorcycle officers and traffic control officers throughout the airport, and have partnered with the Department of Transportation (DOT) to help address traffic issues at the intersections of Imperial and Sepulveda, Lincoln and Sepulveda, Century and Avion, and Sepulveda and Little Century. These additional officers were deployed starting Thursday morning and will continue through Tuesday, Sept. 4.
"The safety and security of the traveling public is always our primary mission. Due to the increased number of travelers this holiday weekend, Airport Police will have additional personnel focused on assisting travelers and ensuring the orderly flow of traffic in and out of the Central Terminal Area," said David L. Maggard Jr., Chief, Los Angeles Airport Police.
The traveling public is encouraged to report all suspicious activity to LAX Airport Police at (310) 646-4268 or at 877-A-THREAT / 877-284-7328. If you "See Something, Say Something. Security is Everybody's Business."


GREAT NEW CONCESSION & RETAIL OPTIONS:


Our guests will find great new concessions and a number of retail stores throughout the nine terminals, pre- and post-security. Passengers traveling throughTerminal 1 are particuarly in for a treat as Urth Caffe and a new food court have opened in recent weeks. Other recent additions have included a second location of The New Stand in Terminal 1, Moshi in Terminal 3, P.F. Chang's in the Tom Bradley International Terminal, and Ashland Hill, Hudson News Pier No. 7 Market and Dunkin' Donuts in Terminal 7. For a complete list of dining and retail locations at LAX, visit
https://flylax.com/en/lax-dining-and-shopping
.


SAVE TIME IN LINE:


Travelers are encouraged to enroll in TSA Pre✓® or other trusted traveler programs such as Global Entry and download the Mobile Passport Control (MPC) app on their smartphone, which improve security and reduce wait times.


TRAFFIC & PARKING TIPS:


The public is reminded that LAX's multi-billion-dollar modernization program is still on-going. While construction work on parking structures, terminals and sidewalks is scheduled during late-night and early-morning hours, motorists and pedestrians should be prepared to encounter delays. When coming to LAX, passengers should look for and follow way-finding signage near all construction sites to ensure their safety and to enhance mobility. For real-time LAX traffic conditions and, information on the status and locations of airport construction, visit
www.FlyLAX.com
. Motorists and travelers also can receive real-time status of airport conditions by accessing
@FlyLAXairport
and
@LAAirportPD
Twitter feeds.


To reduce traffic congestion on Central Terminal Area roadways, passengers are encouraged to take shared-ride public transportation to/from LAX, including: Metro Rail Green Line; taxis; door-to-door shuttle vans; and long-distance and municipal buses. FlyAway® buses from Hollywood, Long Beach, Metro Orange Line (San Fernando Valley) Union Station, Van Nuys, and Westwood/UCLA.


Rather than circling the Central Terminal Area until arriving passengers reach terminal curbside for pick up, motorists can park and wait up to two hours free at the LAX Cell Phone Waiting Lot at 96th Street and Vicksburg (adjacent to the entrance of LAX Parking Lot C) or park in one of the structures and receive 15 free minutes of parking.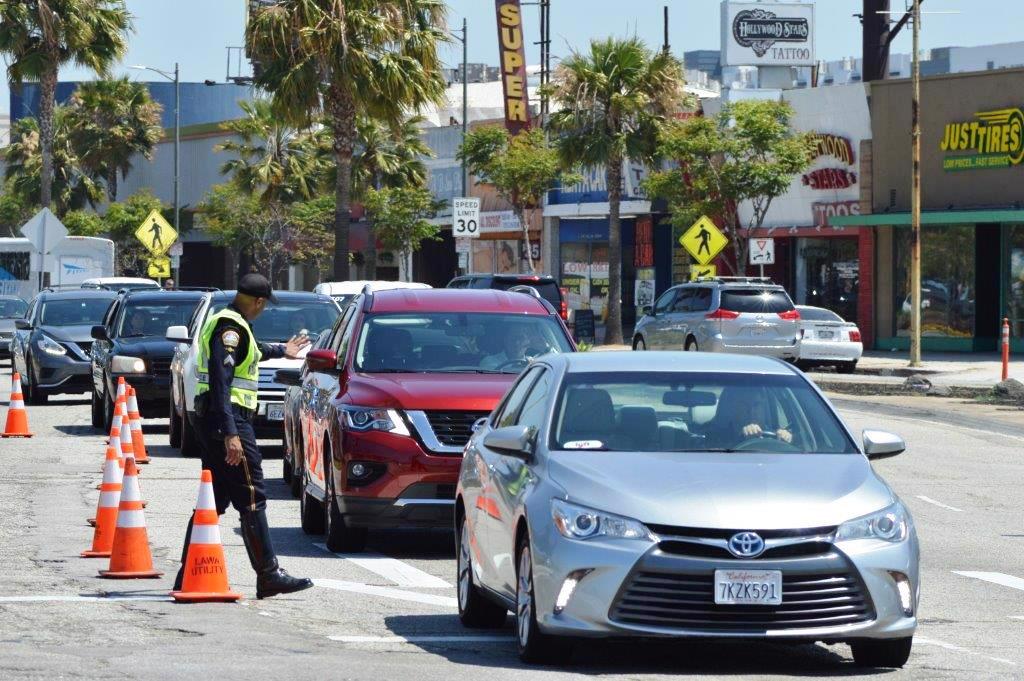 Along with adding officers throughout the airport, Los Angeles Airport Police has partnered with the Department of Transportation to address traffic issues on nearby streets over the holiday weekend.

About Los Angeles International Airport (LAX)

LAX, the fifth busiest airport in the world and second in the United States, was named in Skytrax' 2018 top 10 U.S. airports. LAX served more than 84.56 million passengers in 2017 and offers 737 daily nonstop flights to 100 cities in the U.S. and 1,386 weekly nonstop flights to 88 cities in 44 countries on 73 commercial air carriers. LAX ranks 14th in the world and fifth in the U.S. in air cargo tonnage processed, with more than 2.2 million tons of air cargo valued at over $101.4 billion. LAX handled 700,362 operations (landings and takeoffs) in 2017.

An economic study based on 2014 operations reported LAX generated 620,600 jobs in Southern California with labor income of $37.3 billion and economic output (business revenues) of more than $126.6 billion. This activity added $6.2 billion to local and state revenues and $8.7 billion in federal tax revenues. The study also reported that LAX's ongoing capital-improvement program creates an additional 121,640 annual jobs with labor income of $7.6 billion and economic output of $20.3 billion, $966 million in state and local taxes, and $1.6 billion in federal tax revenues.

LAX is also the second most popular airport in the world to appear on Instagram according to wego.com. LAX is part of a system of two Southern California airports – along with Van Nuys general aviation – that are owned and operated by Los Angeles World Airports, a proprietary department of the City of Los Angeles that receives no funding from the City's general fund.

For more information about LAX, please visit www.flyLAX.com or follow on Twitter @flyLAXAirport, on Facebook at www.facebook.com/LAInternationalAirport, and on YouTube at www.YouTube.com/laxairport1.

As a covered entity under Title II of the Americans with Disabilities Act, the City of Los Angeles does not discriminate on the basis of disability and, upon request, will provide reasonable accommodation to ensure equal access to its programs, services, and activities. Alternative formats in large print, braille, audio, and other forms (if possible) will be provided upon request.
# # #