For Immediate Release
July 27, 2018

Contact:
Charles H. Pannunzio
Los Angeles World Airports
424-646-5260
cpannunzio@lawa.org

Gabriella Coyle
Bob Hope USO
626-673-7676
gabriella@bobhopeuso.org

BOB HOPE USO MOVES INTO NEW HOME AT LAX'S HISTORIC THEME BUILDING


From left, CPT Sung Chung, CPT Christopher G. Montes, Los Angeles Board of Airport Commissioners Vice-President Valeria Velasco, Bob Hope USO President Bob Kurkjian, Delta Air Lines Managing Director of Government Affairs Dana Debel, Master Chief Petty Officer Lloyd Roberts, Wayne Kauffman, Bob Hope USO Board Member, and Noe G. Aguirre,1st Vice Commander Post 283 were on hand to mark Bob Hope USO's move into its new home at the Theme Building at LAX on Friday morning.

(Los Angeles, CA) Bob Hope USO at Los Angeles International Airport (LAX) has a new address today, after moving earlier this morning into the ground level of the iconic Theme Building on Center Way.

The new center is about double the size of the previous USO facility located near Terminal 2, providing 7,100 square feet to serve current members of the military and their families traveling through LAX.


"The men and women of our armed forces put their lives on the line to protect us every day -- they deserve a warm welcome when they come home, and when they're traveling through our airport," said Los Angeles Mayor Eric Garcetti. "This beautiful new facility opens a new chapter in the rich history of the Bob Hope USO at LAX, and I am proud to see it open its doors today."
"We are proud to open the doors of our iconic LAX Theme Building to our service members and their families, as the new home of the Bob Hope USO," said Deborah Flint, Chief Executive Officer, Los Angeles World Airports (LAWA). "This renovated facility provides the Bob Hope USO an incredible space that reflects progress on our commitment to creating a world-class airport experience for all of our guests."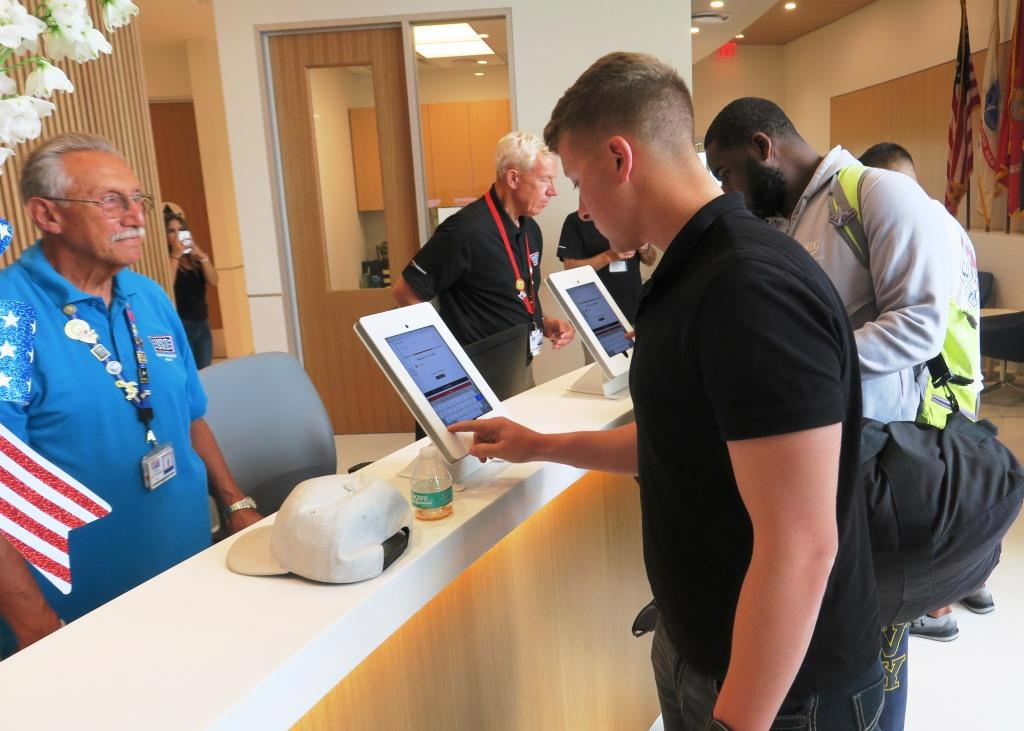 Some of the first service members to arrive at the new USO location register on Friday morning.

"For 77 years, the USO has been the standard bearer in service to our troops and their families," said Bob Kurkjian, President, Bob Hope USO. "Today, we continue that tradition with the newest Bob Hope USO Center, combining our tradition of hospitality with best-in-class technology and entertainment. In partnership with our major donors, this center will welcome an estimated 2.7 million troops over the next 20 years."

Part of the new center pays homage to Bob Hope and his decades long support of the USO and the troops with a curated display area honoring the famed comedian and entertainer.

Among the amenities for visiting troops and their families are a canteen snack bar; dining room; large nap room; family zone with play area and three private family rooms with dedicated restroom; three family video connection rooms; TV lounge and movie theater; gaming lounge; selfie wall; charging stations; secure luggage storage; and an outdoor pavilion.

All services, food and beverages are provided free of charge to current members of the military and their dependent family members thanks to thousands of generous donors, large and small, and a team of over 250 USO volunteers who operate the facility 24 hours a day, seven days a week, 365 days a year.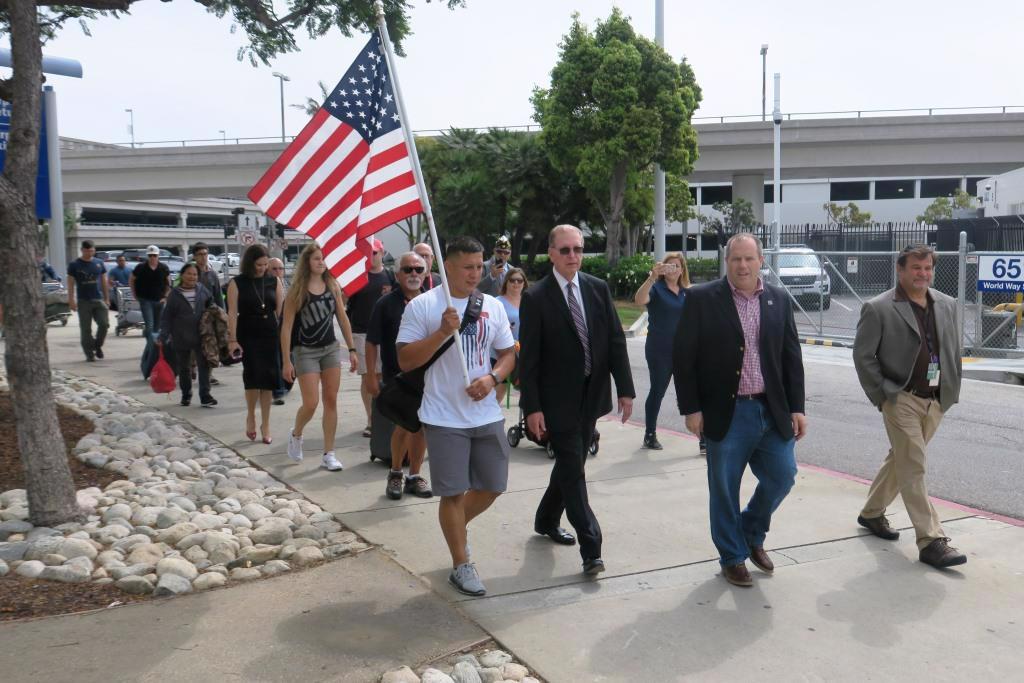 A flag bearer helped guide the first arrivals from the former USO location to the Theme Building.

The USO is moving to its new location from modular buildings in use for nearly 18 years. Since beginning operations at LAX in 1974, the USO has served over a million of our troops and families. It had outgrown its existing facility, which will be removed to allow for construction of the new LAX Automated People Mover.

The move and construction of the new center are made possible through the commitment of Bob Hope USO's supporters including The Bob and Dolores Hope Foundation, Los Angeles World Airports, Delta Air Lines, Northrop Grumman Corporation, The Ahmanson Foundation, American Legion Post 283, Marilyn Cohen and Chris Malburg, Ralph M. Parsons Foundation, The Madeline and Marvin Gussman Family Foundation, Hollywood Post 43, American Legion, The Fred and Peggy Hartley Family Foundation, California Veterans Charity and other members of the community that have pledged to sponsor and support Bob Hope USO.

Bob Hope USO provides direct service to over 250,000 service members, their families and eligible military retirees in Southern and Central California annually.

To donate, sign up for a volunteer position, or send supplies needed to stock the new USO from the wishlist, please visit bobhopeuso.org.

About Los Angeles International Airport (LAX)
LAX, the fifth busiest airport in the world and second in the United States, was named in Skytrax' 2018 top 10 U.S. airports. LAX served more than 84.56 million passengers in 2017 and offers 737 daily nonstop flights to 100 cities in the U.S. and 1,386 weekly nonstop flights to 88 cities in 44 countries on 73 commercial air carriers. LAX ranks 14th in the world and fifth in the U.S. in air cargo tonnage processed, with more than 2.2 million tons of air cargo valued at over $101.4 billion. LAX handled 700,362 operations (landings and takeoffs) in 2017.

An economic study based on 2014 operations reported LAX generated 620,600 jobs in Southern California with labor income of $37.3 billion and economic output (business revenues) of more than $126.6 billion. This activity added $6.2 billion to local and state revenues and $8.7 billion in federal tax revenues. The study also reported that LAX's ongoing capital-improvement program creates an additional 121,640 annual jobs with labor income of $7.6 billion and economic output of $20.3 billion, $966 million in state and local taxes, and $1.6 billion in federal tax revenues.

LAX is also the second most popular airport in the world to appear on Instagram according to wego.com. LAX is part of a system of two Southern California airports – along with Van Nuys general aviation – that are owned and operated by Los Angeles World Airports, a proprietary department of the City of Los Angeles that receives no funding from the City's general fund.

For more information about LAX, please visit www.flyLAX.com or follow on Twitter @flyLAXAirport, on Facebook at www.facebook.com/LAInternationalAirport, and on YouTube at www.YouTube.com/laxairport1.

As a covered entity under Title II of the Americans with Disabilities Act, the City of Los Angeles does not discriminate on the basis of disability and, upon request, will provide reasonable accommodation to ensure equal access to its programs, services, and activities. Alternative formats in large print, braille, audio, and other forms (if possible) will be provided upon request.

About Bob Hope USO

Bob Hope USO provides USO services and programming to members of the military and their families across 50,000 square miles of Southern and Central California. Bob Hope USO is an independent 501(c)3 non-profit organization operating under a charter from USO, Inc., providing morale and recreational services to members of the U.S. Military. Although Congressionally chartered, Bob Hope USO is not a government agency and relies entirely on contributions from patriotic Americans and philanthropic corporations and organizations.
The new 7,100-square-foot center, which opened earlier today, offers nearly twice the room of the previous Bob Hope USO at LAX.

# # #