FOR IMMEDIATE RELEASE




July 24, 2018



Contact:
Lorren Walker
LAX Public Relations
(424) 646-5260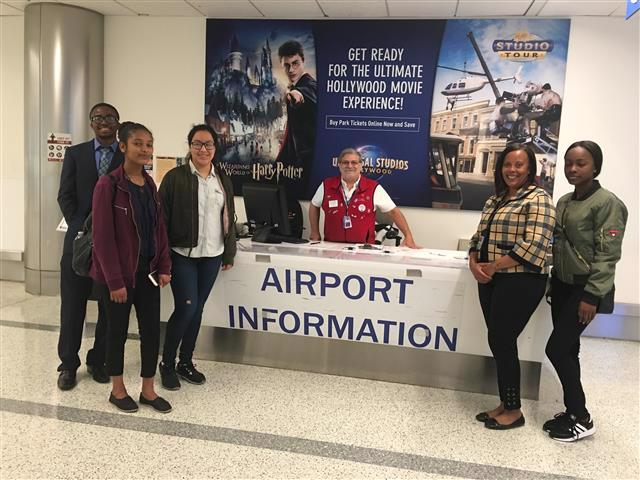 Monique Bell, LAXceeders Program Director, and volunteers.
LOCAL YOUTHS AGED 16-24 PARTICIPATE
IN NEW VOLUNTEER PROGRAM AT LAX
(Los Angeles, CA)

Los Angeles International Airport (LAX) has expanded its popular Volunteer

Information Professionals (VIP) program to include a new program for students, the LAXceeders Student Volunteer Program. The year-round program is open to high school students and college undergraduates, ages 16-24 who want to volunteer at LAX. While directing guests and assisting with internal events at the airport, students will learn about the many jobs and opportunities in the field of aviation and get to meet travelers from around the world.
"The LAXceeders program is a win for LAX, our guests and these students, who are helping travelers while learning about the diversity of jobs available at an international airport," said Keith Wilschetz, Deputy Executive Director for Operations and Emergency Management, LAWA. "At LAX, we are always looking for new ways to introduce young people to aviation-related career opportunities, and this program does just that through a fun and engaging summer program."
The LAXceeders aims to help students learn about the skills they will need to succeed in the aviation industry. The program introduces students to the airport environment and great variety of jobs and services available at the airport, and helps them develop communication skills and provides opportunities to learn about building community partnerships.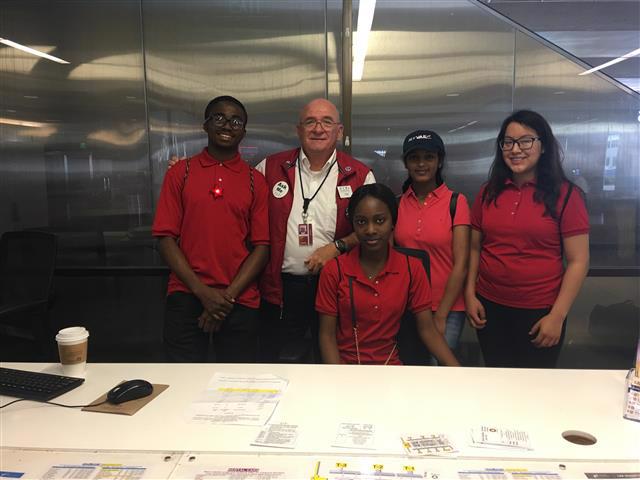 LAXceeders student volunteers and VIP volunteer at the airport information desk.


Students responsibilities include but are not limited to, assisting guests with questions about LAX, gate locations, locating airport resources (flight information monitors, signage, etc.), navigating the terminal, providing general airport information, sharing basic information about Los Angeles and the Southern California region, and assisting with other departmental needs.

The program also provides trainings to the students, so they can learn how to effectively communicate with the public and acquire invaluable guest service skills. Students will receive volunteer service hours credit.

For more information about the LAXceeders Student Volunteer Program and to access the online application, visit www.lawa.org/LAXceeders.com.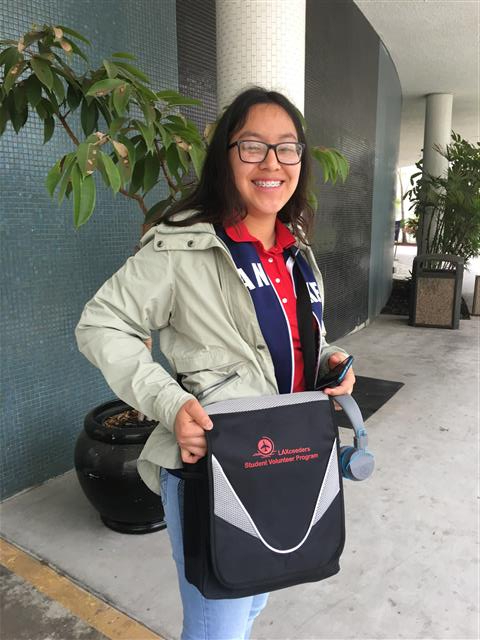 Student volunteer with LAXceeders Program swag bag.

About Los Angeles International Airport (LAX)



LAX, the fifth busiest airport in the world and second in the United States, was named in Skytrax' 2018 top 10 U.S. airports. LAX served more than 84.56 million passengers in 2017 and offers 737 daily nonstop flights to 100 cities in the U.S.. and 1,386 weekly nonstop flights to 88 cities in 44 countries on 73 commercial air carriers. LAX ranks in the world and fifth in the U.S.. in air cargo tonnage processed, with more than 2.2 million tons of air cargo valued at over $101.4 billion. LAX handled 700,362 operations (landings and takeoffs) in 2017.

An economic study based on 2014 operations reported LAX generated 620,600 jobs in Southern California with labor income of $37.3 billion and economic output (business revenues) of more than $126.6 billion. This activity added $6.2 billion to local and state revenues and $8.7 billion in federal tax revenues. The study also reported that LAX's ongoing capital-improvement program creates an additional 121,640 annual jobs with labor income of $7.6 billion and economic output of $20.3 billion, $966 million in state and local taxes and $1.6 billion in federal tax revenues.

LAX is also the second most popular airport in the world to appear on Instagram according to wego.com. LAX is part of a system of two Southern California airports - along with Van Nuys general aviation - that are owned and operated by Los Angeles World Airports, a proprietary department of the City of Los Angeles that receives no funding from the City's general fund.

For more information about LAX, please visit

www.flyLAX.com

or follow on Twitter @flyLAXAirport, on Facebook at

www.facebook.com/LAInternationalAirport

and on Youtube at

www.Youtube.com/laxairport1

.

As a covered entity under the Title II of the Americans with Disabilities Act, the city of Los Angeles does not discriminate on the basis of disability and, upon request, will provide reasonable accommodation to ensure equal access to its programs, services, and activities. Alternative formats in large print, braile audio, and other forms (if possible) will be provided upon request.