FOR IMMEDIATE RELEASE
February 23, 2018

CONTACTS
Becca Doten
[email protected]
(424) 646-5260

Nurit Siegel Smith
[email protected]
(213) 687-2342
MUSIC IS IN THE AIR AT LAX

Los Angeles World Airports (LAWA) and Grand Performances to collaborate for second year of LAX Presents performances at the airport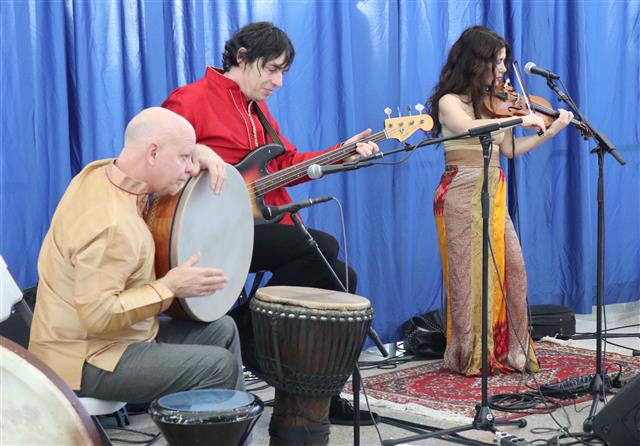 Opium Moon performs during the 2017 season of LAX Presents

(Los Angeles, CA) Los Angeles World Airports (LAWA) and Grand Performances are excited to announce the 2018 LAX Presents line-up, which will feature musical acts, dancers, a DJ and even puppeteers.

"LAX is proud to show the traveling public that Los Angeles has some of the best music and cultural acts in the world," said Airport Art Manager Sarah Cifarelli. "These performances help make LAX feel less like a place to pass through, and more like a memorable experience in its own right."

Now in its second year of a three-year contract, LAX Presents brings together artists from across Los Angeles to perform in the unique spaces of an international airport. The 2018 line-up includes 18 performances across nine months, including six classical performances, a DJ with dancers and a percussionist, a puppet show, and an Indian dance troupe.

"Grand Performances is excited to continue showcasing our city's amazing artists through this partnership with LAX," said Grand Performances Executive Director, Mari Riddle. "We hope travelers, Angelenos and visitors alike, have an opportunity to learn about new artists and cultures through this unique program."

Last year, the LAX Presentsprogram included performances in four different terminals. This year, it will expand to six terminals, including one location that is pre-TSA Security, at the Terminal 2 baggage claim area. The other performance sites will all be beyond security, in Terminals 1, 4, 5, 7 and Tom Bradley International Terminal (TBIT).

In December of 2016, the Board of Airport Commissioners (BOAC) approved funding for the three-year pilot program, in partnership with Grand Performances, Los Angeles' premier presenter of free, outdoor summer performing arts programs. In addition to showcasing some of L.A.'s finest musical talent, LAX Presents will enliven the airport's public spaces and deliver distinctive cultural encounters to travelers.

The 2018 LAX Presents Line-Up*:

March 6 & 7 - Terminal 4
Evgeny Tonkha Quartet
Considered among most talented Russian cellists, Evgeny has performed to international audiences since the age of 10, touring in Germany, France, England, Switzerland, Italy, Spain, and the USA. Evgeny has lived in Los Angeles since 2013.

April 4 & 5 - Tom Bradley International Terminal (TBIT)
rel="noopener noreferrer" DJ Set: Mark de Clive-Lowe
Musical maverick Mark de Clive-Lowe seems an impossibility at first sight - juggling piano, synths, live sampling and beat making all on-the-fly, brought to life with a casual ease that's mind-boggling.

May 1 & 2 - Terminal 1
rel="noopener noreferrer" Emily Elbert
Emily Elbert weaves together a soul-folk blend of introspection and celebration. With a global, D.I.Y. spirit, she has carried her music around the world, playing over a thousand independent shows from Peru to Palestine. She will be accompanied by Noriko Terada on percussion.

June 5 & 6 - Terminal 7
MôForró
MôForró plays triangle-driven, hip-swiveling dance music in the traditional, rootsy, "pé de serra" style of forró. A music that was born out of the countryside of the dry Northeast, forró is now one of the most popular rhythms to come from Brazil.

July 10 & 11 - Terminal rel="noopener noreferrer" 4
Bob Baker Marionette Theater
Since 1963, the Bob Baker Marionette Theater has been part of the Angelino Community; since then, imagination and fantasy continue to thrive in Los Angeles. The theater produces more than200 performances a year, utilizing over 2000 handcrafted puppets.

August rel="noopener noreferrer" 7 & 8 - Terminal 5
Jacaranda
Jacaranda Music produces a series of classical music adventures designed to awaken curiosity and discovery. Based in Santa Monica since 2003, Jacaranda was immediately hailed by the LA Weekly as "the right music in the right place at the right time."

rel="noopener noreferrer" September 4 & 5 - TBIT
Oscar Hernández Quintet
Three-time Grammy Award Winner Oscar Hernández has long been considered one of the most gifted and prominent pianist/ arrangers on the contemporary Latin, Latin-jazz and salsa music scene. Oscar Hernandez is the leader of the world-renowned Spanish Harlem Orchestra.

October 2& 3 - Terminal 2 (Baggage rel="noopener noreferrer" Claim Area -Before TSA Screening)
Colburn Conservatory
Based in Los Angeles, this performance will showcase students from the Conservatory of Music, one of the world's preeminent training grounds for classical musicians.

November 6 & 7
Blue13 Dance Company
Blue13 Dance Company is a contemporary Indian dance theatre ensemble based in Los Angeles, with a mission to connect diverse audiences through the power of live, aesthetically and culturally daring dance.

For information on any of the performers or for media to RSVP to attend any of the performances, please contact [email protected], as all but one of these performances are mainly beyond TSA-screening and security.

* Schedules and locations subject to change.




About Los Angeles World Airports
Los Angeles World Airports (LAWA) is the City of Los Angeles department that owns and operates Los Angeles International (LAX) and Van Nuys (VNY) general aviation airports, as well as aviation-related property in Palmdale. Both play an integral role in helping to meet the Southern California regional demand for passenger, cargo and general rel="noopener noreferrer" aviation service. Both airports make a distinct contribution to the strength of the system as it provides a high level of safety, security and service for its customers, communities and stakeholders. More information can be found at flylax.com. As a covered entity under Title II of the Americans with Disabilities Act, the City of Los Angeles does not discriminate on the basis of disability and, upon request, will provide reasonable accommodation to ensure equal access to its programs, services, and activities. Alternative formats in large print, braille, audio, and other forms (if possible) will be provided upon request.

About Grand Performances
Celebrating its 32nd year, Grand Performances' mission is to inspire community, celebrate diversity, and unite Los Angeles through free access to global performing arts.Hailed as the "Best Free Outdoor Summer Concert Series" by Los Angeles Magazine and called "a grand gift to the public... democracy in musical action" by the Los Angeles Times, Grand Performances presents high-quality music, dance, theater, and more during the summer at the breathtaking California Plaza in the heart of Downtown as well as at other venues throughout the year including the Los Angeles State Historic Park and Los Angeles World Airports. Follow @GrandPerformances on Facebook, @GrandPerfs on Twitter and Instagram and our Youtube Channel at youtube.com/grandperformances.
# # #