Busiest days are this Thursday, Friday and Wednesday, December 26.
For Immediate Release

December 19, 2018
Contact:
Charles H. Pannunzio
(424) 646-5260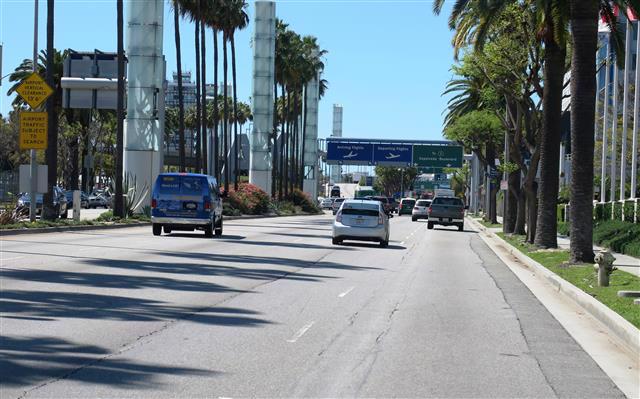 LAWA officials are encouraging motorists to use Century Boulevard to enter LAX this holiday season.


LAX FORECASTS RECORD 5.8 MILLION PASSENGERS FOR 25-DAY HOLIDAY PERIOD, ENCOURAGES USE OF CENTURY BOULEVARD AND LOWER LEVEL TO HELP WITH TRAFFIC FLOW

(Los Angeles, CA) With a record 5.8 million guests expected to use Los Angeles International Airport (LAX) during the 25-day holiday travel season, Los Angeles World Airports (LAWA) officials are sharing several suggestions that could make the trip a bit easier.

"We noticed during the Thanksgiving holiday period that Century Boulevard was underutilized while other entry points to the airport were significantly backed up," said Keith Wilschetz, Deputy Executive Director for Operations and Emergency Management, LAWA. "For the upcoming holidays, we strongly encourage motorists, especially those coming from the north to enter the airport from Century Boulevard."

Motorists can also take advantage of the typically lighter traffic on the Lower/Arrivals Level, where they can access the parking structures or drop off passengers who can then use elevators or escalators to reach the Upper/Departures Level.

Airport officials recommend departing travelers factor in additional time for traffic congestion and arrive in their airline terminals at least two hours prior to boarding time for domestic flights and at least three hours before boarding time for international flights.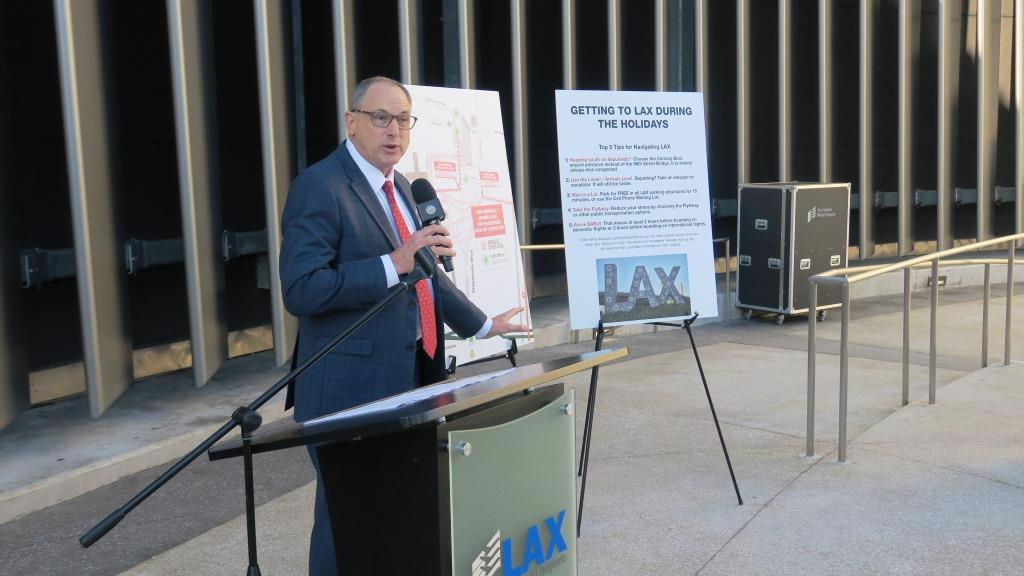 Keith Wilschetz, Deputy Executive Director for Operations and Emergency Management, LAWA, speaks during a Wednesday morning news conference at LAX.

The 25-day holiday period began Friday, December 14 and stretches through Monday, January 7. The projection of 5.8 million passengers is an increase of 1.2 percent over last year's record 5.73 million passengers. The busiest travel days will be the Wednesday, December 26, with more than 255,000 guests expected, and Friday, December 21, and Sunday, December 23, with 249,000 and 250,000 travelers anticipated. The lightest travel days are Tuesday, December 25, and Monday, December 31, with between 212,000 and 214,000 passengers expected. To put the passenger volume in context, the number of guests expected at LAX on December 26 is more than three times the capacity of the Los Angeles Memorial Coliseum, or 2.5 times the capacity of the Rose Bowl.

In addition, an estimated 2.5 million vehicles will be on airport roadways during the holiday travel period. Friday, December 21, will be the busiest day, with 114,000 vehicles, followed by 112,000 on Wednesday, December 19, and Thursday, December 20. The lightest days for traffic are expected to be Monday, December 24, and Tuesday, December 25, at 85,000 and 90,000 vehicles respectively.

On the busiest days and times of the holiday season, LAWA will post hourly traffic updates on Twitter at @flyLAXAirport. Los Angeles Airport Police will post updates on the @LAAirportPD Twitter feed. General airport information, including availability of parking in LAX structures and terminal information, can be found on the LAX website, www.flyLAX.com. LAX is also on WAZE, the community-based traffic navigation app.

"We are expecting heavy traffic and passenger loads as people head to their destinations for the holidays," said Dan Llorens, Assistant Chief, Los Angeles Airport Police. "In preparation for the increase, we have deployed additional resources to provide assistance where needed and maintain an orderly flow of traffic. The Airport Police are geared up to ensure your safety, convenience, and peace of mind for a care-free travel experience."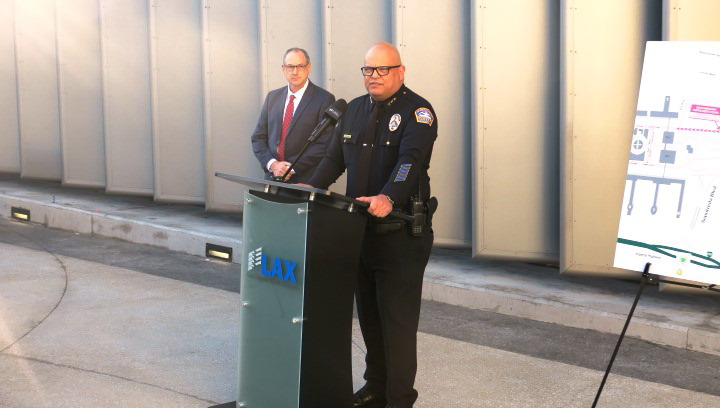 Dan Llorens, Assistant Chief, Los Angeles Airport Police, speaks to the media on Wednesday morning.

As in past years, LAWA has imposed a holiday construction work moratorium, and no work that reduces lanes in the Central Terminal Area (CTA) will take place during the holiday travel period.


To help create a smoother and more efficient journey, LAWA employee volunteers comprising this year's Team of LAXceptional Courtesy (TLC), will be in terminals and on sidewalks offering assistance and information to passengers. Volunteer Information Professionals (VIPs) will also be on hand to help answer questions, and LAX's popular Pets Unstressing Passengers (PUPs) therapy dogs will be out in force providing comfort to those in need.

Other LAX Holiday Travel Tips:


New delicious and fresh LAX eats continue to open, offering guests a variety of local and national bands. Recent additions include a food court featuring Cassell's Hamburgers, Einstein Bros. Bagels, Pei Wei and Trejo's Tacos in Terminal 1; and Jersey Mike's in Terminal 2.


Passengers can do their part to help reduce traffic congestion by taking shared-ride public transportation to/from LAX, including: Metro Rail Green Line; door-to-door shuttle vans; and long-distance and municipal buses. The airport also offers inexpensive and convenient FlyAway® buses from Hollywood, Long Beach, Metro Orange Line (San Fernando Valley), Union Station, Van Nuys, and Westwood/UCLA. For passenger convenience, FlyAway buses accept TAP cards and EZ Passes.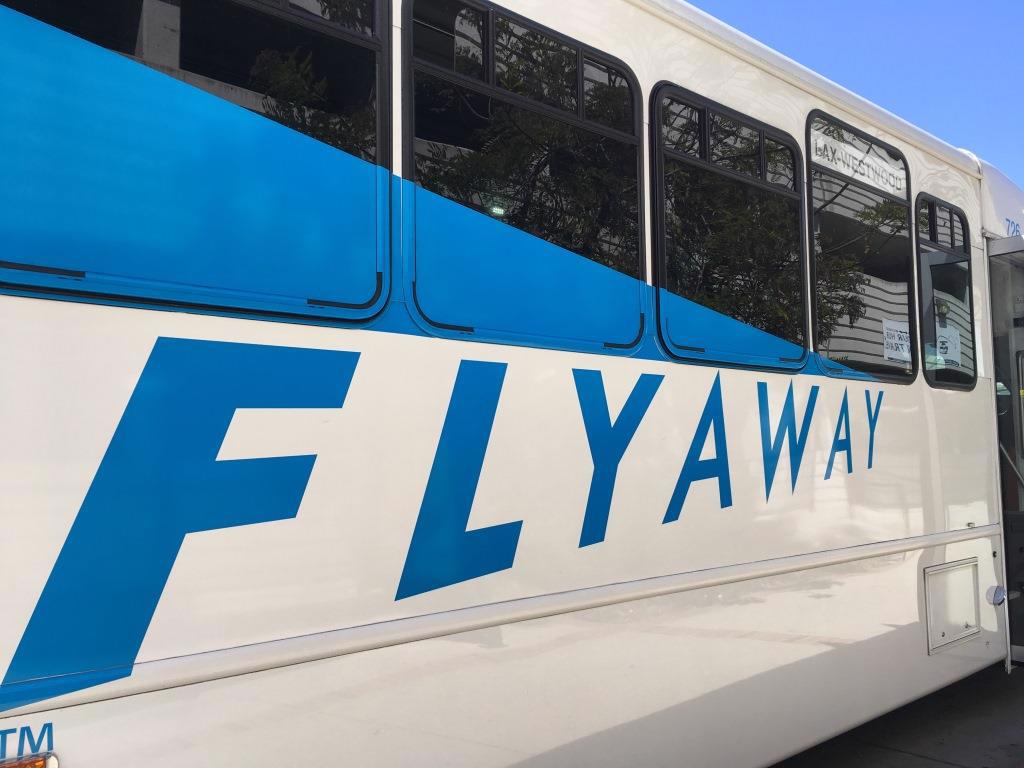 Travelers can help reduce traffic congestion at LAX by using public transportation, shared-ride services or convenient FlyAway bus service.
Rather than circling the Central Terminal Area until arriving passengers reach terminal curbside for pick up, motorists can park and wait up to two hours free at the LAX Cell Phone Waiting Lot at 6221 W. 96th St. (96th Street and Vicksburg adjacent to the entrance of LAX Parking Lot C). Or, guests can park for free in any LAX parking structure for up to 15 minutes, and drop off or pick up passengers without having to navigate the busy curbsides.


LAX has the most Transportation Security Administration (TSA) Automated Screening Lanes (ASLs) of any airport in the U.S. They can be found at the Tom Bradley International Terminal as well as Terminals 2, 3, 4 and 7.

To help speed their journeys, travelers are encouraged to enroll in TSA Preè or other trusted-traveler programs such as Customs & Border Protection's Global Entry, which improve security and reduce wait times.


The public is reminded that LAX's multibillion-dollar modernization program is still on-going. When coming to LAX, passengers should look for and follow way-finding signage near all construction sites to ensure their safety and to enhance mobility.
About Los Angeles International Airport (LAX)
LAX, the fifth busiest airport in the world and second in the United States, was named in Skytrax' 2018 top 10 U.S. airports. LAX served more than 84.56 million passengers in 2017 and offers 737 daily nonstop flights to 100 cities in the U.S. and 1,386 weekly nonstop flights to 88 cities in 44 countries on 73 commercial air carriers. LAX ranks 13th in the world and fourth in the U.S. in air cargo tonnage processed, with more than 2.2 million tons of air cargo valued at over $101.4 billion. LAX handled 700,362 operations (landings and takeoffs) in 2017.

An economic study based on 2014 operations reported LAX generated 620,600 jobs in Southern California with labor income of $37.3 billion and economic output (business revenues) of more than $126.6 billion. This activity added $6.2 billion to local and state revenues and $8.7 billion in federal tax revenues. The study also reported that LAX's ongoing capital-improvement program creates an additional 121,640 annual jobs with labor income of $7.6 billion and economic output of $20.3 billion, $966 million in state and local taxes, and $1.6 billion in federal tax revenues.

LAX is also the second most popular airport in the world to appear on Instagram according to wego.com. LAX is part of a system of two Southern California airports – along with Van Nuys general aviation – that are owned and operated by Los Angeles World Airports, a proprietary department of the City of Los Angeles that receives no funding from the City's general fund.

For more information about LAX, please visit www.flyLAX.com or follow on Twitter @flyLAXAirport, on Facebook at www.facebook.com/LAInternationalAirport, and on YouTube at www.YouTube.com/laxairport1.

As a covered entity under Title II of the Americans with Disabilities Act, the City of Los Angeles does not discriminate on the basis of disability and, upon request, will provide reasonable accommodation to ensure equal access to its programs, services, and activities. Alternative formats in large print, braille, audio, and other forms (if possible) will be provided upon request.


# # #