Facility includes stops for bus transit lines serving the airport.
For Immediate Release
December 10, 2018

Contact:
Charles H. Pannunzio
(424) 646-5260

A ribbon-cutting ceremony was held Friday, December 7, at the new LAX City Bus Transit Center.


LAX CITY BUS TRANSIT CENTER MOVES TO NEW
$5.8 MILLION FACILITY TO MAKE WAY FOR WORK
ON AUTOMATED PEOPLE MOVER
(Los Angeles, CA) Los Angeles World Airports (LAWA) has opened a new $5.8 million bus center on 96th Street, between Vicksburg and Jenny avenues, as part of the preparation for the construction of an Automated People Mover (APM) and the Intermodal Transportation Facility-West near Los Angeles International Airport (LAX).


"Los Angeles International Airport is in the midst of a major transformation, and the new LAX City Bus Transit Center is another step toward our vision to create an exceptional guest experience," said Samantha Bricker, Deputy Executive Director, Project Development and Coordination and Environmental Programs Group, LAWA. "This new center ensures that local public transportation operations remain fully functional while at the same time creating the room we need to begin construction on the Automated People Mover next year."

A ribbon-cutting ceremony was held on Friday at the new facility, located just west of the old station, and buses from LA Metro, Beach Cities Transit, Culver City, Santa Monica and Torrance are now serving the new location. Bus center users will continue taking the Lot C Shuttle for travel to and from the airport.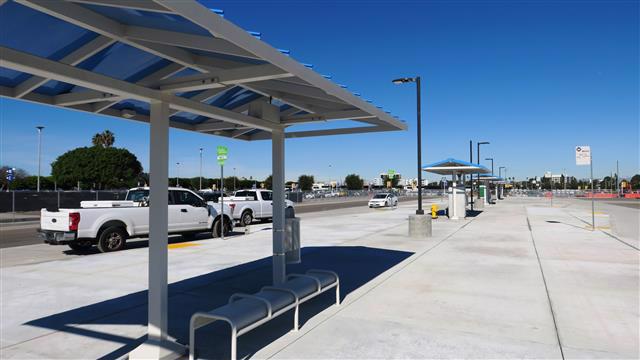 The new bus center, which is just west of the old facility, has stops for a number of local transit agencies, including LA Metro, Beach Cities, Culver City, Santa Monica, and Torrance.
The move was necessary as work continues at the site of the future APM. The old bus center is located where the APM guideway, a new street and other access roads are planned. In addition to utility connections, upcoming work includes construction of a road between Westchester Parkway and 96th Street to the west of the ITF-West.


The APM will travel 2.25 miles from a new Consolidated Rent-A-Car (ConRAC) facility near La Cienega Boulevard to the Tom Bradley International Terminal with three stops outside LAX and three stops inside the central terminal area. The ITF-West is one of the stops, and will include a 4,700-space public parking structure. The new parking facility is expected to open in 2021 with the APM and ConRAC operational in early 2023.


About Los Angeles International Airport (LAX)
LAX, the fifth busiest airport in the world and second in the United States, was named in Skytrax' 2018 top 10 U.S. airports. LAX served more than 84.56 million passengers in 2017 and offers 737 daily nonstop flights to 100 cities in the U.S. and 1,386 weekly nonstop flights to 88 cities in 44 countries on 73 commercial air carriers. LAX ranks 13th in the world and fourth in the U.S. in air cargo tonnage processed, with more than 2.2 million tons of air cargo valued at over $101.4 billion. LAX handled 700,362 operations (landings and takeoffs) in 2017.

An economic study based on 2014 operations reported LAX generated 620,600 jobs in Southern California with labor income of $37.3 billion and economic output (business revenues) of more than $126.6 billion. This activity added $6.2 billion to local and state revenues and $8.7 billion in federal tax revenues. The study also reported that LAX's ongoing capital-improvement program creates an additional 121,640 annual jobs with labor income of $7.6 billion and economic output of $20.3 billion, $966 million in state and local taxes, and $1.6 billion in federal tax revenues.

LAX is also the second most popular airport in the world to appear on Instagram according to wego.com. LAX is part of a system of two Southern California airports – along with Van Nuys general aviation – that are owned and operated by Los Angeles World Airports, a proprietary department of the City of Los Angeles that receives no funding from the City's general fund.

For more information about LAX, please visit www.flyLAX.com or follow on Twitter @flyLAXAirport, on Facebook at www.facebook.com/LAInternationalAirport, and on YouTube at www.YouTube.com/laxairport1.

As a covered entity under Title II of the Americans with Disabilities Act, the City of Los Angeles does not discriminate on the basis of disability and, upon request, will provide reasonable accommodation to ensure equal access to its programs, services, and activities. Alternative formats in large print, braille, audio, and other forms (if possible) will be provided upon request.
# # #