New Terminal 1 revealed, bringing exciting CURB-TO-GATE experience to LAX.
For Immediate Release
November 30, 2018

Contact
Olga Gallardo
(424) 646-5260
Email [email protected] for media kit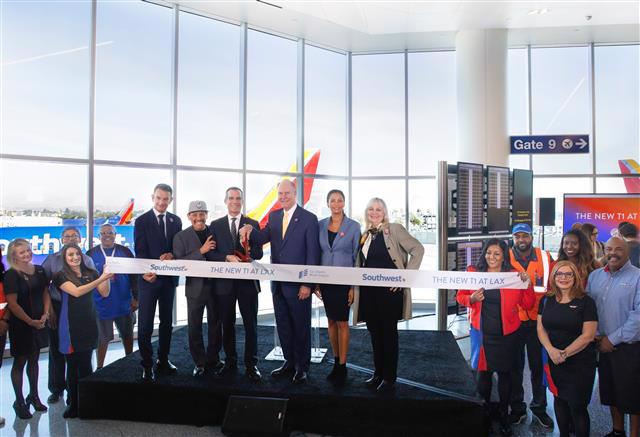 From left, Unibail-Rodamco-Westfield's U.S. President Jean-Marie Tritant, Danny Trejo, Los Angeles Mayor Eric Garcetti, Southwest CEO Gary Kelly, LAWA CEO Deborah Flint, and Los Angeles Board of Airport Commissioners Vice President Val Velasco cut ribbon, unveiling the new Terminal 1.

LAX CELEBRATES NEW TERMINAL 1
GUEST EXPERIENCE
SOUTHWEST® Customers are loving curb-to-gate transformation featuring exciting dining and retail

News Highlights:
Mayor Eric Garcetti, Los Angeles World Airports, Southwest Airlines Employees and Customers jointly celebrate unveiling of new Terminal 1 at LAX.
Approximate

$516.7 million redevelopment

by Southwest introduces larger seating areas in gates, a larger and more efficient centralized Customer screening checkpoint and all-new dining and retail options.
Redevelopment created 3,475

construction jobs

.

Partnership with Unibail-Rodamco-Westfield's airports group, URW Airports, increases dining and retail options including local L.A. favorites Urth Caffé, Trejo's Tacos and Cassell's Hamburgers.
(LOS ANGELES) Today, Mayor Eric Garcetti joined Los Angeles World Airports (LAWA) and Southwest Airlines to unveil the new Los Angeles International Airport Terminal 1. This follows a half-billion-dollar, curb-to-gate redevelopment that showcases a new check-in area featuring all-new self-service ticket kiosks, an efficient 9-lane security checkpoint, new area for baggage claim, and exciting new dining and retail destinations with state-of-the-art design.
Completion of the Terminal 1 redevelopment comes as part of LAWA's multibillion-dollar Capital Improvement Program, considered the largest public works program in history for the City of Los Angeles. The Terminal 1 renovation is part of an overall LAX modernization program, which includes an Automated People Mover – an elevated train expected to be completed by 2023 – and is expected ultimately to create more than 121,000 construction-related jobs.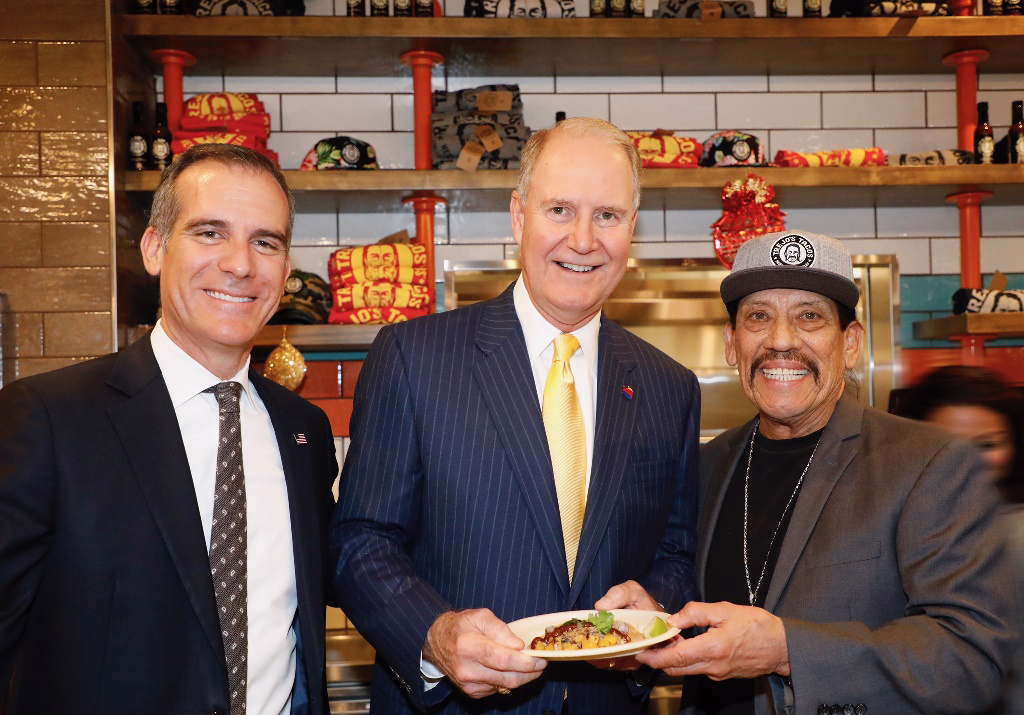 Los Angeles Mayor Eric Garcetti, Southwest CEO Gary Kelly and Danny Trejo showcase menu offerings at Trejo's Tacos, which is now open at Terminal 1.
"Los Angeles is a city of dreamers and doers, and the reimagined Terminal 1 reflects the creativity at the heart of our city," said Mayor Eric Garcetti. "Working together with Southwest Airlines and our partners, what we have created is more than a terminal that connects passengers to flights – it's a destination in its own right."
"Today the City of Los Angeles and Los Angeles World Airports are celebrating a momentous occasion: The completion of a half a billion dollar investment into our airport by Southwest Airlines," said Councilmember Joe Buscaino. "As investment and partnerships continue to take flight, travelers can get a sneak peek of the future of LAX by visiting Southwest's Terminal 1 – a new first-class experience for every traveler, visitor and Angeleno."
"The work happening to modernize LAX is focused on making our airport a more convenient and inviting place to travel through for Angelenos and visitors," said Councilmember Mike Bonin. "From the improved security screening facilities, new restrooms and concessions that feature local eateries, LAX is rapidly becoming the world-class airport this city deserves. The renovations to Terminal 1 will make this part of LAX more secure and more environmentally friendly, and I applaud Southwest and LAWA on their progress so far."


The four-year, $516.7 million project created 3,475 construction jobs and completely refreshed the aging terminal, which was initially constructed in the early 1980s in advance of the 1984 Olympic Games. The project was completed with minimal impact to customer service and flight operations, keeping approximately 10 million customers moving through the facility each year of the redevelopment.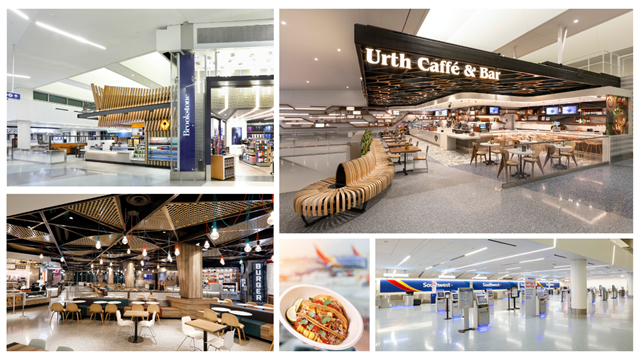 The new and expanded Terminal 1 includes dining and retail options celebrating local brands Urth Caffé, Cassell's Hamburgers and Trejo's Tacos, among others.
"Today's reveal of Terminal 1 marks a significant milestone in our continued improvement and modernization of LAX," said Board of Airport Commissioners Vice President Val Velasco. "Not only are we transforming LAX into the airport for the future, but we're doing so with a local workforce and businesses to ensure that our community is involved in and benefits from all that we do."

"The new Terminal 1 reflects Los Angeles World Airports' commitment to creating exceptional facilities and experiences for our guests," said Deborah Flint, CEO, LAWA. "The T1 modernization has been a phenomenal effort by all partners at LAWA, Southwest, and URW Airports, and the results raise the bar for what guests can expect when they come to LAX."
A major goal of the T1 project was to eliminate lines that crowded the approaches to ticketing, security and at shops and restaurants in previously cramped gate areas. Now the terminal runs efficiently with a fleet of new self-service check-in stations, the repositioned security checkpoint and additional retail and dining offerings post-security.
The new 13-gate terminal is a true transformation: curb-to-gate, wall-to-wall. It now boasts an efficient 9-lane security checkpoint; a fully automated checked-baggage inspection and sortation system; refurbished arrival/baggage claim area; updated and expanded restrooms; and replaced Customer boarding bridges.

"Southwest carries more California travelers to, from and within the Golden State every day than any other airline and is scheduled to offer a record 800 departures a day from California next summer," said Southwest CEO Gary Kelly. "This redeveloped Terminal 1 facility at LAX will host many of those Customers and is the perfect venue for our award-winning People to showcase their world-famous Hospitality."


Southwest worked with LAX partner URW Airports, the terminal commercial manager, on a new and expanded dining and retail approach that includes celebrated local brands Urth Caffé, Trejo's Tacos and Cassell's Hamburgers, among others. With 22 dining and retail destinations comprising 23,543 square feet, the new offerings introduce 13 brands new to LAX and eight that are making their airport debut.
Southwest, construction manager Hensel-Phelps and architects from PGAL worked closely with URW to integrate shopping and dining destinations throughout the terminal, giving airport guests greater options and more visibility to their gate.
As part of the Terminal 1 unveiling ceremony, Mayor Garcetti also opened the first long-term LA Original store, operated by Marshall Retail Group. LA Original will be the first-year occupant of a retail space at the front of the terminal that will rotate regularly to introduce guests to trending brands and new products. LA Original, a pilot program of the Mayor's Fund for Los Angeles and the Mayor's Office of Economic Development, provides a platform to showcase diverse makers and promote locally designed, assembled, or manufactured goods through a line of LA-branded products from across Los Angeles. Proceeds support creative entrepreneur programs.
"The Southwest brand is all about customer service and little surprise-and-delight moments, and today you can feel that energy pulsing in the new terminal," said Dominic Lowe, Executive Vice President and Group Director for URW Airports. "Terminal 1 is true testament to the results we can achieve in airports when we all come together with a shared vision."
Here's a closer look at the full dining and retail lineup:
Learn to live Beaming at this ultimate organic superfood café, offering plant-based food, unique cleansing programs and a menu of other delicious delights;
Get pampered with on-demand massage, nail and facial services at LAX-first Be Relax;
Discover unique gifts for men, women and children at Brookstone;
California Pizza Kitchen serves Cali-style cuisine from quality ingredients including hearth-baked pizzas, distinctive pastas, and fresh salads;
Cassell's Hamburgers is a local crown jewel of LA's culinary realm with a reputation for quality ingredients and pitch perfect plates that have made it the darling of food critics across the nation;
Made from fresh, simple ingredients, Chick-fil-A serves up chicken with no added fillers or hormones;
The Coffee Bean & Tea Leaf was born and brewed in Southern California, delivering the taste and aroma of the world's best coffees and teas;
Deli & Co. puts the "delicatessen" back in deli with fresh quality ingredients that satisfy cravings morning, noon, and night;
Taste the consistently perfect bagels, specialty sandwiches, gourmet salads and handcrafted drinks at Einstein's Bagels;
I Love L.A., a go-to spot to pick up must-have travel essentials, souvenirs and news and gift items;
Explore unique, natural skincare solutions at Kiehl's Since 1851;
LA Original showcases locally designed, assembled, or manufactured goods through a line of LA-branded products from across Los Angeles;
From lipsticks and blush to mascara and eye shadow, MAC Cosmetics is like a cosmetic candy store;
Designed to help travelers on their way, the New Stand store and kiosk carry a rotating mix of travel essentials, gifts and accessories while its free mobile app serves up entertaining articles, music, deals and a digital wallet.
Pei Wei Asian Diner delivers a veritable nod to the new American trifecta: make it delicious, make it fresh and make it fast;
Good food, good drinks, and good fun at Reilly's Irish Pub, a West Hollywood original boasting the largest selection of whiskey in Los Angeles;
Sample world-class craft beers and quality American comfort food in a vibrant environment at Rock & Brews, a partnership with KISS front men Gene Simmons and Paul Stanley;
Shop quality surf wear and lifestyle items from the Southern California brand Sol Surf, an airport first anywhere;
Indulge in confections and candies at Treat Me Sweet;
Danny Trejo brings an uber-hip, on-trend brand shining bright with star quality appeal in Trejo's Tacos;
Urth Caffé offers its organic coffee and fine teas as well as a fresh, healthy and sustainable menu.
Additional improvements at Terminal 1 include renovation of airline support office space; modernized aircraft parking/apron pavement and modernized hydrant fueling system; improvements to the building facade; a new roof; and relocation of the main terminal entrances to ease traffic congestion.
Construction by the same project team is well underway on Terminal 1.5, a connecting structure between Terminals 1 and 2 that will further expand baggage claim areas and offer Southwest Customers connectivity to the new LAX automated people mover.
For more information about the new offerings and amenities in LAX Terminal 1, visit flyLAX.org and urwairports.com/LAX.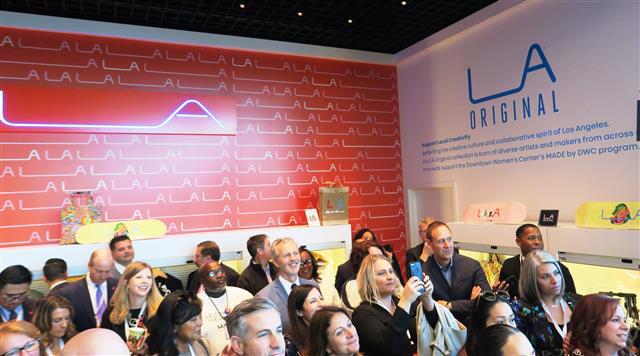 LAX guests at Terminal 1 can now shop at the new LA Original location, which features a collection of LA-branded products made by diverse artists and makers from across Los Angeles. Proceeds support the Downtown Women's Center's MADE by DWC program.


About Los Angeles International Airport (LAX)
LAX, the fifth busiest airport in the world and second in the United States, was named in Skytrax' 2018 top 10 U.S. airports. LAX served more than 84.56 million passengers in 2017 and offers 737 daily nonstop flights to 100 cities in the U.S. and 1,386 weekly nonstop flights to 88 cities in 44 countries on 73 commercial air carriers. LAX ranks 13th in the world and fourth in the U.S. in air cargo tonnage processed, with more than 2.2 million tons of air cargo valued at over $101.4 billion. LAX handled 700,362 operations (landings and takeoffs) in 2017.

An economic study based on 2014 operations reported LAX generated 620,600 jobs in Southern California with labor income of $37.3 billion and economic output (business revenues) of more than $126.6 billion. This activity added $6.2 billion to local and state revenues and $8.7 billion in federal tax revenues. The study also reported that LAX's ongoing capital-improvement program creates an additional 121,640 annual jobs with labor income of $7.6 billion and economic output of $20.3 billion, $966 million in state and local taxes, and $1.6 billion in federal tax revenues.

LAX is also the second most popular airport in the world to appear on Instagram according to wego.com. LAX is part of a system of two Southern California airports – along with Van Nuys general aviation – that are owned and operated by Los Angeles World Airports, a proprietary department of the City of Los Angeles that receives no funding from the City's general fund.

For more information about LAX, please visit www.flyLAX.com or follow on Twitter @flyLAXAirport, on Facebook at www.facebook.com/LAInternationalAirport, and on YouTube at www.YouTube.com/laxairport1.

As a covered entity under Title II of the Americans with Disabilities Act, the City of Los Angeles does not discriminate on the basis of disability and, upon request, will provide reasonable accommodation to ensure equal access to its programs, services, and activities. Alternative formats in large print, braille, audio, and other forms (if possible) will be provided upon request.


# # #