This new international concourse will have 12 gates and will open in 2020.
For Immediate Release
November 2, 2018

Contact:
Charles H. Pannunzio
(424) 646-5260
From left, PCL California Buildings District Manager and Vice President Cathy Orquiola, LAWA CEO Deborah Flint, Los Angeles Board of Airport Commissioners President Sean Burton and Los Angeles Mayor Eric Garcetti sign a beam that was hoisted during Friday's "Topping Out."

LAX MARKS MILESTONE AT NEW INTERNATIONAL CONCOURSE WITH "TOPPING OUT" CEREMONY
(Los Angeles, CA) Twenty months after breaking ground for the Midfield Satellite Concourse (MSC) at Los Angeles International Airport (LAX), Mayor Eric Garcetti and Los Angeles World Airports (LAWA) officials gathered for a "topping out" ceremony at the 12-gate addition to the Tom Bradley International Terminal (TBIT).

"Today is more than a construction milestone — it's an expression of L.A.'s openness to the world, and our connection to people from everywhere in it," said Mayor Eric Garcetti. "The Midfield Satellite Concourse has created good, middle-class jobs for Angelenos — and will strengthen L.A.'s global connections when its doors open at LAX."

At this morning's event, Mayor Garcetti and other VIPs signed a ceremonial beam that was hoisted and placed near the top of the future ramp tower. The beam also bears the signatures of others who have had a hand in designing and constructing the new facility.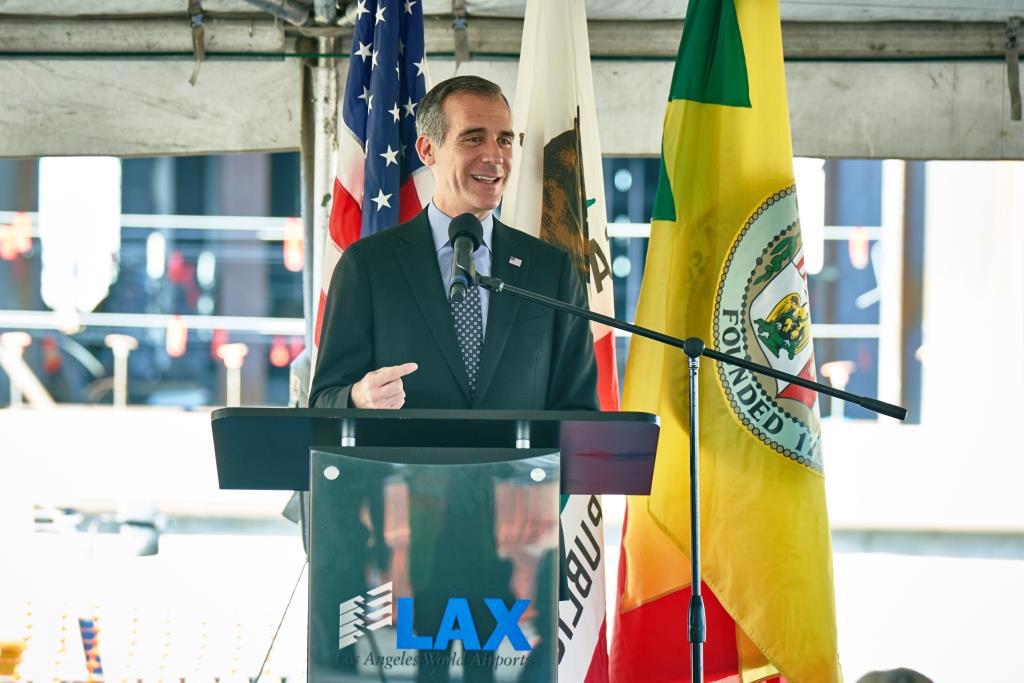 Los Angeles Mayor Eric Garcetti speaks at the Midfield Satellite Concourse Topping Out ceremony.
"LAX is quickly becoming the world-class airport that Angelenos demand and deserve," said Councilmember Mike Bonin. "I am especially excited that the Midfield Satellite Concourse will incorporate a number of sustainability features, such as using passive daylight lighting for the interior spaces, water saving plumbing fixtures and a cool roof that reduces heat absorption. These eco-friendly features will go a long way to minimizing the environmental impact of this needed new facility, and will further LAWA's commitment to make LAX a world class airport that is also a first-class neighbor."

The $2 billion project, which includes the new concourse and an expansion of the baggage handling system, is expected to be completed in mid-2020. With its soaring roof, open space and ample natural light, the architecture complements the award-winning Bradley Terminal, which underwent a major transformation and opened to guests five years ago.

This new international concourse will help us realize two of the goals in our strategic plan: delivering facilities and guest services that are exceptional, and using new technology and innovations to keep our airport safe and secure," said Sean Burton, President, Los Angeles Board of Airport Commissioners (BOAC). "By reducing our need for the remote gates to the west, the experience for our guests will be greatly enhanced. Our guests will enjoy our most technologically advanced experience, with more than a dozen interactive displays and enhanced cellular and Wi-Fi coverage."

"This concourse will be an experience expected in Los Angeles, the best of what our city has to offer," said Deborah Flint, Chief Executive Officer, LAWA. "In addition to LA-centric food, retail and art, thousands of local workers, including our HireLAX graduates, are helping build this city's future right here at LAX."

The 750,000-square-foot concourse will be connected to TBIT by two tunnels, one for passengers and another to deliver utilities and services. The 1,000-foot passenger tunnel will feature moving walkways and will be accessible from a new "Gateway" being added to TBIT that includes elevators and escalators. The concourse will also include a bus port, allowing passengers to be driven across the airfield after clearing security in another terminal.

The MSC will be equipped to handle both domestic and international flights, with sterile walkways leading to the passenger tunnel and a dedicated route to customs. The new concourse's roof emulates an ocean swell, complementing the architectural design of the TBIT roof, which represents a wave breaking onto the shore.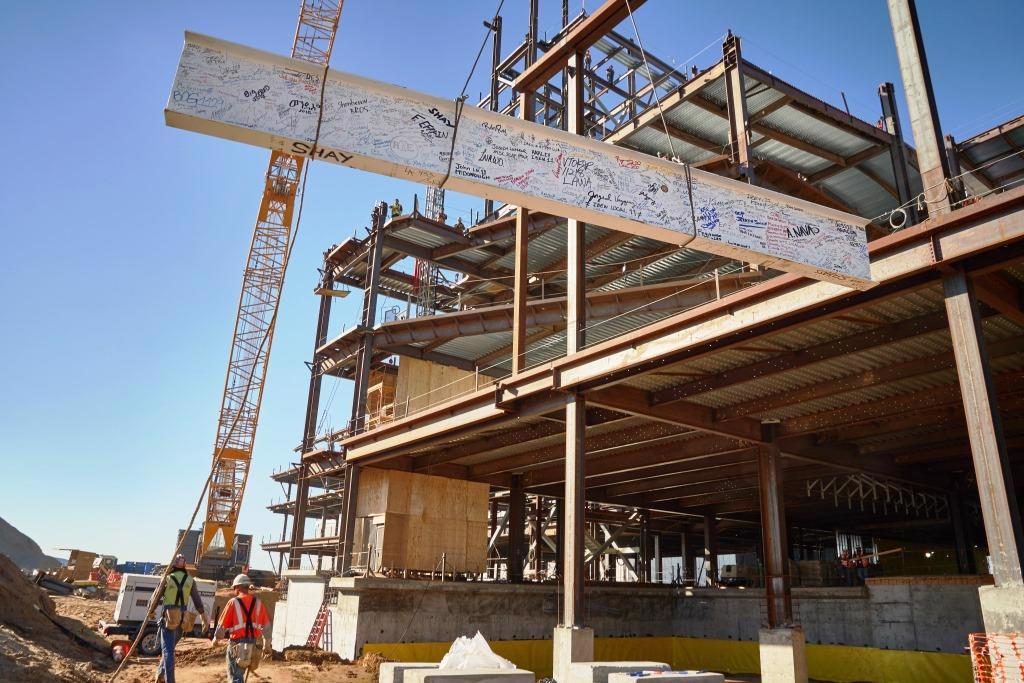 The signed beam is lifted by a crane before being placed at the top of the building on Friday.
The interior of the new concourse is organized into a series of "neighborhoods," which includes three to four aircraft gates, a restroom core, and retail and concession spaces. The interior finishes and colors were selected to reflect its location and are based on the "urban fabric" of Los Angeles. A rotating series of lively and innovative art exhibitions that reflect Los Angeles' creative spirit will be seen throughout the concourse. With a focus on creating an exceptional guest experience, the building will feature biometric boarding gates, a variety of seating types, two nursing rooms, play areas for children, a service-animal relief area and additional space for airline club lounges.

The new concourse was designed with sustainability in mind, and with the directive to achieve LEED Silver and CAL Green Tier 1 certifications. Sustainable ideas include use of daylight for interior illumination; energy and water conservation; reducing the effect of heat generated by building roofs and pavement; and use of recycled materials.
The project also includes over 1.5 million square feet of new aircraft apron and taxiways/taxilanes, as well as underground utility improvements. Also included is an expansion in baggage-handling capacity to meet the needs of the additional gates.

While construction will shift from outside of the building to inside of it in 2019, an Airport Operational Readiness team is already creating plans for training the hundreds of airport and stakeholder employees who will work in the new facility in 2020.
Mayor Garcetti and members of the Board of Airport Commissioners joined LAWA CEO Deborah Flint and workers at Friday's celebration.
About Los Angeles International Airport (LAX)
LAX, the fifth busiest airport in the world and second in the United States, was named in Skytrax' 2018 top 10 U.S. airports. LAX served more than 84.56 million passengers in 2017 and offers 737 daily nonstop flights to 100 cities in the U.S. and 1,386 weekly nonstop flights to 88 cities in 44 countries on 73 commercial air carriers. LAX ranks 13th in the world and fourth in the U.S. in air cargo tonnage processed, with more than 2.2 million tons of air cargo valued at over $101.4 billion. LAX handled 700,362 operations (landings and takeoffs) in 2017.

An economic study based on 2014 operations reported LAX generated 620,600 jobs in Southern California with labor income of $37.3 billion and economic output (business revenues) of more than $126.6 billion. This activity added $6.2 billion to local and state revenues and $8.7 billion in federal tax revenues. The study also reported that LAX's ongoing capital-improvement program creates an additional 121,640 annual jobs with labor income of $7.6 billion and economic output of $20.3 billion, $966 million in state and local taxes, and $1.6 billion in federal tax revenues.

LAX is also the second most popular airport in the world to appear on Instagram according to wego.com. LAX is part of a system of two Southern California airports – along with Van Nuys general aviation – that are owned and operated by Los Angeles World Airports, a proprietary department of the City of Los Angeles that receives no funding from the City's general fund.

For more information about LAX, please visit www.flyLAX.com or follow on Twitter @flyLAXAirport, on Facebook at www.facebook.com/LAInternationalAirport, and on YouTube at www.YouTube.com/laxairport1.

As a covered entity under Title II of the Americans with Disabilities Act, the City of Los Angeles does not discriminate on the basis of disability and, upon request, will provide reasonable accommodation to ensure equal access to its programs, services, and activities. Alternative formats in large print, braille, audio, and other forms (if possible) will be provided upon request.


# # #