Angeleno's Abstract Art Now on Display at LAX
For Immediate Release
October 16, 2018

Contact:
Olga Gallardo
Los Angeles World Airports
424-646-5260
[email protected]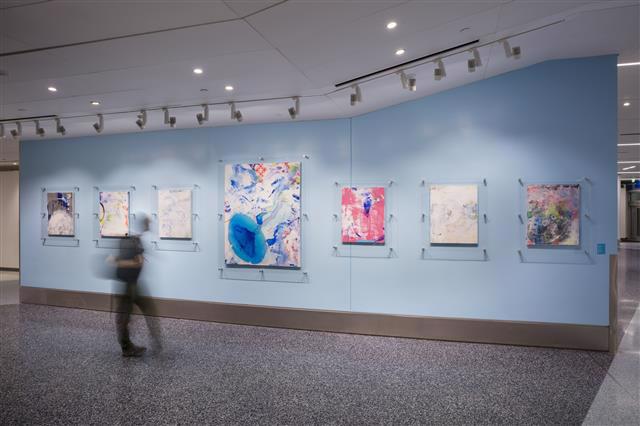 Artwork by Martin Durazo. Photo by Panic Studio LA, courtesy of Los Angeles World Airports (LAWA)

ANGELENO'S ABSTRACT ART NOW ON DISPLAY AT LAX

Baggage claim transformed into gallery for guests, and classroom for Martin Durazo's Advanced Placement 3D Design Studio class


(Los Angeles, CA) Los Angeles World Airports (LAWA), in partnership with the City of Los Angeles Department of Cultural Affairs (DCA), announces a new art exhibition at Los Angeles International Airport (LAX) featuring works by multi-media artist Martin Durazo. Durazo was born and raised in the Echo Park area of Los Angeles. The 19 abstract paintings in a series are influenced by the physical and cultural landscape of Southern California. His exhibition, titled "Points of Entry," is located in the Terminal 1 Arrivals area and will be on view for the public until spring of 2019.


"We are excited to feature Martin Durazo's artwork at LAX because, as an LA native, he has a unique understanding of what makes Los Angeles stand out from other cities," said LAX Art Program Director Sarah Cifarelli. "Durazo's energetic paintings create a memorable atmosphere for both locals and international visitors alike."


Durazo's brightly colored works draw upon the vibrant sounds, sights and subcultures of Los Angeles, creating a lively welcome for guests. His abstract paintings are suggestive of the topographies passengers might see as they fly over Southern California, or landmarks drivers might spot while traversing the Los Angeles basin. The blue-green paint is reminiscent of the Pacific Ocean, just minutes away from the airport, while the neon colors evoke the dazzling lights of Hollywood club culture. Durazo's paintings merge intense, vivid emotions and polished aesthetics, reflecting the intersection of high and low cultures that coexist in Los Angeles.


Durazo creates these works by pouring layers of paint on flat canvases and saturating the paint with water, then using a rubber squeegee to control the movement and texture of the layered paint. The layered sheens of paint combined with Durazo's large sweeping marks further speak to the cultural engagement of Los Angeles as a portal to a nation that thrives on the contributions of varied peoples and communities with distinctly different traditions and cultures. This series of paintings highlights Durazo's ability to blend gritty aesthetics with joyful beauty, and expands his ongoing interest in capturing the urban pulse of Los Angeles.


"The layers of washes create their own terrain," said Durazo. "I hope my work inspires LAX guests to discover different corners of Los Angeles. No matter how many times one visits or returns to LA, there is always something new to see and learn about this diverse city."


Durazo attended Los Angeles Unified School District schools in Northeast Los Angeles and is now back in the classroom, but this time teaching an Advanced Placement (AP) 3D Design Studio course at Lynwood High School. The College Board recently recognized Lynwood Unified School District as one of the districts with the most AP courses available in the country. This week, Durazo brought his AP 3D Design Studio students to LAX and gave them a private talk about his paintings.


Members of the media who would like to schedule an interview with Martin Durazo, and view his "Points of Entry" exhibit, should contact the LAX Public Relations Office at 424-646-5260.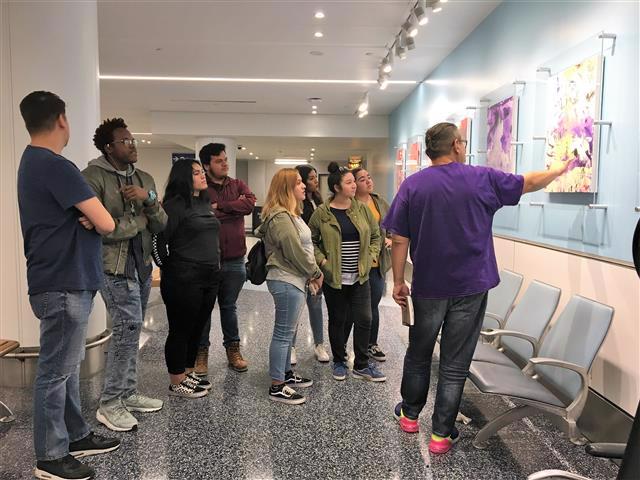 Artist Martin Durazo speaks about his artwork with students from his Lynwood High School Advanced Placement (AP) 3D Design Studio class. The artwork is on display in the baggage claim area of Terminal 1 at LAX.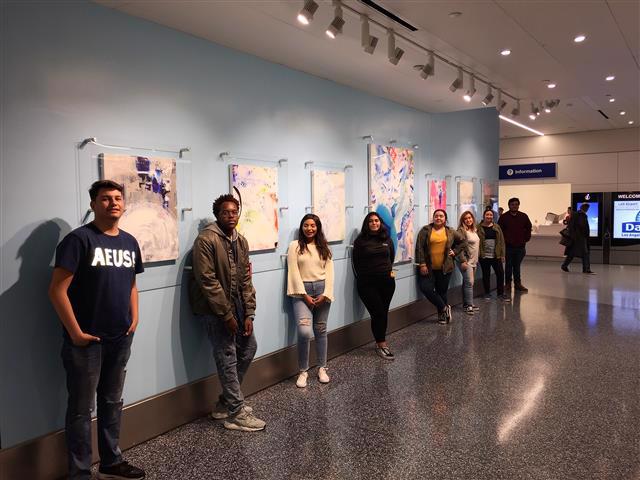 Students from Martin Durazo's Lynwood High School AP 3D Design Studio class pose in front of artwork on display in the baggage claim area of Terminal 1 at LAX.
About LAX Art Program
The mission of the LAX Art Program is to enhance and humanize the travel experience by providing diverse and memorable art experiences throughout the airport. The Art Program includes temporary exhibitions, permanent installations, and cultural performances. With an emphasis on local and regional artists, the Art Program provides access to an array of contemporary artworks that reflect and celebrate the region's creative caliber.

About Los Angeles International Airport (LAX)
LAX, the fifth busiest airport in the world and second in the United States, was named in Skytrax' 2018 top 10 U.S. airports. LAX served more than 84.56 million passengers in 2017 and offers 737 daily nonstop flights to 100 cities in the U.S. and 1,386 weekly nonstop flights to 88 cities in 44 countries on 73 commercial air carriers. LAX ranks 14th in the world and fifth in the U.S. in air cargo tonnage processed, with more than 2.2 million tons of air cargo valued at over $101.4 billion. LAX handled 700,362 operations (landings and takeoffs) in 2017.
An economic study based on 2014 operations reported LAX generated 620,600 jobs in Southern California with labor income of $37.3 billion and economic output (business revenues) of more than $126.6 billion. This activity added $6.2 billion to local and state revenues and $8.7 billion in federal tax revenues. The study also reported that LAX's ongoing capital-improvement program creates an additional 121,640 annual jobs with labor income of $7.6 billion and economic output of $20.3 billion, $966 million in state and local taxes, and $1.6 billion in federal tax revenues.

LAX is also the second most popular airport in the world to appear on Instagram according to wego.com. LAX is part of a system of two Southern California airports – along with Van Nuys general aviation – that are owned and operated by Los Angeles World Airports, a proprietary department of the City of Los Angeles that receives no funding from the City's general fund.

For more information about LAX, please visit www.flyLAX.com or follow on Twitter @flyLAXAirport, on Facebook at www.facebook.com/LAInternationalAirport, and on YouTube at www.YouTube.com/laxairport1.

As a covered entity under Title II of the Americans with Disabilities Act, the City of Los Angeles does not discriminate on the basis of disability and, upon request, will provide reasonable accommodation to ensure equal access to its programs, services, and activities. Alternative formats in large print, braille, audio, and other forms (if possible) will be provided upon request.

# # #