FOR IMMEDIATE RELEASE
Feb. 13, 2020
Contacts:
Charles H. Pannunzio/LAWA
(424) 646-5260

Cynthia Moreno/DMV
(916) 657-6437

Lorie Dankers/TSA
(206) 743-1497
Los Angeles World Airports Interim Chief Executive Officer Justin Erbacci speaks at a Thursday news conference to raise awareness about the upcoming REAL ID deadline.
STATE TRANSPORTATION SECRETARY JOINS LAX, TSA AND DMV
TO HIGHLIGHT REAL ID DEADLINE
(Los Angeles, CA) California State Transportation Agency (CalSTA) Secretary David Kim and representatives with Los Angeles International Airport (LAX), the California Department of Motor Vehicles (DMV) and the Transportation Security Administration today reminded Californians that starting Oct. 1, 2020, all travelers will need a REAL ID or another acceptable form of identification to board flights within the United States.
California driver licenses and identification cards that are REAL ID-compliant are marked with a bear and star.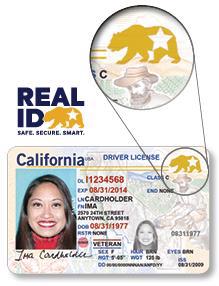 "If you need a REAL ID to fly domestically, we urge you to come in to a DMV office now to get it done," said Kim. "Wait times are low, online applications are available to speed up the process, and you do not need an appointment to complete the transaction at your local DMV office."

In addition to this morning's news conference, the DMV staffed a table in Terminal 1 near the TSA checkpoint to advise guests of the upcoming deadline and answer their questions on Thursday. Information about REAL ID is also being distributed at the LAX volunteer-staffed information booths in seven of the airport's domestic terminals.

"LAX is investing billions of dollars into modernizing the entire airport experience, but passengers won't be able to enjoy those changes if they can't get past security," said Justin Erbacci, Interim Chief Executive Officer, Los Angeles World Airports. "By partnering with the TSA and DMV, we are working to get the word out about REAL ID requirements so our guests will be prepared for this imminent change."

"It's important to remember that even if you do not plan to fly, there may be unexpected circumstances that will require you to catch a domestic flight and we want you to be REAL ID ready," said DMV Director Steve Gordon. "We have been working hard to make the application process as easy as possible and we encourage everyone to make plans now to get a REAL ID."

"Starting Oct. 1, 2020, TSA officers will no longer be permitted to accept a state-issued driver license or identification card from travelers as their picture ID unless that credential meets REAL ID standards," said Keith Jeffries, TSA Federal Security Director for LAX. "While TSA accepts multiple forms of picture ID at the security checkpoint, the fact is the majority of travelers use a driver license. We join with our state and airport partners to encourage residents to take steps now to ensure you are ready for federal enforcement of REAL ID requirements."

Californians applying for a REAL ID are required to visit a DMV field office and bring:
An identity document*, such as a valid passport or original birth certificate. *If you've changed your name, legal name change document(s) might be required
A document with the entire Social Security number visible, such as an original Social Security card or W-2 form.
Two hard copy documents showing California residency, such as a utility or cell phone bill, bank statement, or mortgage bill.
The DMV's resolution is to keep wait times low. The DMV says Californians can do their part by completing the required application online beforehand and being prepared for their visit to a DMV. Appointments are not required to complete an in-person REAL ID application, and customers can check wait times at nearby offices on the DMV website.

Many DMV offices also offer Saturday and extended morning hours. A full list of DMV offices and operating hours can be found at https://www.dmv.ca.gov/portal/dmv/detail/fo/fotoc.

For more information about REAL ID, a complete list of acceptable documents and FAQs, please visit CaliforniaREALID.org.
California State Transportation Agency Secretary David Kim speaks at Thursday's news conference at Los Angeles International Airport to highlight REAL ID.
About Los Angeles International Airport (LAX)
LAX, the fourth-busiest airport in the world and second busiest in the United States, was named a top-10 U.S. airport by SKYTRAX. LAX served nearly 88.1 million passengers in 2019 and offers an average of nearly 700 daily nonstop flights to 113 destinations in 42 states in the U.S., and 1,200 weekly nonstop flights to 91 markets in 46 countries on 72 commercial airlines. LAX handled 691,257 operations (landings and takeoffs) in 2019.

LAX generated 620,600 jobs in Southern California, with labor income of $37.3 billion and economic output (business revenues) of more than $126.6 billion, according to an economic study based on 2014 operations. This activity added $6.2 billion to local and state revenues and $8.7 billion in federal tax revenues. The study also reported that LAX's ongoing capital improvement program creates an additional 121,640 annual jobs with labor income of $7.6 billion and economic output of $20.3 billion; $966 million in state and local taxes; and $1.6 billion in federal tax revenues.
LAX was honored as having the "Best Overall Customer Service Program" by Airports Council International-North America; named the "Best Airport for Breastfeeding Moms" by Mamava; selected for the Top 10 "Best of the U.S.'s Big Airports" (Wall Street Journal) and "Most Pet-Friendly Airports in the U.S. (Mental Floss); named the second-most improved airport in the U.S. by JD Power; received an "Innovation Award" from the L.A. Better Business Challenge for its Central Utility Plant; and named a "Business Leader in Air Quality" by the South Coast Air Quality Management District.

LAX is also the second-most popular airport in the world to appear on Instagram, according to wego.com. LAX is part of a system of two Southern California airports – along with Van Nuys general aviation – that are owned and operated by Los Angeles World Airports, a proprietary department of the City of Los Angeles that receives no funding from the City's general fund.

As a covered entity under Title II of the Americans with Disabilities Act, the City of Los Angeles does not discriminate on the basis of disability and, upon request, will provide reasonable accommodation to ensure equal access to its programs, services, and activities. Alternative formats in large print, braille, audio, and other forms (if possible) will be provided upon request.