For Immediate Release
June 21, 2018

Contact:
Frederick Badlissi
(424) 646-5260


LAX'S ACE ACADEMY SHOWCASES AVIATION CAREERS TO MIDDLE AND HIGH SCHOOL STUDENTS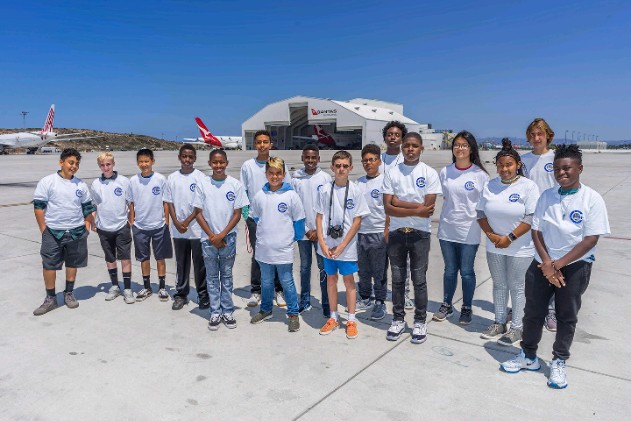 (Los Angeles, CA) – Los Angeles International Airport's (LAX's) annual Aviation Career Education (ACE) Academy kicked off this week for nearly 40 students participating in a week-long tour of two airports and exposure to more than 150 aviation-related career paths. The program started on Monday for middle school students at City of Los Angeles Fire Station 5, and will last for one week. The program for high school students begins next Monday, June 25.
"LAX's ACE Academy provides middle and high school students the opportunity to learn more about the incredible variety of careers available in aviation, as introduced by some of the most qualified professionals in the industry," said Trevor Daley, Deputy Executive Director for External Affairs at Los Angeles World Airports (LAWA). "Our ACE students leave with a newfound appreciation for aviation which we hope will spark an interest in a future career."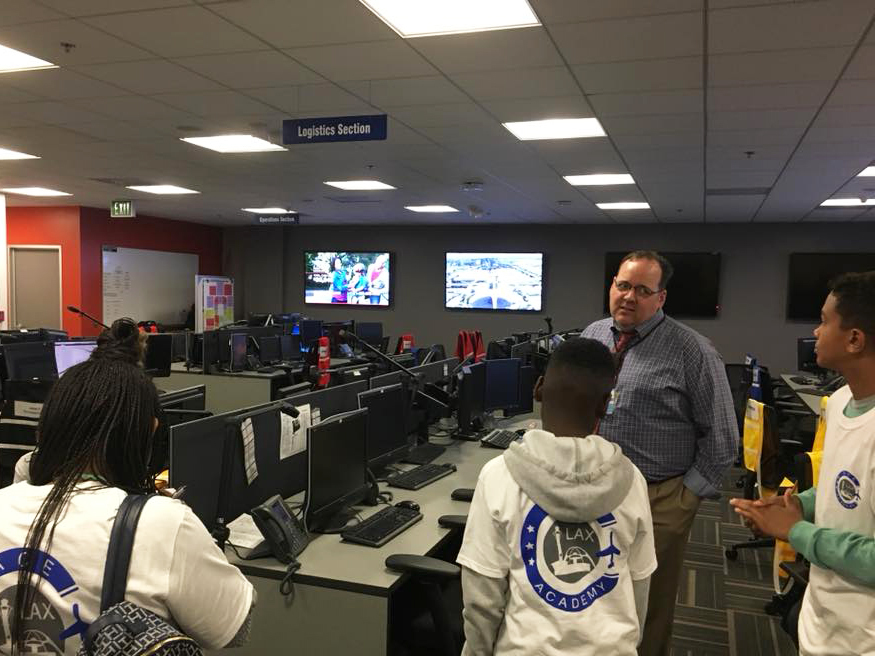 The ACE Academy program exposes students to a variety of positions and offices at LAX and Van Nuys general aviation airport. From airport operations to information technology, and from commercial flight to aircraft fire rescue, students get an up-close and personal look at how these jobs are done. Experts are on-hand to answer detailed questions from the students and offer one-on-one guidance for students interested in a particular field.

Alumni of the program have gone on to become commercial pilots, which is only one of many career paths ACE graduates pursue.

This year, 21 middle school students from Orville Wright Middle School (Los Angeles Unified School District) and 18 high school students from Children of Promise Schools (Inglewood Unified School District) registered for the program and were selected on the basis of prior aviation interest or by a teacher's or counselor's recommendation. LAX recruits from schools in communities surrounding the airport.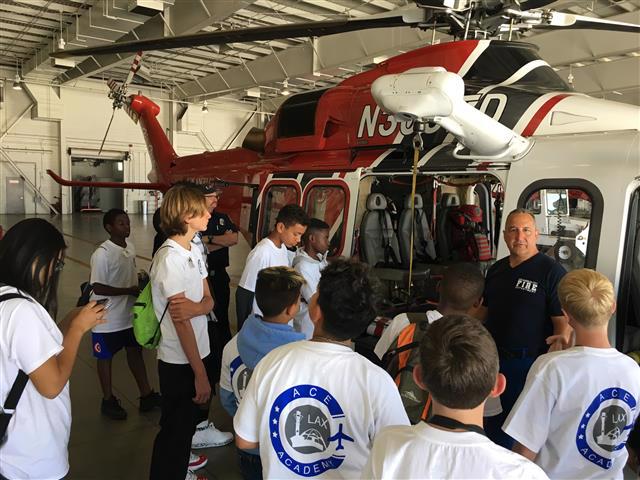 About Los Angeles International Airport (LAX)
LAX, the fifth busiest airport in the world and second in the United States, was named in Skytrax' 2018 top 10 U.S. airports. LAX served more than 84.56 million passengers in 2017 and offers 737 daily nonstop flights to 100 cities in the U.S. and 1,386 weekly nonstop flights to 88 cities in 44 countries on 73 commercial air carriers. LAX ranks 14th in the world and fifth in the U.S. in air cargo tonnage processed, with more than 2.2 million tons of air cargo valued at over $101.4 billion. LAX handled 700,362 operations (landings and takeoffs) in 2017.
An economic study based on 2014 operations reported LAX generated 620,600 jobs in Southern California with labor income of $37.3 billion and economic output (business revenues) of more than $126.6 billion. This activity added $6.2 billion to local and state revenues and $8.7 billion in federal tax revenues. The study also reported that LAX's ongoing capital-improvement program creates an additional 121,640 annual jobs with labor income of $7.6 billion and economic output of $20.3 billion, $966 million in state and local taxes, and $1.6 billion in federal tax revenues.
LAX is also the second most popular airport in the world to appear on Instagram according to wego.com. LAX is part of a system of two Southern California airports – along with Van Nuys general aviation – that are owned and operated by Los Angeles World Airports, a proprietary department of the City of Los Angeles that receives no funding from the City's general fund.
For more information about LAX, please visit www.flyLAX.com or follow on Twitter @flyLAXAirport, on Facebook at www.facebook.com/LAInternationalAirport, and on YouTube at www.YouTube.com/laxairport1.
As a covered entity under Title II of the Americans with Disabilities Act, the City of Los Angeles does not discriminate on the basis of disability and, upon request, will provide reasonable accommodation to ensure equal access to its programs, services, and activities. Alternative formats in large print, braille, audio, and other forms (if possible) will be provided upon request.