For Immediate Release:

June 20, 2018

Contacts:

LAWA Public Relations, LAX
424-646-5260
LAX and United Airlines Welcome Humboldt County Students to Explore New Horizons on New Nonstop Service to Los Angeles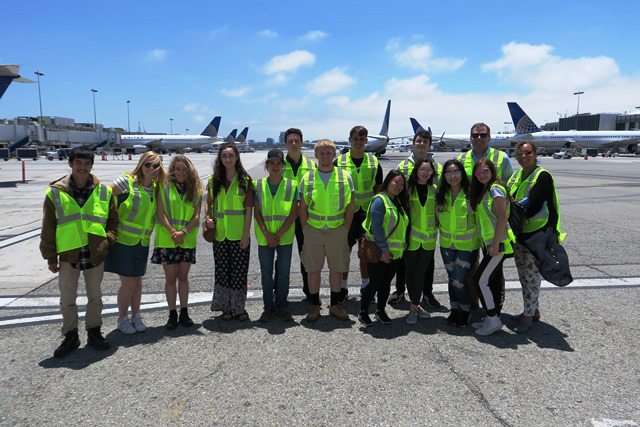 (Los Angeles, CA) Los Angeles World Airports (LAWA) joined with United Airlines to welcome thirteen middle and high school students and their chaperones from Humboldt County to Los Angeles International Airport (LAX) yesterday. Upon their arrival, United staff members took the students on a tour of the airfield and explained how passenger luggage is handled, sorted and assigned to specific baggage claim areas. During the tour, workers emphasized the company's focus on employee professionalism, timeliness and following safety procedures at all times. From there, the tour continued into United's Station Operations Control where flights are managed and coordinated to ensure timely departures. Students toured the Emergency Operations Center where the airline handles crises, and the group also learned about different career options in the Aviation industry.
"At LAX, everyone is welcome, and we are excited that the students from Humboldt County were able to step outside of their comfort zones and explore Southern California and all that it has to offer," said Trevor Daley, LAWA Deputy Executive Director of External Affairs. "This trip, once again, reminds people throughout Humboldt County that United offers this new, nonstop service to Los Angeles daily from their area, and we hope many people will take advantage of it."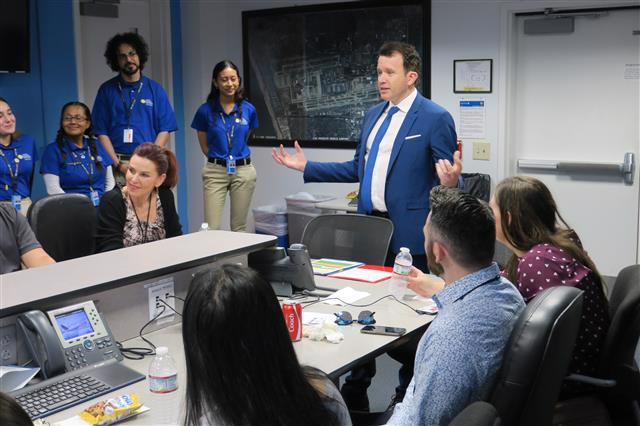 LAWA Deputy Executive Director of External Affairs Trevor Daley shared remarks with Humboldt County students and United Airlines interns.

The trip from Humboldt Couty resonated strongly with Arcata High School Junior Max Rice. "This trip has really helped show us the different opportunities that we can have and the different things you can do in life. Not everything is in your area. Sometimes, you have to move out and explore other things in life."

The students were chosen to attend the trip due to their academic achievements, community service and their roles as positive ambassadors for their schools. According to Heidi Moore-Guynup, Assistant Superintendent of Humboldt County Office of Education, many of the students have overcome obstacles to succeed. In fact, one student lives on a tribal reservation and another is a foster youth.

"With our distance from a major urban area, many of these students would not otherwise have the opportunity to leave Humboldt County and so this is an amazing, eye-opening journey for them," said Moore-Guynup. "It gives them exposure to the rest of the world and during the tour they are really highlighting workforce competencies that are going to be important for our young people to be aware of as they pursue their future careers,"

While the group's tour was filled with educational components, they also experienced fun and adventure in the Los Angeles area. LAWA staffers took them on a tour of Sony Pictures Studio in Culver City, and they even had the chance to spend time on the set of "Jeopardy."



Humboldt County students and LAWA staff toured Sony Pictures Studio in Culver City on Tuesday afternoon.
From there, the group enjoyed dinner at Cantalini's in Playa del Rey thanks to Owner, Lisa Schwab. Finally, the students enjoyed a beautiful dessert boat cruise in Marina del Rey.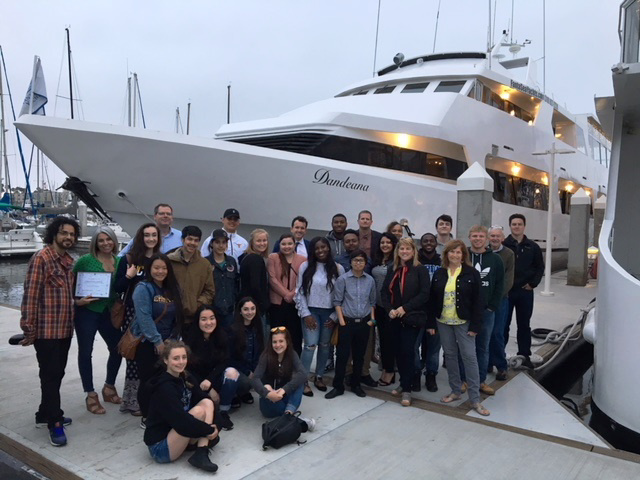 LAWA staffers and Humboldt County students enjoyed an evening cruise in Marina del Rey.

This morning, the group departed LAX and returned to Humboldt County on United's nonstop service. The thirteen students that traveled to LAX attend various Humboldt County Schools, including Eureka High, St. Bernard's Academy, McKinleyville High, Fortuna High, South Fork High, Arcata High, Hoopa High and Ferndal High.

United Airlines is using a 50-seat CRJ regional jet for the daily round-trip from LAX to Humboldt County.
About Los Angeles International Airport (LAX)
LAX, the fifth busiest airport in the world and second in the United States, was named in Skytrax' 2018 top 10 U.S. airports. LAX served more than 84.56 million passengers in 2017 and offers 737 daily nonstop flights to 100 cities in the U.S. and 1,386 weekly nonstop flights to 88 cities in 44 countries on 73 commercial air carriers. LAX ranks 14th in the world and fifth in the U.S. in air cargo tonnage processed, with more than 2.2 million tons of air cargo valued at over $101.4 billion. LAX handled 700,362 operations (landings and takeoffs) in 2017.

An economic study based on 2014 operations reported LAX generated 620,600 jobs in Southern California with labor income of $37.3 billion and economic output (business revenues) of more than $126.6 billion. This activity added $6.2 billion to local and state revenues and $8.7 billion in federal tax revenues. The study also reported that LAX's ongoing capital-improvement program creates an additional 121,640 annual jobs with labor income of $7.6 billion and economic output of $20.3 billion, $966 million in state and local taxes, and $1.6 billion in federal tax revenues.

LAX is also the second most popular airport in the world to appear on Instagram according to wego.com. LAX is part of a system of two Southern California airports – along with Van Nuys general aviation – that are owned and operated by Los Angeles World Airports, a proprietary department of the City of Los Angeles that receives no funding from the City's general fund.

For more information about LAX, please visit www.flyLAX.com or follow on Twitter @flyLAXAirport, on Facebook at www.facebook.com/LAInternationalAirport, and on YouTube at www.YouTube.com/laxairport1. Information about LAX's ongoing multi-billion-dollar LAX Modernization Program, as well as tips and shortcuts to help navigate LAX during construction, are available at www.LAXisHappening.com.

As a covered entity under Title II of the Americans with Disabilities Act, the City of Los Angeles does not discriminate on the basis of disability and, upon request, will provide reasonable accommodation to ensure equal access to its programs, services, and activities. Alternative formats in large print, braille, audio, and other forms (if possible) will be provided upon request.

About United
United Airlines and United Express operate approximately 4,600 flights a day to 354 airports across five continents. In 2017, United and United Express operated more than 1.6 million flights carrying more than 148 million customers. United is proud to have the world's most comprehensive route network, including U.S. mainland hubs in Chicago, Denver, Houston, Los Angeles, Newark/New York, San Francisco and Washington, D.C. United operates 750 mainline aircraft and the airline's United Express carriers operate 545 regional aircraft. The airline is a founding member of Star Alliance, which provides service to 191 countries via 28 member airlines. For more information, visit united.com, follow @United on Twitter or connect on Facebook. The common stock of United's parent, United Continental Holdings, Inc., is traded on the NYSE under the symbol "UAL".



# # #