FOR RELEASE
June 8, 2018

CONTACT
Becca Doten
424-646-5260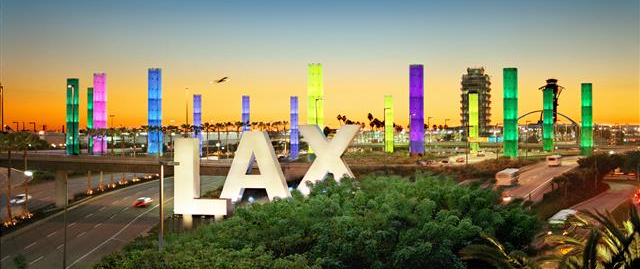 LOS ANGELES WORLD AIRPORTS TO HONOR LA PRIDE BY TURNING ICONIC PYLONS THE COLORS OF THE RAINBOW FLAG
(Los Angeles, CA) In honor of LGBTQ Heritage Month, and in celebration of this weekend's 2018 Los Angeles Pride Parade, Los Angeles World Airports (LAWA) will be changing its iconic pylons to red, orange, yellow, green, blue, indigo and violet, the colors of the pride rainbow flag. LAWA also updated the icons on the Los Angeles International Airport (LAX) and Van Nuys Airport (VNY) social media accounts to reflect support for Pride Month.

"At Los Angeles World Airports we are proud to join with Mayor Garcetti and the city family to celebrate LA Pride and promote the message that everyone is welcome in Los Angeles and to our airports," said Trevor Daley, Deputy Executive Director for External Affairs, LAWA. "On behalf of the entire LAX family, we stand strong with the LGBTQ community locally and throughout the world."

The 2018 LA Pride Parade is taking place along Santa Monica Boulevard in West Hollywood on Sunday, June 10. The parade, and the two-day festival that is now part of the parade, brings together thousands people from the LGBTQ+ community and straight allies to celebrate diversity and identity. The theme of this year's festival is #JUSTBE, and the parade grand marshal is transgender activist, public speaker, and restaurateur, Michaela Ivri Mendelsohn. More information about the parade and festival can be found at https://lapride.org/.


About Los Angeles International Airport (LAX)
LAX, the fifth busiest airport in the world and second in the United States, was named in Skytrax' 2018 top 10 U.S. airports. LAX served more than 84.56 million passengers in 2017 and offers 737 daily nonstop flights to 100 cities in the U.S. and 1,386 weekly nonstop flights to 88 cities in 44 countries on 73 commercial air carriers. LAX ranks 14th in the world and fifth in the U.S. in air cargo tonnage processed, with more than 2.2 million tons of air cargo valued at over $101.4 billion. LAX handled 700,362 operations (landings and takeoffs) in 2017.

An economic study based on 2014 operations reported LAX generated 620,600 jobs in Southern California with labor income of $37.3 billion and economic output (business revenues) of more than $126.6 billion. This activity added $6.2 billion to local and state revenues and $8.7 billion in federal tax revenues. The study also reported that LAX's ongoing capital-improvement program creates an additional 121,640 annual jobs with labor income of $7.6 billion and economic output of $20.3 billion, $966 million in state and local taxes, and $1.6 billion in federal tax revenues.

LAX is also the second most popular airport in the world to appear on Instagram according to wego.com. LAX is part of a system of two Southern California airports – along with Van Nuys general aviation – that are owned and operated by Los Angeles World Airports, a proprietary department of the City of Los Angeles that receives no funding from the City's general fund.

For more information about LAX, please visit www.flyLAX.com or follow on Twitter @flyLAXAirport, on Facebook at www.facebook.com/LAInternationalAirport, and on YouTube at www.YouTube.com/laxairport1.

As a covered entity under Title II of the Americans with Disabilities Act, the City of Los Angeles does not discriminate on the basis of disability and, upon request, will provide reasonable accommodation to ensure equal access to its programs, services, and activities. Alternative formats in large print, braille, audio, and other forms (if possible) will be provided upon request.

# # #