Renovation of Terminals 2 and 3, connector to TBIT will help reimagine LAX.
For Immediate Release
May 31, 2018

CONTACTS:
Charles H. Pannunzio/LAWA
(424) 646-5260
[email protected]

Liz Savadelis/Delta Corporate Communications
(404) 764-9194
[email protected]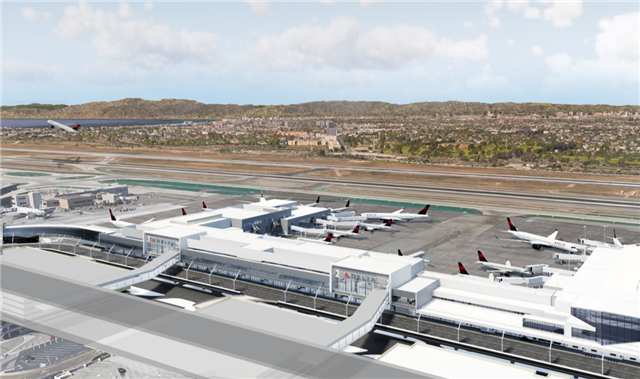 DELTA, LAWA FORMALLY KICK-OFF $1.86-BILLION PROJECT
TO MODERNIZE, UPGRADE AND CONNECT TERMINALS 2, 3 AT LAX
(Los Angeles, CA) Delta Air Lines and Los Angeles World Airports (LAWA) have formally kicked off the Delta Sky Way at LAX project — the $1.86 billion plan to modernize, upgrade and connect Terminals 2, 3, and the Tom Bradley International Terminal (Terminal B). Construction is expected to begin this fall. The project kick-off follows the Los Angeles Board of Airport Commissioners' (BOAC) recent approval of the largest tenant improvement award in its history, which cleared the way for the Delta Sky Way at LAX to begin.
Los Angeles Mayor Eric Garcetti, Delta CEO Ed Bastian, LA City Councilmember Mike Bonin, BOAC President Sean Burton and LAWA CEO Deborah Flint celebrated the milestone today at a press conference where they also shared new renderings of the future facility.
"Los Angeles is constantly reaching new heights, and today's project launch creates jobs and forges global connections," said Los Angeles Mayor Eric Garcetti. "The modernization of Terminals 2 and 3 is an investment in our economy and people, and Delta's partnership is helping to accelerate an era of growth and innovation in Los Angeles."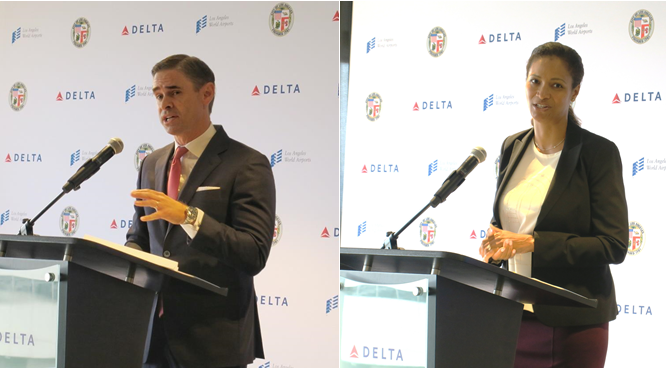 Los Angeles Board of Airport Commissioners President Sean Burton and LAWA CEO Deborah Flint spoke about the partnership between Delta Air Lines and LAWA at today's news conference.

"This is really a milestone for us, it means we are finally making more progress at LAX," said BOAC President Sean Burton, who was joined by BOAC Vice President Valeria Velasco and Commissioners Jeffrey Daar, Gabriel Eshagian and Bea Hsu at today's news conference.

"We understand that we have much more work to do, but it is important to acknowledge the steps that got us here and to celebrate the benchmarks and milestones along the way," Burton added. "This will play a significant role in moving LAX to the top rank of global airports."
"Our vision is a gold-standard airport, and one of our strategic plan goals is delivering exceptional facilities and experiences at the same time," said LAWA CEO Deborah Flint. "And even though that is no easy feat, I am confident that with the team at Delta and the partnership we have, that we can achieve that vision."
"Nearly 10 years ago, we made a commitment to be LA's premier, premium airline. Today, LAX is one of the most important hubs in our network where we operate more than 170 daily flights and connect more passengers to our partner airlines than anywhere else in the U.S.," said Delta CEO Ed Bastian. "The Delta Sky Way at LAX project is a once-in-a-generation opportunity to invest in and transform the airport experience in partnership with LAWA and the City of Los Angeles. Delta is excited and proud to be leading the way not just in LA but in our hubs across the country, with more than $12 billion in airport infrastructure investments in progress over the next few years."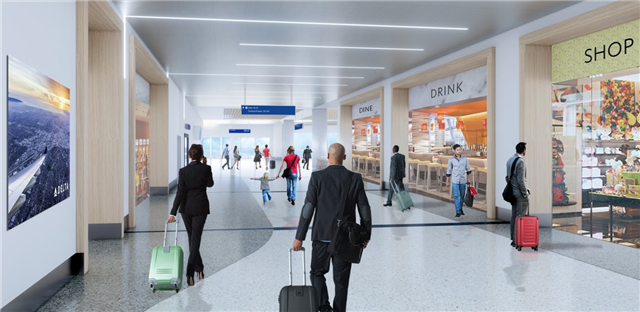 Delta and LAWA also released new renderings of the facility today, which show the interior and exterior of the shared "headhouse" of Terminals 2 and 3; the interior, secured side of Terminal 3; and the connector between Terminal 3 and Terminal B, among other perspectives.

When completed, the modern facility will offer more security screening capacity with automated security lanes, more gate-area seating, and a world-class concession program in partnership with Westfield Corporation, in addition to all the amenities that Delta's customers have come to expect at LAX, including the Delta ONE at LAX check-in space, new Delta Sky Club; and the integrated in-line baggage system. Key features and benefits include:
A 27-gate complex on Terminals 2 and 3 with a secure connection to the Tom Bradley International Terminal (Terminal B), enabling Delta and its partners to effectively utilize gates there as well.
Brand new headhouse with centralized lobby, security screening checkpoint, and baggage claim
Completely reconstructed Terminal 3
A convenient bridge connecting Terminals 2, 3, and B on the secure side of the airport, as well as a dedicated baggage recheck and security checkpoint for seamless connection of international to domestic transfers, enabling significantly faster connections
Premium retail and dining lineup
Convenient and contemporary restroom facilities
More access to power in the gate areas
Modern and intuitive signage
State-of-the-art finishes
Emergency power generators for better operational recovery
Connection to the Automated People Mover, which is scheduled to be fully operational in 2023
Airfield efficiency including dual taxi lanes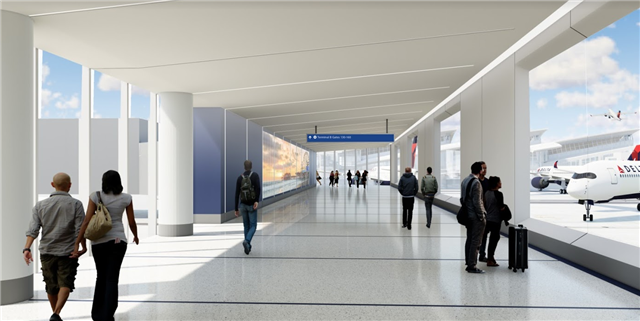 Delta has already made a series of enhancements since its relocation to Terminals 2 and 3 in May 2017. LAWA and Westfield introduced a new retail and dining lineup in Terminal 3 in December 2017. Delta opened an interim Delta ONE at LAX reception in November, an exclusive and personalized check-in experience featuring a reception area and private corridor that takes customers directly to the front of the security checkpoint with easy access to TSA Pre-Check and standard lanes. CLEAR is available at Terminals 2 and 3 at LAX, and customers with a CLEAR membership breeze through airport security with just the touch of a finger or blink of an eye. The airline has also installed new padded seats in the gate areas with seat power coming in summer 2018. Finally, expanded space in Terminal 3 for Delta Sky Club guests will open this summer, nearly doubling the number of available seats.
Delta now operates alongside many of its airline partners, including Aeromexico, Virgin Atlantic and WestJet, at LAX. Later, the secure connector to Terminal B will enable seamless access to additional partners, including Air France-KLM, Alitalia, China Eastern, Korean Air, and Virgin Australia.
Operational performance has already significantly improved at LAX. From June 2017-March 2018, the airline improved its on-time performance by 16 points versus the same period a year prior, driven in part by improved taxi times and more efficient tarmac operations from converting the alleyway between T2 and T3 from single- to dual-lane operations, which allows two planes to proceed through the alleyway at the same time. Total taxi times have reduced by more than 8 minutes.

Delta has invested more than $7 billion in airport projects since 2006, and along with its airport partners, Delta will be involved in an additional $12 billion worth of facilities infrastructure projects in coming years, including improvements at several of its key hubs in Atlanta, Los Angeles, New York, Salt Lake City and Seattle.
About Los Angeles International Airport (LAX)
LAX, the fifth busiest airport in the world and second in the United States, was named in Skytrax' 2018 top 10 U.S. airports. LAX served more than 84.56 million passengers in 2017 and offers 737 daily nonstop flights to 100 cities in the U.S. and 1,386 weekly nonstop flights to 88 cities in 44 countries on 73 commercial air carriers. LAX ranks 14th in the world and fifth in the U.S. in air cargo tonnage processed, with more than 2.2 million tons of air cargo valued at over $101.4 billion. LAX handled 700,362 operations (landings and takeoffs) in 2017.

An economic study based on 2014 operations reported LAX generated 620,600 jobs in Southern California with labor income of $37.3 billion and economic output (business revenues) of more than $126.6 billion. This activity added $6.2 billion to local and state revenues and $8.7 billion in federal tax revenues. The study also reported that LAX's ongoing capital-improvement program creates an additional 121,640 annual jobs with labor income of $7.6 billion and economic output of $20.3 billion, $966 million in state and local taxes, and $1.6 billion in federal tax revenues.
LAX is also the second most popular airport in the world to appear on Instagram according to wego.com. LAX is part of a system of two Southern California airports – along with Van Nuys general aviation – that are owned and operated by Los Angeles World Airports, a proprietary department of the City of Los Angeles that receives no funding from the City's general fund.
For more information about LAX, please visit www.flyLAX.com or follow on Twitter @flyLAXAirport, on Facebook at www.facebook.com/LAInternationalAirport, and on YouTube at www.YouTube.com/laxairport1.
As a covered entity under Title II of the Americans with Disabilities Act, the City of Los Angeles does not discriminate on the basis of disability and, upon request, will provide reasonable accommodation to ensure equal access to its programs, services, and activities. Alternative formats in large print, braille, audio, and other forms (if possible) will be provided upon request.

About Delta Air Lines

Delta Air Lines serves more than 180 million customers each year. In 2018, Delta was named to Fortune's top 50 Most Admired Companies in addition to being named the most admired airline for the seventh time in eight years. Additionally, Delta has ranked No.1 in the Business Travel News Annual Airline survey for an unprecedented seven consecutive years. With an industry-leading global network, Delta and the Delta Connection carriers offer service to 324 destinations in 57 countries on six continents. Headquartered in Atlanta, Delta employs more than 80,000 employees worldwide and operates a mainline fleet of more than 800 aircraft. The airline is a founding member of the SkyTeam global alliance and participates in the industry's leading transatlantic joint venture with Air France-KLM and Alitalia as well as a joint venture with Virgin Atlantic. Including its worldwide alliance partners, Delta offers customers more than 15,000 daily flights, with key hubs and markets including Amsterdam, Atlanta, Boston, Detroit, Los Angeles, Mexico City, Minneapolis/St. Paul, New York-JFK and LaGuardia, London-Heathrow, Paris-Charles de Gaulle, Salt Lake City, São Paulo, Seattle, Seoul, and Tokyo-Narita. Delta has invested billions of dollars in airport facilities, global products and services, and technology to enhance the customer experience in the air and on the ground. Additional information is available on the Delta News Hub, as well as delta.com, Twitter @DeltaNewsHub and Facebook.com/delta.


###