For Immediate Release
July 20, 2018

Contacts:
Charles H. Pannunzio
Los Angeles World Airports
(424) 646-5260
LAX Opens New Restrooms in Terminal 1, Including Adult Changing Table for Elderly and Disabled Guests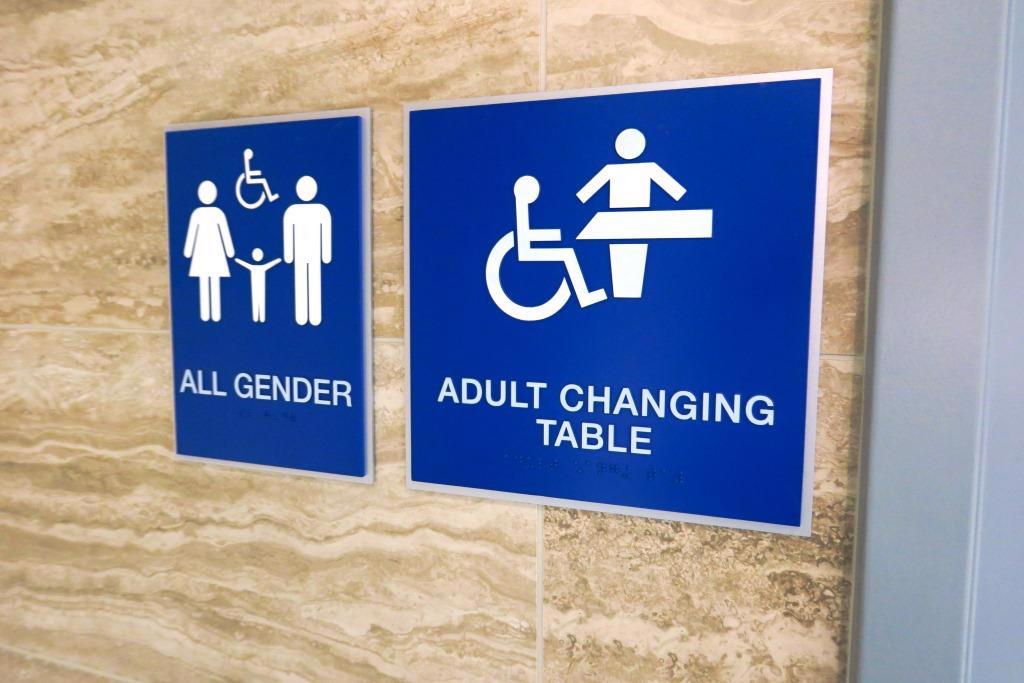 Signs in the foyer of the restroom area near Gate 14 indicate the location of the adult changing table.

(Los Angeles, CA) A new restroom that opened in Terminal 1 at Los Angeles International Airport (LAX) this month includes an adult changing table, a feature guests traveling with special-needs or older individuals will find particularly helpful.

The all-gender restroom is located near Gate 14 at Terminal 1, adjacent to newly opened men's and women's restrooms that are part of the $515-million upgrade of the terminal which is wrapping up this year. A similar table is installed in a family restroom near Gate 75A in Terminal 7.

"It is well-established that restrooms today include a table for babies, but very often adults do not have similar options," said Barbara Yamamoto, Chief Guest Experience Officer, Los Angeles World Airports (LAWA). "These specially-designed tables for adults allow caregivers to provide assistance in a manner that is much more comfortable and convenient for both parties. This is just one more way that we are working to ensure that we provide an exceptional experience to all our guests, including the disabled and elderly."

The Armedica Family Restroom Changing Table has a weight-capacity of 400 pounds, and is power height adjustable through the use of a built-in rocker switch. It includes dual safety rails and has a commercial grade, waterproof top.

The changing tables are not currently required under state or federal disability law, although California will begin to require them at certain "commercial places of amusement," including convention centers and theaters constructed after January 2020 or renovated after January 2025.

Southwest Airlines, which operates all 13 gates at Terminal 1, has been responsible for the renovation project.
"This renovation gave us an opportunity to look at ways to meet the needs of all Customers," said John Zuzu, Managing Director of Corporate Facilities for Southwest Airlines. "We proudly partnered with LAWA to offer an adult changing table to improve the experience of our Customers traveling through Terminal 1 at LAX."

In addition to the two adult changing tables, plans are in place to install one in Terminal 3 following restroom renovation in 2019, and the new international concourse will also have a table available when it opens in 2020. LAWA will also continue exploring options for adding adult changing tables in other locations.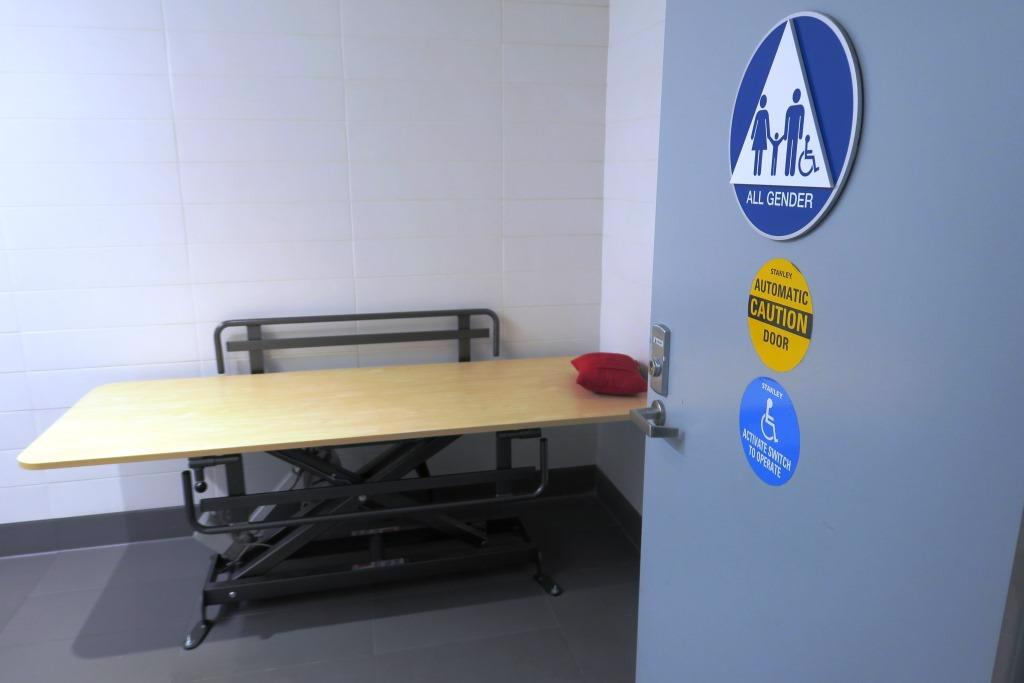 The adult changing table has a weight capacity of 400 pounds and is power-adjustable for height.
About Los Angeles International Airport (LAX)
LAX, the fifth busiest airport in the world and second in the United States, was named in Skytrax' 2018 top 10 U.S. airports. LAX served more than 84.56 million passengers in 2017 and offers 737 daily nonstop flights to 100 cities in the U.S. and 1,386 weekly nonstop flights to 88 cities in 44 countries on 73 commercial air carriers. LAX ranks 14th in the world and fifth in the U.S. in air cargo tonnage processed, with more than 2.2 million tons of air cargo valued at over $101.4 billion. LAX handled 700,362 operations (landings and takeoffs) in 2017.
An economic study based on 2014 operations reported LAX generated 620,600 jobs in Southern California with labor income of $37.3 billion and economic output (business revenues) of more than $126.6 billion. This activity added $6.2 billion to local and state revenues and $8.7 billion in federal tax revenues. The study also reported that LAX's ongoing capital-improvement program creates an additional 121,640 annual jobs with labor income of $7.6 billion and economic output of $20.3 billion, $966 million in state and local taxes, and $1.6 billion in federal tax revenues.
LAX is also the second most popular airport in the world to appear on Instagram according to wego.com. LAX is part of a system of two Southern California airports – along with Van Nuys general aviation – that are owned and operated by Los Angeles World Airports, a proprietary department of the City of Los Angeles that receives no funding from the City's general fund.
For more information about LAX, please visit www.flyLAX.com or follow on Twitter @flyLAXAirport, on Facebook at www.facebook.com/LAInternationalAirport, and on YouTube at www.YouTube.com/laxairport1.
As a covered entity under Title II of the Americans with Disabilities Act, the City of Los Angeles does not discriminate on the basis of disability and, upon request, will provide reasonable accommodation to ensure equal access to its programs, services, and activities. Alternative formats in large print, braille, audio, and other forms (if possible) will be provided upon request.

About Southwest Airlines Co.
In its 48th year of service, Dallas-based Southwest Airlines Co. (NYSE: LUV) continues to differentiate itself from other air carriers with exemplary Customer Service delivered by more than 57,000 Employees to a Customer base topping 120 million passengers annually, in recent years. Southwest became the nation's largest domestic air carrier in 2003 and maintains that ranking based on the U.S. Department of Transportation's most recent reporting of domestic originating passengers boarded. During peak travel seasons, Southwest operates more than 4,000 weekday departures among a network of 99 destinations in the United States and 10 additional countries. Southwest has announced its intention to sell tickets in 2018 for service to Hawaii, subject to requisite governmental approvals.
###