For Immediate Release
June 28, 2018

Contact:
Charles H. Pannunzio
(424) 646-5260
HAPPY

FOURTH

OF

JULY

!

HOLIDAY PASSENGER VOLUME AT LAX EXPECTED TO BREAK RECORDS
(Los Angeles, CA) Los Angeles International Airport (LAX) officials are forecasting record-breaking travel during the week of the Fourth of July, with 2.86 million passengers expected over an 11-day period between Friday, June 29, and Monday, July 9, 2018.
"Summer is here, and the holiday travel season is in full swing! With a little advance planning, a trip to the airport can be stress-free and set the tone for an amazing summer getaway," said Trevor Daley, Deputy Executive Director for External Affairs at Los Angeles World Airports (LAWA). "We wish all of our guests and employees a wonderful July 4th holiday - just remember to give yourself a little extra time if you're traveling on our busiest days."
The core of the holiday period, seven days between June 29 and July 5, is expected to show a 2.44 percent increase over a similar period (June 30-July 6) in 2017, with 1.81 million passengers forecast, versus 1.74 million for the 2017 holiday. However, with July 4 falling on a Wednesday this year, three of the busiest days are forecast to be the Friday, Sunday and Monday after the holiday.
Five Busiest Days:
Friday, June 29: 275,285 passengers; 120,531 vehicles

Monday, July 9: 272,358 passengers; 113,779 vehicles

Sunday, July 8: 267,564 passengers; 93,200 vehicles

Friday, July 6: 263,780 passengers; 105,469 vehicles

Sunday, July 1: 262,297 passengers; 102,487 vehicles
Reminders for Travelers:

Guests should plan ahead and be prepared for crowded terminals and traffic congestion on the roadways in and around LAX. Airport officials recommend departing passengers arrive in their airline terminals at least two hours prior to boarding time for domestic flights and at least three hours before boarding time for international flights. As well, travelers are encouraged to enroll in TSA Pre✓® or other trusted traveler programs such as Global Entry and download the Mobile Passport Control (MPC) app on their smartphone, which improve security and reduce wait times.

Airport officials emphasize that passengers should obey a federal ban on bringing fireworks of any kind on board an aircraft -- either in checked luggage or as carry-on items. Because fireworks are fire or explosive hazards, these items could cause flight delays while authorities search through checked luggage and personal belongings. For a comprehensive list of items that are permitted and prohibited in carry-on or checked luggage, visit www.tsa.gov .

Los Angeles Airport Police has enhanced deployment of uniformed officers in and around LAX and Van Nuys airports. Officers will be highly visible on foot, motorcycles, and bicycles; in patrol vehicles; and managing traffic. The security and safety of passengers, visitors, and employees are the highest priorities of the entire LAX community. The traveling public is encouraged to report all suspicious activity to Airport Police at (310)646-4268 or at 877-A-THREAT/877-284-7328. If you "See Something, Say Something. Security is Everybody's Business."

Great New Concessions and Retail Choices:

Our guests will find great new concessions and a number of retail stores throughout the nine terminals, pre- and post-security.

Recent additions have included a second location of The New Stand in Terminal 1, Moshi in Terminal 3, P.F. Chang's in the Tom Bradley International Terminal, and Ashland Hill, Hudson News Pier No. 7 Market and Dunkin' Donuts in Terminal 7.

For a complete list of dining and retail locations at LAX, visit https://flylax.com/en/lax-dining-and-shopping

Extra Assistance on Fridays:
Starting this Friday, and continuing on Fridays through July, LAX TLC volunteers wearing gold and white baseball tees with "ASK ME" on the front and back will be in the airport from 7 a.m. to 3 p.m. They will provide navigational support and surprise guests with fun summer giveaways.
In addition, on Friday, June 29, celebrity lookalikes will be roaming the south terminals, and Pets Unstressing Passengers (PUPs) therapy dogs will be in the gate areas throughout the airport.

Traffic Tips:
The public is reminded that LAX's multi-billion-dollar modernization program is still on-going. While construction work on parking structures, terminals and sidewalks is scheduled during late-night and early-morning hours, motorists and pedestrians should be prepared to encounter delays. When coming to LAX, passengers should look for and follow way-finding signage near all construction sites to ensure their safety and to enhance mobility. For real-time LAX traffic conditions and, information on the status and locations of airport construction, visit www.FlyLAX.com. Motorists and travelers also can receive real-time status of airport conditions by accessing @FlyLAXairport and @LAAirportPD Twitter feeds.

To reduce traffic congestion on Central Terminal Area roadways, passengers are encouraged to take shared-ride public transportation to/from LAX, including: Metro Rail Green Line; taxis; door-to-door shuttle vans; and long-distance and municipal buses. FlyAway® buses from Hollywood, Long Beach, Metro Orange Line (San Fernando Valley) Union Station, Van Nuys, and Westwood/UCLA.

Rather than circling the Central Terminal Area until arriving passengers reach terminal curbside for pick up, motorists can park and wait up to two hours free at the LAX Cell Phone Waiting Lot at 96th Street and Vicksburg (adjacent to the entrance of LAX Parking Lot C).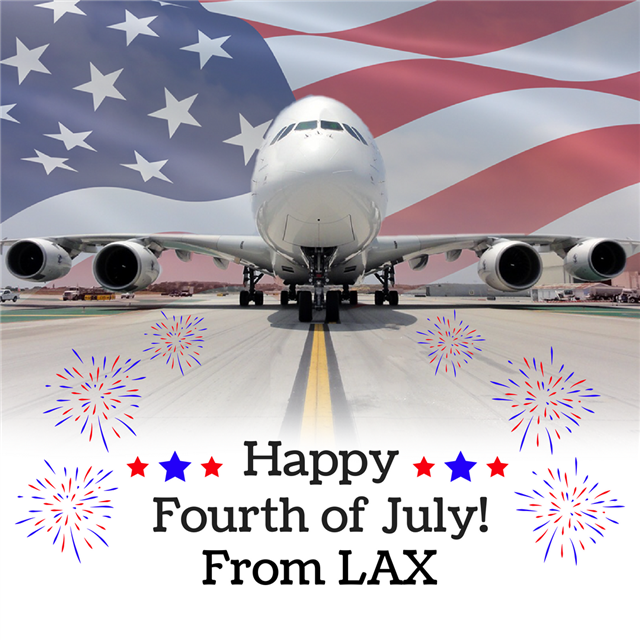 About Los Angeles International Airport (LAX)
LAX, the fifth busiest airport in the world and second in the United States, was named in Skytrax' 2018 top 10 U.S. airports. LAX served more than 84.56 million passengers in 2017 and offers 737 daily nonstop flights to 100 cities in the U.S. and 1,386 weekly nonstop flights to 88 cities in 44 countries on 73 commercial air carriers. LAX ranks 14th in the world and fifth in the U.S. in air cargo tonnage processed, with more than 2.2 million tons of air cargo valued at over $101.4 billion. LAX handled 700,362 operations (landings and takeoffs) in 2017.

An economic study based on 2014 operations reported LAX generated 620,600 jobs in Southern California with labor income of $37.3 billion and economic output (business revenues) of more than $126.6 billion. This activity added $6.2 billion to local and state revenues and $8.7 billion in federal tax revenues. The study also reported that LAX's ongoing capital-improvement program creates an additional 121,640 annual jobs with labor income of $7.6 billion and economic output of $20.3 billion, $966 million in state and local taxes, and $1.6 billion in federal tax revenues.

LAX is also the second most popular airport in the world to appear on Instagram according to wego.com. LAX is part of a system of two Southern California airports – along with Van Nuys general aviation – that are owned and operated by Los Angeles World Airports, a proprietary department of the City of Los Angeles that receives no funding from the City's general fund.

For more information about LAX, please visit www.flyLAX.com or follow on Twitter @flyLAXAirport, on Facebook at www.facebook.com/LAInternationalAirport, and on YouTube at www.YouTube.com/laxairport1.

As a covered entity under Title II of the Americans with Disabilities Act, the City of Los Angeles does not discriminate on the basis of disability and, upon request, will provide reasonable accommodation to ensure equal access to its programs, services, and activities. Alternative formats in large print, braille, audio, and other forms (if possible) will be provided upon request.
###