The 50-seat CRJ regional jet service will have one flight each way per day.
For Immediate Release:

June 7, 2018

Contacts:

Becca Doten, LAX
[email protected]
424-646-5260
Jonathan Guerin, United Airlines
Senior Public Relations Manager
872-825-8640
Gregg Foster, Executive Director
Redwood Region Economic Development Commission
707-445-9651
[email protected]
United Airlines Launches New Nonstop Service Between LAX and Humboldt County Airport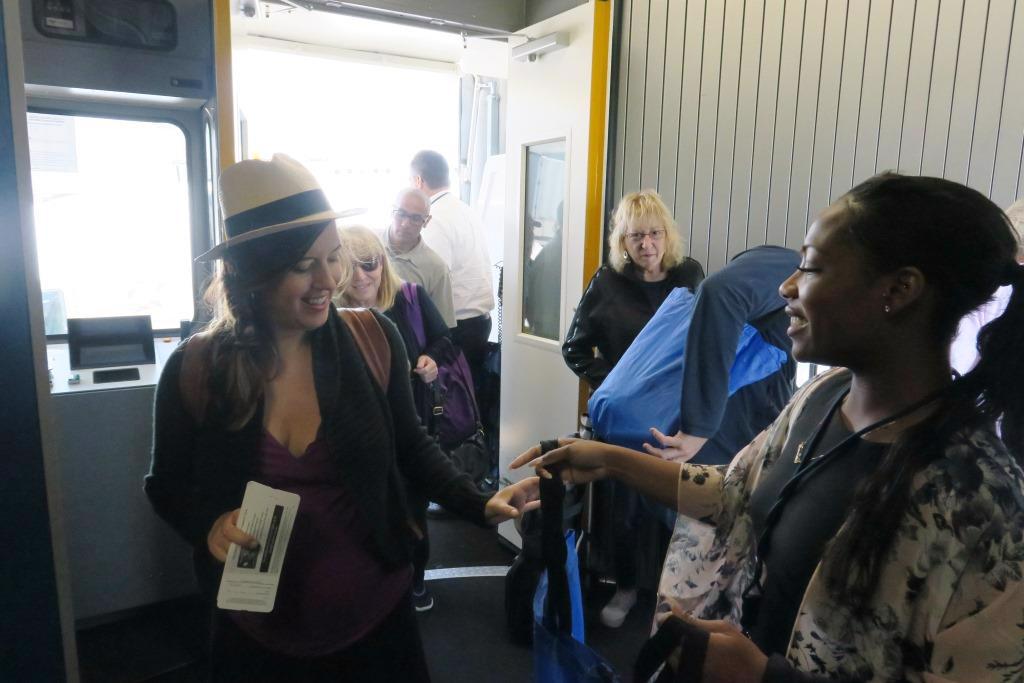 Passengers on the inaugural United Flight 5653 from Humboldt County Airport received gift bags upon their arrival at LAX this afternoon.
(Los Angeles, CA) Today, Los Angeles World Airports (LAWA) joined with United Airlines and Fly Humboldt to celebrate the launch of United Airlines new nonstop service from Humboldt County to the Los Angeles International Airport (LAX). LAWA staff members were on hand on hand to welcome the first group of passengers flying in from Humboldt County Airport (ACV) and provide them with gift bags to commemorate United's inaugural flight from ACV to LAX on this service.

"Los Angeles is excited about the new nonstop service between LAX and Humboldt County, which will allow travelers to move between the vistas of Northern California and the energy of Southern California in just under two hours," said Trevor Daley, Deputy Executive Director for External Affairs, Los Angeles World Airports. "As someone who grew up in Humboldt and now lives in Los Angeles, I know the amazing beauty and incredible adventures that are available for travelers who head either way, and we are pleased that United Airlines is bringing these regions of the state closer together through this new service."

United will provide the service with a 50-seat CRJ regional jet and will start with one flight per day as follows:
Depart LAX at 7:52 AM, arrive ACV at 9:54 AM
Depart ACV at 10:40 AM, arrive LAX at 12:27 PM
"United is excited to connect Southern California with the Redwood Coast, with our new daily service between Los Angeles and Eureka," said Ankit Gupta, United Vice President of Domestic Network Planning. "United is California's airline, connecting passengers from all over the Golden State to hundreds of destinations in our global and domestic networks."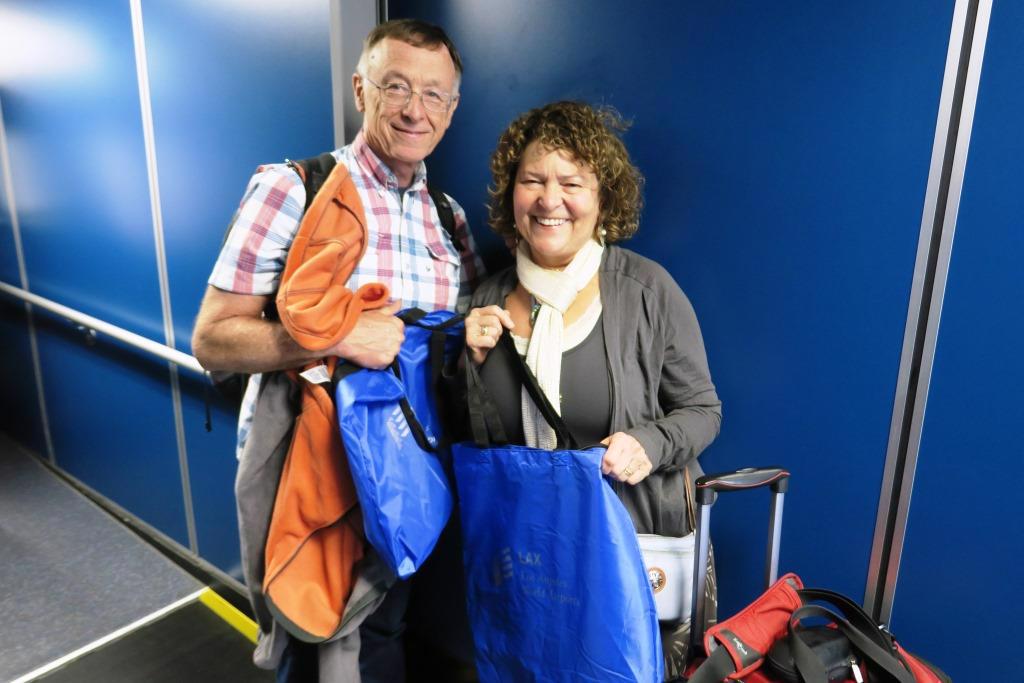 George and Ruth Epperson of Arcata, CA, were on the board the first United Airlines flight from Humboldt County to LAX on Thursday afternoon.
The passengers from who took this inaugural United Airlines flight from ACV were excited to land at LAX, and be greeted by staff and with fanfare.

"It means everything," said Ruth Epperson of Arcata, CA. "The San Francisco flights were delayed today as we came in to check in. We didn't know this was the first flight. This works great for us. We have a couple of reasons to come south and it's really nice to get all the way to LA."

"It's nice to have this as an option for getting out from behind the Redwood Curtain," said Loren Furber of McKinleyville, CA. "Traveling through San Francisco can be really troublesome at times because of weather and congestion. Being able to have the option to get directly to Los Angeles or further is a great opportunity."

Recruiting and retaining air service has been a top focus of the Redwood Region Economic Development Commission (RREDC) since 2003. In 2011, RREDC joined with community members, businesses, and organizations to create "Fly Humboldt," a collaborative effort to increase air service and support our local airport.

"We know that connecting with outside companies and markets is a key to the success of our local economy. We have and will continue to work hard to build local air service and build mutually beneficial relationships with airlines and airports," said Gregg Foster, Executive Director of RREDC. "I am grateful for the confidence shown and support received from both United Airlines and Los Angeles International Airport for this important new connection."

In addition to supporting tourism, many larger employers have stated that connecting to Southern California will help them attract talent and access markets.



United Airlines is using a 50-seat CRJ regional jet for the daily round-trip from LAX to Humboldt County.
About Los Angeles International Airport (LAX)
LAX, the fifth busiest airport in the world and second in the United States, was named in Skytrax' 2018 top 10 U.S. airports. LAX served more than 84.56 million passengers in 2017 and offers 737 daily nonstop flights to 100 cities in the U.S. and 1,386 weekly nonstop flights to 88 cities in 44 countries on 73 commercial air carriers. LAX ranks 14th in the world and fifth in the U.S. in air cargo tonnage processed, with more than 2.2 million tons of air cargo valued at over $101.4 billion. LAX handled 700,362 operations (landings and takeoffs) in 2017.

An economic study based on 2014 operations reported LAX generated 620,600 jobs in Southern California with labor income of $37.3 billion and economic output (business revenues) of more than $126.6 billion. This activity added $6.2 billion to local and state revenues and $8.7 billion in federal tax revenues. The study also reported that LAX's ongoing capital-improvement program creates an additional 121,640 annual jobs with labor income of $7.6 billion and economic output of $20.3 billion, $966 million in state and local taxes, and $1.6 billion in federal tax revenues.

LAX is also the second most popular airport in the world to appear on Instagram according to wego.com. LAX is part of a system of two Southern California airports – along with Van Nuys general aviation – that are owned and operated by Los Angeles World Airports, a proprietary department of the City of Los Angeles that receives no funding from the City's general fund.

For more information about LAX, please visit www.flyLAX.com or follow on Twitter @flyLAXAirport, on Facebook at www.facebook.com/LAInternationalAirport, and on YouTube at www.YouTube.com/laxairport1. Information about LAX's ongoing multi-billion-dollar LAX Modernization Program, as well as tips and shortcuts to help navigate LAX during construction, are available at www.LAXisHappening.com.

As a covered entity under Title II of the Americans with Disabilities Act, the City of Los Angeles does not discriminate on the basis of disability and, upon request, will provide reasonable accommodation to ensure equal access to its programs, services, and activities. Alternative formats in large print, braille, audio, and other forms (if possible) will be provided upon request.

About United
United Airlines and United Express operate approximately 4,600 flights a day to 354 airports across five continents. In 2017, United and United Express operated more than 1.6 million flights carrying more than 148 million customers. United is proud to have the world's most comprehensive route network, including U.S. mainland hubs in Chicago, Denver, Houston, Los Angeles, Newark/New York, San Francisco and Washington, D.C. United operates 750 mainline aircraft and the airline's United Express carriers operate 545 regional aircraft. The airline is a founding member of Star Alliance, which provides service to 191 countries via 28 member airlines. For more information, visit united.com, follow @United on Twitter or connect on Facebook. The common stock of United's parent, United Continental Holdings, Inc., is traded on the NYSE under the symbol "UAL".

About Fly Humboldt
Fly Humboldt is a community-based effort to support local air service. It is sponsored and supported by the Redwood Region Economic Development Commission.

# # #