For Immediate Release
January 22, 2018

Contact:
Charles H. Pannunzio
(424) 646-5260

LAX WILL TEMPORARILY MOVE ITS G-SHUTTLE TO HAWTHORNE/LENNOX STATION DURING METRO'S GREEN LINE RAIL CONNECTION PROJECT THAT STARTS JANAURY 26

Riders who use the Los Angeles International Airport (LAX) shuttle from the Aviation/LAX Metro Station will see a change in service starting on Friday, January 26, related to construction work needed to tie the Green Line tracks in to the new Crenshaw/LAX Transit Project.



Beginning at 9 p.m. on January 26, the LAX "G" Shuttle will pick up and drop off passengers at the Hawthorne/Lennox Metro Station, about four miles east of the airport. The change is necessary because Metro's light rail service will not be available at five stations west of Hawthorne/Lennox (Aviation/LAX, Mariposa, El Segundo, Douglas and Redondo Beach) during the construction. Rail service is expected to resume by 3 a.m. on April 7, at which time the "G" shuttle will return to the Aviation/LAX Station.
LAWA is adding three buses and six drivers to the route, bringing the total number of buses to 10, to continue the current level of service. Buses will depart from the Hawthorne/Lennox Station every 15-25 minutes, and closely mirror the Green Line train schedule.
"As we improve our airport and the region improves our public transportation system, we know that the necessary construction may mean additional frustration and headaches for the traveling public," said Keith Wilschetz, Los Angeles World Airports (LAWA) Deputy Executive Director for Operations and Emergency Management. "By adding more drivers and additional buses to take people from the Green Line's temporary final stop at Hawthorne/Lennox directly to LAX, we will be able to reduce the impact to the traveler, provide the highest quality of service, and get people where they need to go faster, and more efficiently."
The temporary shuttle stop will be located on the southbound side of Hawthorne Boulevard between 111th Street and Imperial Highway, above the Hawthorne/Lennox Station. Shuttle users can take an elevator or stairs between the stop and the Green Line platform, which goes under Hawthorne Boulevard and is in the median of the 105 Freeway.
The estimated length of the trip between the Hawthorne/Lennox Station and LAX is 30 minutes, so travelers should build that into their plans. LAX advises guests to arrive two hours prior to boarding for domestic flights and three hours prior to boarding for international flights.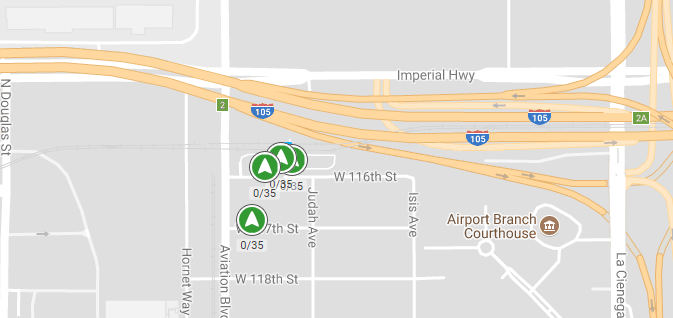 A bus tracker is among the features available to riders by visiting www.ridelax.com

Riders can get real-time location information on the G Shuttle by visiting http://www.ridelax.com/
Metro's work to tie in the Green Line is one of several projects that will bring a direct connection between its light rail and LAX's proposed Automated People Mover by 2023. For more information on Metro's Crenshaw/LAX Transit Project, which will connect the Green and Expo rel="noopener noreferrer" lines. visit https://www.metro.net/projects/crenshaw_corridor/
About Los Angeles International Airport (LAX)
LAX is the fourth busiest airport in the world, second in the United States, and was named one of Skytrax' 2017 Top 10 Most Improved Airports. LAX served more than 80.9 million passengers in 2016. LAX offers 737 daily nonstop flights to 100 cities in the U.S. and 1,386 weekly nonstop flights to 88 cities in 44 countries on 73 commercial air carriers. LAX ranks 14th in the world and fifth in the U.S. in air cargo tonnage processed, with more than 2.2 million tons of air cargo valued at over $101.4 billion. LAX handled 697,138 operations (landings and takeoffs) in 2016.
An economic study based on 2014 operations reported LAX generated 620,600 jobs in Southern California with labor income of $37.3 billion and economic output (business revenues) of more than $126.6 billion. This activity added $6.2 billion to local and state revenues and $8.7 billion in federal tax revenues. The study also reported that LAX's ongoing capital-improvement program creates an additional 121,640 annual jobs with labor income of $7.6 billion and economic output of $20.3 billion, $966 million in state and local taxes, and $1.6 billion in federal tax revenues.
LAX is also the second most popular airport in the world to appear on Instagram according to wego.com. LAX is part of a system of two Southern California airports – along with Van Nuys general aviation – that are owned and operated by Los Angeles World Airports, a proprietary department of the City of Los Angeles that receives no funding from the City's general fund.
For more information rel="noopener noreferrer" about LAX, please rel="noopener noreferrer" visit www.flylax.com or follow on Twitter @flyLAXAirport, on Facebook at www.facebook.com/LAInternationalAirport, rel="noopener noreferrer" and on YouTube at www.YouTube.com/laxairport1. rel="noopener noreferrer" Information about LAX's ongoing multi-billion-dollar LAX Modernization rel="noopener noreferrer" Program, as well as tips and shortcuts to help navigate LAX during construction, are available at www.LAXisHappening.com.
As a covered entity under Title II of the Americans with Disabilities Act, the City of Los Angeles does not discriminate on the basis of disability and, upon request, will provide reasonable accommodation to ensure equal access to its programs, services, and activities. Alternative formats in large print, braille, audio, and other forms (if possible) will be provided upon request.